Fandom Fashion: Summer Swim
Article by CL Vitek
Summer is underway and what better way to take a break than pool side? Even better, there's plenty of great offerings to allow for stylish, subtly geeky looks perfect for the summer sun. Rogue's Portal has collected some of our favorite swimwear for the season.
Utinni Bikini

Porgs, The Deathstar, and Jawa prints? Flattering swimwear in adorably geeky Star Wars designs? Utinni Bikini has it all! Their designs are colorful without being overwhelming, and the cuts are stylish for just about everyone! The suits range from modest one piece suits, more daring monokinis, and some really cute bikinis.
If your anything like me, the only downside is picking your favorite option! All of their styles can be found at Utinni Bikini on Etsy.
Enchanted Bikinis
Looking for something magical? The original designs of Enchanted Bikinis might just be the thing. These princess-inspired looks are stylish and immediately recognizable. But maybe you're feeling a little more wicked? The designer has a number of suits based from popular villains as well. From Ursula to Cruella, you'll find all your fairytale suits needs come true.
Sizes available from S-XL. These are available from Enchanted Bikinis.
+ULTRA One Piece Swim

Want to be a superhero? You have to train for it. Every hero has to wear the right costume too, right? With this My Hero Academia inspired swimwear, you can start your own career off right. Or just enjoy lounging by the pool.
There's also a villainous version if that's more your style. Check out their variants online! The suits are available from XS-3XL. You can find them all on Geek Beacon's etsy shop.
Starry Print Caged Push-Up Balconette Bikini

Combining the intricate cage-bra look with a gorgeous galaxy print, this bikini from Torrid would put stars in anyone's eyes. It's understated with a subtle sparkle that really pops in the light. The constellation pattern is filled with familiar astrological designs.
This bikini is available from Torrid.
Lilo & Stitch Beach Cooler

Swimwear isn't the only thing that makes a great outing. This beach cooler tote features fan-favorite alien Stitch and a bright floral pattern. It's insulated to keep your food and beverages (as it holds up to 24 cans!) cool even in the sun.
It's currently available from Box Lunch.
Deadpool Beach Towel

What day at the pool would be complete without the perfect towel? While there's no shortage of beach towels in traditional department stores, many of them are children sized or just not quite large enough for an adult. The Merc with a Mouth is featured heavily on this towel from Amazon is 58 inches long, a bit larger than the standard size.
This towel, along with an even larger Captain America one, is available online.
King of Atlantis Trunks

There's no better swimwear than emulating the King of Atlantis himself, Aquaman. These trunks are perfect for DC fans and incredibly appropriate for an afternoon at the beach. All of SciFeye Candy's designs are hand-made from spandex and nylon and come fully lined. They are also available in custom sizing!
And really, aren't we all looking forward to Aquaman? You can snag a pair (or check out their other designs) from SciFeye Candy's Etsy store.
Goth-inspired Designs from Samantha Rose

Just because the sun's out doesn't mean you have to abandon your love of goth fashion. Monsters, creepy crawlies, and the occult are heavily featured in this pick of prints. They are delightfully ghoulish and have a number of retro-style pin-up suits.
From Disney-inspired princesses, to Sailor Scouts, to a really cute Wednesday Addams-inspired bikini, Samantha Rose does it all. The best part? All of these come from XS-XXXL for just about any body type! You can find her current selection on the Samantha Rose Website.
Overwatch Swimsuits
Sometimes you just need a break from wrecking things (and healing your squad) in Overwatch. This Mercy-inspired monokini is perfect for the occasion. The design is original while still being iconic of her original design.
This suit is fully lined and comes in size S-XL. You can find it and other Overwatch inspired pieces from NorthLights Mastery on Etsy.
Riverdale Swim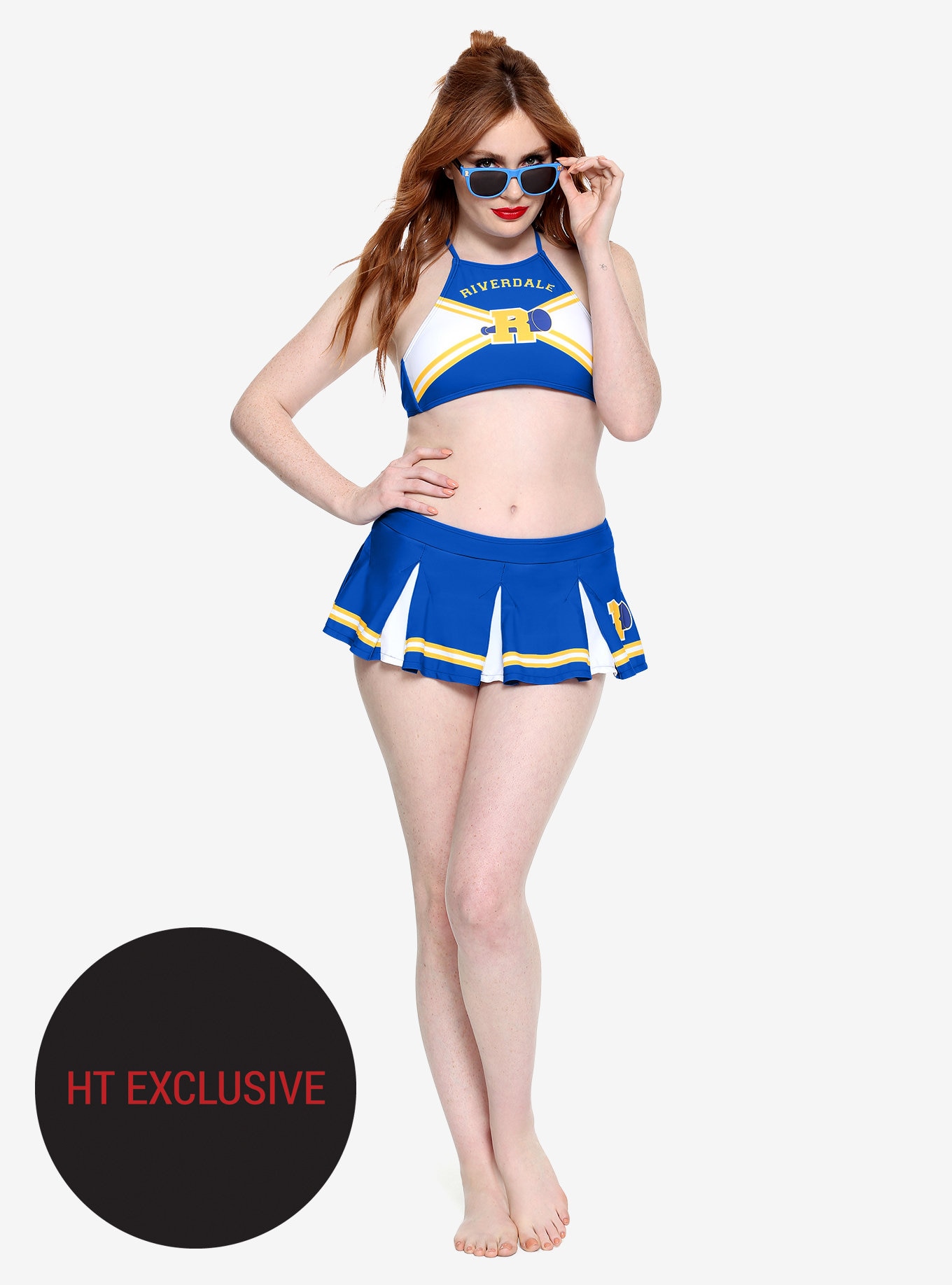 Ready to show your Riverdale Bulldog school spirit? With this swim set exclusive to Hot Topic, you can make a scene with these cheer-inspired bikinis. Hopefully you won't end up on the wrong side of anyone's mysterious death (or worse) while you're at it.
This two piece top and bottoms are currently only available in Hot Topic stores.
Geeki Tikis
What's better for beating the summer heat than a cold tiki drink? These tiki mugs from Geeki Tiki are perfect for the occasion. What's better, they come in varieties featuring everything from classic Star Trek to Guardians of the Galaxy. Personal favorite? The oversized Iron Giant mug to remind you that anyone can be a superhero.
You can find them all at the GeekiTiki website!
Fallout: Vault 111 Swimming Shorts
War Never Changes. Unfortunately, these Vault 111 swimming trunks from Merchoid probably won't give you a +1 to stealth, though they do look pretty great. The classic blue and yellow pattern is hard to miss!
These are available from Merchoid along with Mario Bros inspired trunks.
Superman Floral Swim Shorts

Surfing and Superman. It's probably not the combination most would expect but there's something charming about the idea of Supes spending some time on a board. The colorful floral print makes these shorts a little more distinguished and brings out the feel of summer in the style.
The Superman Floral Swim Shorts are available from Target online and in stores. They are size S-XXL.
Those are some of our picks for the year. What are your favorites?