With the final season of Game of Thrones finally here, fans are ready for it. With the dragons, White Walkers, and political intrigue taking the lead, it's hard to deny the power of the show's costume design. The wardrobe department has consistently wowed us with their attention to detail, gorgeous tailoring, and some iconic looks throughout the show.
While it's hard to replicate those costumes for the casual fan, there are plenty of options for more wearable attire and accessories that offer a chance to show your love of the show and salute your final pick for the Iron Throne. Here are our picks for favorite apparel and more!
Urban Decay Game of Thrones Makeup Collection
Who doesn't want to apply their make-up with a make-up brush inspired by Jon Snow's Longclaw or Arya Stark's Needle? This Game of Thrones-inspired collection is one of the most impressive tie-ins UD has done in a while. There are some nice shades in the Mother of Dragons highlighter palette, and we have to mention the eyeshadow palette comes complete with a pop-up Iron Throne.
You can get the whole collection at Urban Decay.
Danielle Nicole X Game of Thrones Handbag Line
Danielle Nicole has consistently brought fun, stylish accessories for fandom. The designer's newest line is inspired by the major houses of Game of Thrones focusing on House Stark, Lannister, and Targaryen in honor of the show's final season. Faux fur, fringe, and lots of faux leather make up each bag, from sleek silver, muted blacks, or firey reds, you can find the perfect accessory for your color palette.
You can find the entire 18-piece collection at BoxLunch.
Brave the weather with a little help from House Stark with this one. With a canopy streaking 36" across, you should be safe from any storms coming your way. The handle is inspired by Jon Snow's Longclaw, offering a little bit of cheeky fun to your rainy day.
This officially licensed umbrella is sold directly by the HBO Store.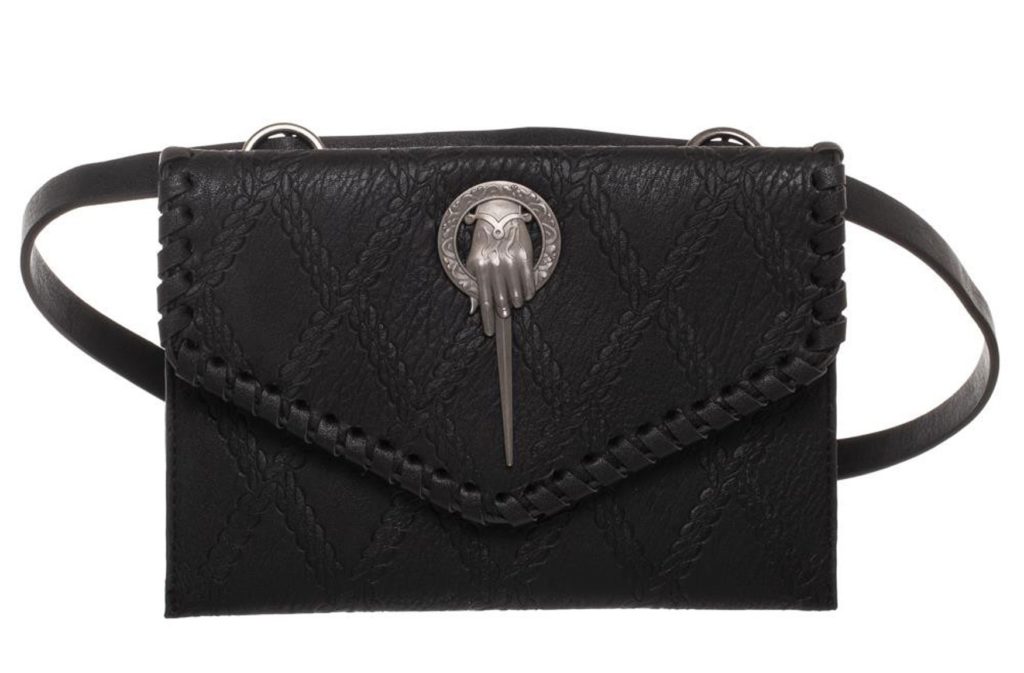 Show your allegiance to the Targaryen (or Lannister) queen with this belt bag. It's perfect for any fans who want a slim silhouette to hold their personal belongings for a night out! And the hip bag is fully licensed from Bioworld. It's made of faux leather and comes with a 38″ belt.
Game of Thrones Westeros Map Necklace
Rule all seven kingdoms with this hand-made necklace! Made of silver and fully customizable by Adele Murace, this Italian silversmith has put a lot of work into this gorgeous piece! I love how subtly geeky this Westeros Map Necklace manages to be while still coming across as a statement piece.
You can order your own at her Etsy Shop.
Sansa Stark Circle Ring Necklace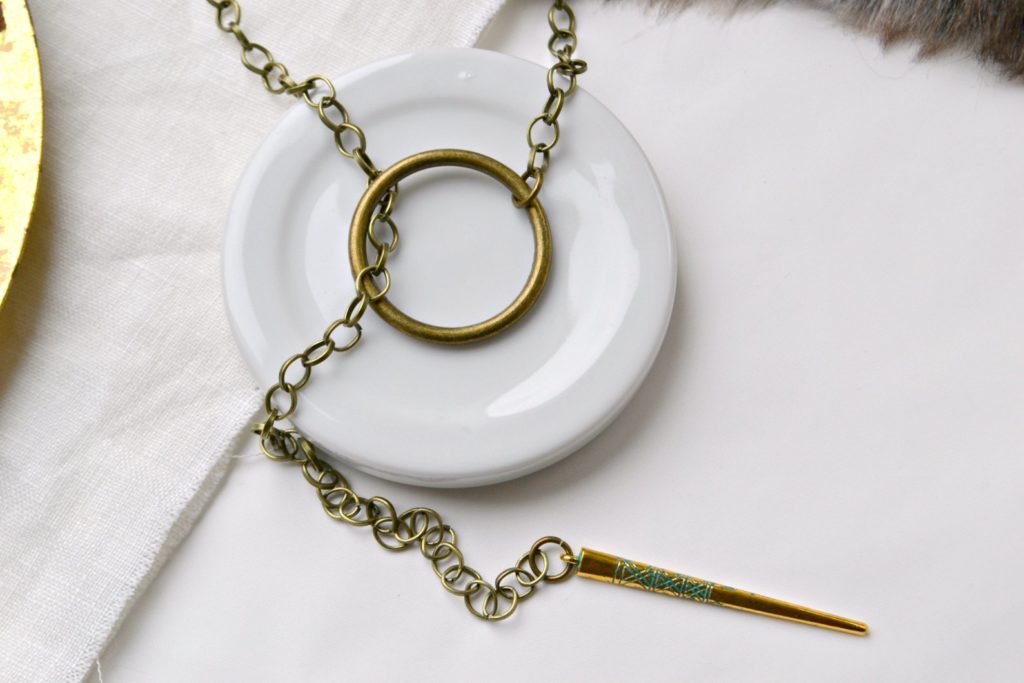 This circle ring necklace is a replica of the one Sansa wears in the latest season of Game of Thrones, offering an elegant look for your inner Lady of Winterfell. This necklace is definitely a statement piece and can be worn without drawing attention to the geeky reference. The chain length is custom, which means you can easily choose a fit it for casual fashion or to complete your costume.
This handmade piece is from Jewels of Thrones' Etsy shop.
While we see a lot of designs focused on the Lannister crest, this dress is directly inspired by Queen Cersei's black gown in Season 7. The conservative cut and flattering bodice seams mimic much of Cersei's own fashion choices through the seasons. And yes, it absolutely does come with pockets.
It's available in sizes XS-3XL. You can order it from Elhoffer Design.
There's no better way to watch the final season of Game of Thrones than with a nice cold beverage of your choice. You may need it as the inevitable body count rises and the White Walkers draw near! This stainless steel stein features the Stark sigil and is officially licensed. It is suitable for hot and cold beverages. The north remembers!
It's available from Think Geek.
Adidas X Game of Thrones Ultraboost Shoe Collection
Adidas teamed up with Game of Thrones to release six versions of their popular Ultraboost running shoe. Each of the shoes has a distinctive color pattern to represent each of the six remaining factions of the show: House Stark, House Lannister, Targaryen Dragons, House Targaryen, Night's Watch, and the White Walkers.
You can find them at most shoe retailers. For a full list, check out Sneaker News.
Game of Thrones X John Varvatos
On the couture side of fandom, this new line from designer John Varvatos takes the look of Westeros and translates it into some striking, wearable pieces. While each garment is inspired by the costuming of the world, these are more practical (if expensive) pieces to add to your wardrobe. Leather, linen, and other organic textures give the whole line a distinctly GoT feel. This capsule collection is probably the most unexpected collaboration on this list, but it's also one of the most interesting, even if it comes with a steep price tag.
The whole collection is available on the John Varvatos website.
Show your allegiance to House Stark with this comfortable, casual varsity jacket. This is just the kind of ridiculous thing I love. The colors give it a nice, muted look, and it's not immediately obvious that your favorite "team" isn't exactly in the major leagues. It's available from size S-XXL.
Available to order at EMP Online.
Dress up your look with this short-sleeve cotton button-down shirt. The dark gray color is great for almost any occasion, while the house sigils sprinkled across the fabric represent the remaining factions in the battle for the Iron Throne. Available in S-XXL.
You can pick it up at Kohls!
Last on the list is this simple and yet perfectly themed Arya Stark bracelet. It's a hand stamped bronze washer with the iconic quote from season one – Not Today – that's fitted with a simple cord. It's a great and understated piece of jewelry you can wear anywhere. And it's the perfect reminder we all need on rough days. We like to think Arya would approve.
You can get this handmade item on CrimsonandCloverUS's Etsy Store.