Captain Marvel punched a hole into the box office making over $800 million within the first two weeks. It's no surprise that the merchandise from the film has also been pretty phenomenal (Yes, I'm absolutely looking at the brand new Goose the Cat Funko Pop). Because we love finding cool stuff from your favorite geeky fandoms, Rogue's Portal has pulled together a list of favorite apparel, accessories, and footwear from the new film. Let's go – Higher Further Faster!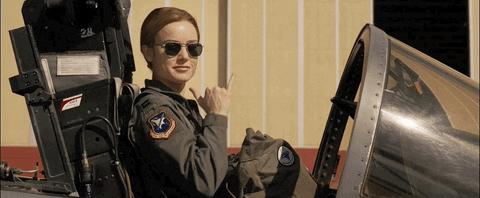 Captain Marvel X NIN Collab Tee
In one of the least expected collaborations, NIN and Marvel have come together to offer this limited edition tee shirt featuring the Nine Inch Nails logo and Captain Marvel's distinctive starburst insignia.
It's available for pre-order on the NIN website for a limited period of time.
Captain Marvel Flight Jacket
This unisex navy flight jacket has a premium nylon shell, light lining, and a subtle embroidered star in the back. It has four interior pockets and four exterior pockets, making it versatile as well as fashionable. The interior is what really sells it – the Captain Marvel starburst pattern makes a perfect juxtaposition against the navy exterior.
This jacket is available exclusively at Heroes Within.
Vans x Marvel Sk8-Hi Captain Marvel Shoes
Since Marvel's branched into (adult) footwear, they've had a slew of great designs. This Vans x Marvel team-up is another win for the design. With suede uppers and canvas interior, they make for very versatile footwear. The gold foil star logo on the back really pops with the color scheme, too!
You can order them from the Vans website (check back frequently if they are out of your size!).
Captain Marvel SHIELD Hat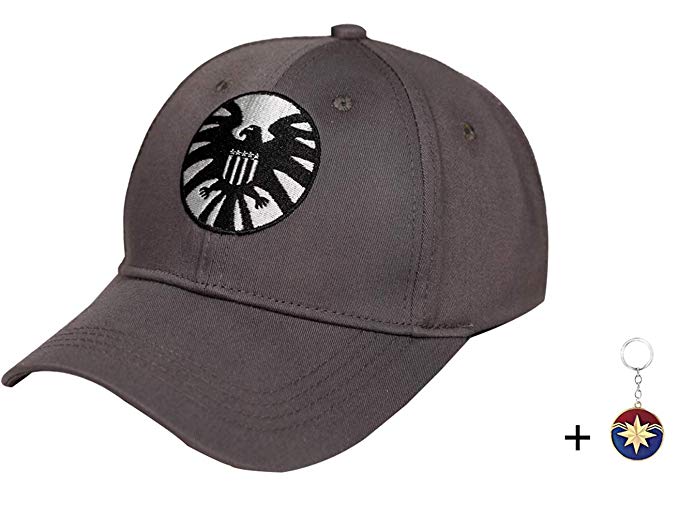 Trying to blend in? This probably isn't the best look for that. However, this SHIELD logo hat is identical the one Carol wears in the film. It's the perfect piece to complete your grunge Carol Danvers look, though. But better ditch the flannel.
Higher Further Faster Crop Sweatshirt
Trust Jordandene to nail the simple approach (yet again). Carol's unofficial motto from the comics is displayed on this cropped sweatshirt. It's comfy, casual loungewear for anyone who prefers to go without the official logo. This version comes in mauve and also in black. It's also available in a nice unisex sweatshirt or a hoodie!
You can snag it on the Jordandene website!
Corps Shawl Cardigan
This knitted unisex cardigan is perfect for fans of any gender. It's such a unique style with the fold over shawl collar and big, gold buttons but still has the distinctive patterning across the chest that mirrors Carol's classic comicbook look. Order a size larger for a slouchy, cozy look or stick with your standard sizing for a fitted one.
This is yet another quality piece from Elhoffer Design.
Her Universe Captain Marvel Skater Dress
I am a sucker for a good skater dress and this one from Torrid ticks all the right boxes for me. It's long enough for taller women while still shaped in a cute, fitted flare. More than that, the vertical princess seams are flattering on any body (unlike a straight waist seam that can hit awkwardly on some). It's great for casualwear or even an easy cosplay or disneybounding look!
You can find this dress online at Torrid where it's available from M-6X!
Celestial Goose the Cat Tank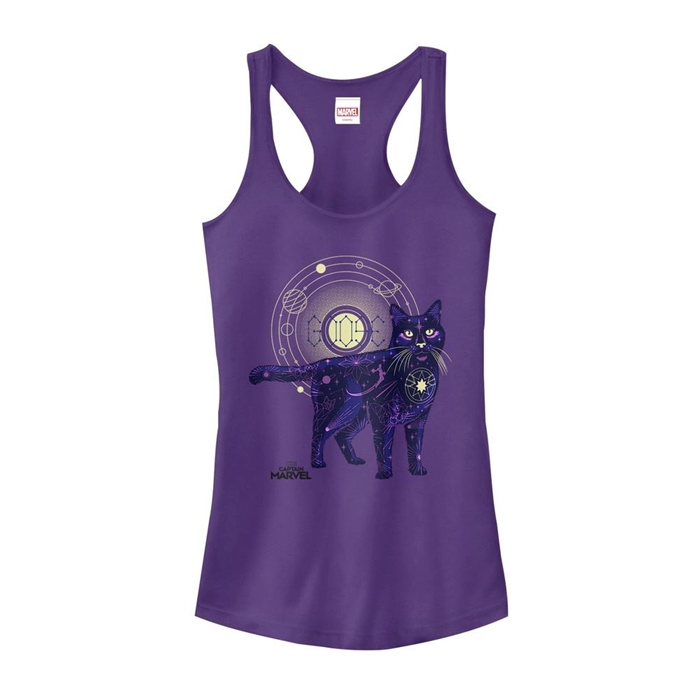 It's pretty safe to say that Goose was a highlight of the film. While his very existence is pretty much a giant spoiler, he's a great addition to the cast. While there are a ton of Goose t-shirts available around the web right now, I really enjoyed the look of this light purple tank top.
It ships from Fifth Sun's website.
Captain Marvel Cosplay Faux Leather Aviator Jacket
This aviator jacket is my favorite piece from the new Her Universe Captain Marvel line. Made of faux leather, the back features a distressed air force logo on the back and plenty of patches across the chest and shoulders. The detailing really sells it for me – this is one that looks even better in person! It comes in sizes XS-3XL.
You can pick it up on the Her Universe website or in Hot Topic stores now!
Maria "Photon" Rambeau T-Shirt
While she's introduced as Carol's flight partner, Maria is also a formidable pilot and a pretty kick-ass mother as well. I generally don't include t-shirts on these fashion round-ups but I had to include this great high-low top from Disney.
You can grab it online at the Disney Store.
Her Universe Captain Marvel Dress for Women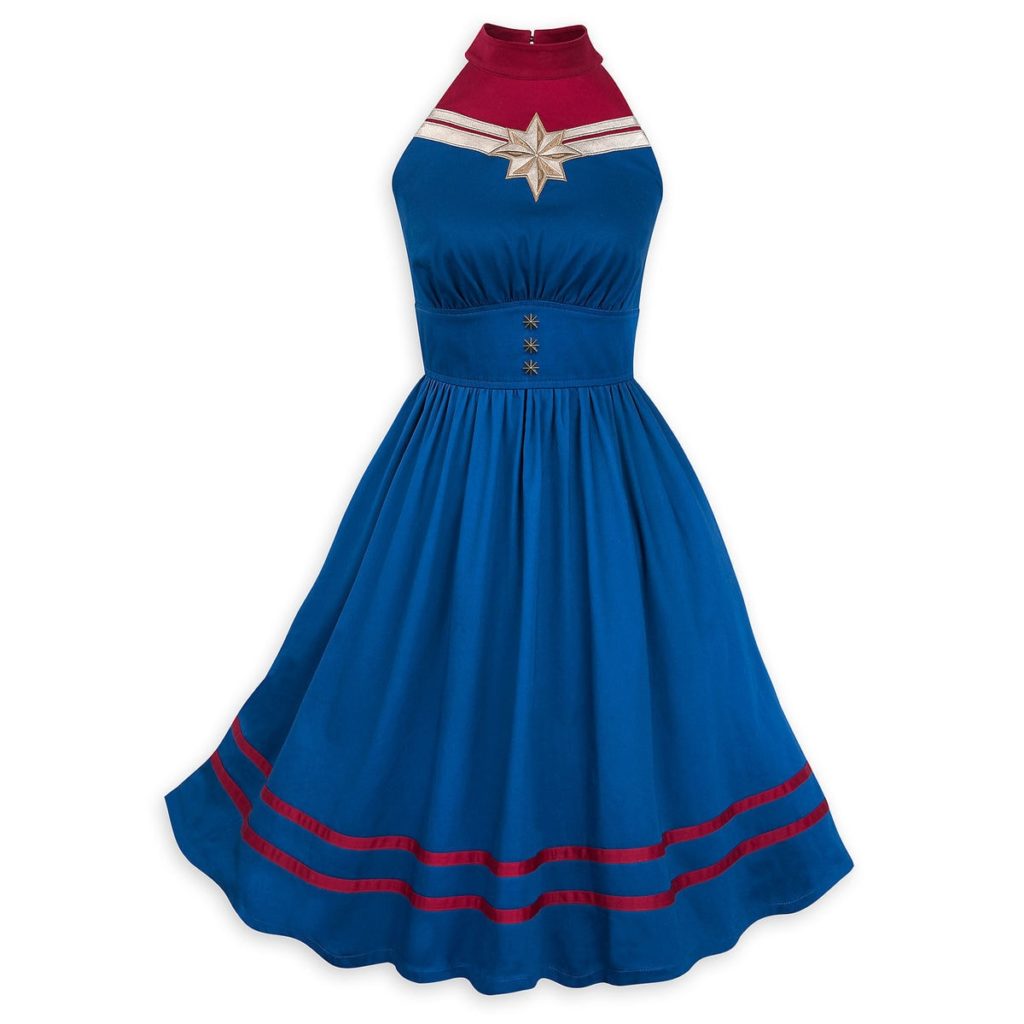 I'm absolutely in love with this dress from the Disney Parks Dress Shop Collection by Her Universe! With an a-line skirt and a halter top, it's such a flattering look for just about anyone. The faux leather star on the front elevates the design and the pop of gold makes it perfect for a more formal occasion.
You can find it in the Disney Parks Dress Shop.
Loungefly Captain Marvel Zip-Around Wallet
Loungefly makes some of the best wallets to showcase your fandom without being too overt about it. They're durable, discrete, and perfectly sized to hold all your important cards and cash! They offer two color palettes for this style – Kree or Captain Marvel's classic colors!
Both styles are available on Amazon.
---
That's it for our list this time! For more on Captain Marvel, you can check out our review of the film. What Carol themed pieces in this list are your favorites? What did we miss? And alternatively — what kind of merchandise would you like to see for upcoming films?