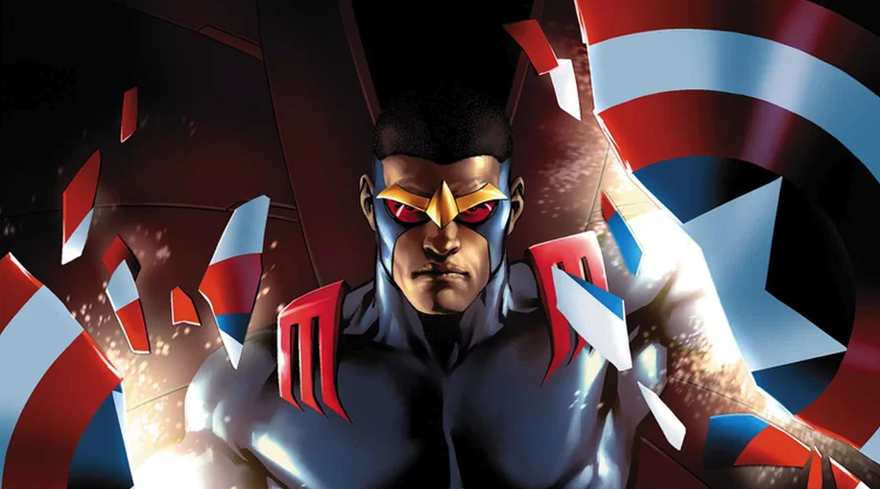 Falcon #1
Writer:
 Rodney Barnes, Robbie Thompson (primer pages)
Artists:
 Joshua Cassara, Mark Bagley & Andrew Hennessy (primer pages)
Colorist: Rachelle Rosenberg, Israel Silva (primer pages)
Letterer: VC's Joe Caramanga
Cover: Jesús Saiz

Publisher: Marvel Comics
A review by Nico Sprezzatura.
Left disillusioned by the events of Secret Empire and an apparent betrayal by his best friend Steve Rogers, Sam Wilson has returned to his original superhero identity in this week's Falcon #1. With the aid of Rayshaun Lucas —the all-new Patriot— Sam looks to regain some composure and starts with the gang scene of Chicago, where a familiar threat lurks in the shadows.
Not unlike the forthcoming Captain America by Mark Waid and Chris Samnee, Falcon #1 arrives with baggage. Sam's tenure as Captain America was rocky at best and shambolic at worst, even before Nick Spencer took over the character. This new series, written by Rodney Barnes, comes with a chance to rehabilitate the character and remind people why he deserves his place in the pantheon of iconic superheroes. For the most part, it does a pretty good job.
It's impossible to discuss this issue (and this initial arc in general, most likely) without addressing the HYDRA-shaped elephant in the room. While I enjoyed the start of Spencer's Captain America saga, it kinda flew off the rails once it started getting hamfisted about certain themes, i.e. the Bombshells and their trigger warning. And then Secret Empire happened, which was a whole other issue. Saying Barnes had his cut work out for him with this book would be an understatement.
To Barnes' credit, I think he handles the cards he's been dealt rather well. While Steve's fractured legacy looms over this book like an uncomfortable specter, it mostly serves to inform Sam's current psyche and his place in the world moving forward — namely, by giving him a new teenage sidekick.
The idea of Sam as a mentor in his own right has never been a plot development until recently, and Falcon #1 picks up that thread. While I'm not totally sure why Marvel made a point of creating a new Patriot, with Eli Bradley currently hanging in editorial purgatory, Shaun is a necessary bright spot in Sam's otherwise miserable life at the moment. We get a few bits of the story told from his perspective, and he seems to come from the Kamala Khan school of geeking out about being a superhero. That's always a welcome attribute.
I'm also intrigued by Sam's first adversary of this inaugural arc, revealed on the final page in true comic book cliffhanger fashion. Without spoiling, it's definitely a left-of-field choice for someone with Sam's history and skillset, and I'm interested in seeing if it plays out as topically as I'm expecting.
Speaking a bit more critically, I was left scratching my head about the way Sam describes the events of Secret Empire, which made it sound like he thought Steve was actually a HYDRA sleeper agent for decades, and not merely manipulated into believing that to be true. Either I'm missing something or editorial failed a spot check in Barnes' script, but it took me out of the moment each time it was brought up — though it didn't ruin the experience for me, either.
I've never encountered Joshua Cassara's art until this issue, but I really enjoyed the look of it. Cassara reminds me of Gabriel Hernandez Walta, who recently illustrated Occupy Avengers, which told a similar story with comparable themes. There's a sketchy, slightly grimy aesthetic to his work, which fits the cynical tone of Barnes' script. His rendering of the new Falcon suit is also very nice.
Rachelle Rosenberg's coloring also lends itself to yet another Occupy Avengers comparison, this time to Jordie Bellaire's work on that series. Rosenberg's palette is dark and a little dingy, which once again fits the tone of this story. I don't mean to sound like I'm calling the art team of Falcon derivative here, but hey, there are worse artists to be compared to.
The Verdict
Buy it. Sam Wilson's been through a lot lately, but Falcon #1 is a welcome return to form for one of the Marvel Universe's more important heroes.