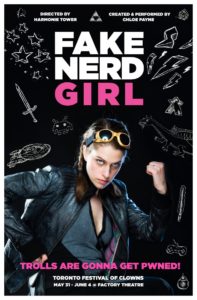 I was sitting in Factory Theatre in Toronto, waiting for the first show of Festival of the Clowns, Fake Nerd Girl, to start and I overheard a young woman behind me. "This is about my life. I read comic books, watch superhero movies, go to cons and some guy will still ask me, well if you like comics, who was Hulk's girlfriend of this issue of this year." In that brief eavesdropping moment, I was introduced to the show that I was going to see. Lights dim and on comes an amazing combination of shadow play puppetry and a woman doing a husky style Batman voice. The show starts by poking fun at superhero opening credits and the entire room is laughing. This is definitely a good place to be.
Fake Nerd Girl is a hilarious theatrical play written and performed by Chloe Payne. It follows the superhero origin story of Olive, a young girl who faces her destiny in becoming a nerd girl vigilante and how she battles trolls, mansplainers and gross con dudes. The one woman show has a dominantly female crew behind it, including its director Harmonie Tower and producer Petra O'Toole.
Chloe's physical comedy, heartwarming representation of young nerd girls and pop culture references keeps everyone laughing for the entire show. In 45 minutes, the play nods to so many nerdy things from Doctor Who to Star Trek to Dungeons and Dragons, it's fantastic. But what makes the performance fantastic, is that Chloe is doing a balancing act; keep it funny but also political. As we watch Olive experience the darker and scarier parts of being in nerd culture as a woman (like doxxing), the show transforms from just a funny superhero origin story to something extremely relevant and feminist.
In a post-gamer gate climate, we need creative works that call out trolls. We need someone like Olive to remind us to rally together to support and protect marginalized voices on the Internet. What made this nerd girl happy was the calling out of Tony Harris and his obnoxious rant on 'faux nerd women'. Chloe recites his entire rant and the audience is horrified. For the people who aren't familiar with this real life event, this is unbelievable. For those of us who are familiar with the sometimes toxic environment that is the nerd community, we are reminded of what work has been done and how much further we have to keep working to make the community safe.
If you can, go see Fake Nerd Girl at The Factory Theatre as part of the Festival of Clowns. It is playing June 1st at 9:00 pm and on June 3rd at 4:45 pm. You can RSVP here and buy your tickets here. Support women's voices in theater and your local nerd girl vigilante.