Faith: Dreamside #2
Writer: Jody Houser
Artist: MJ Kim
Colorist:  Jordie Bellaire
Letterer: Dave Sharpe
Publisher: Valiant Comics
Review by Stacy Dooks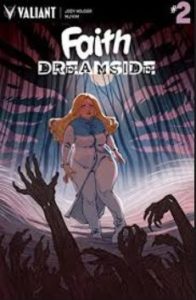 There's just something about reading a spooky comic in time for Halloween isn't there? Nothing adds to the ghoulish fun like reading a pleasantly thrilling tale, preferably with some chocolate in easy reach. Halloween endures as a holiday because it's a chance to enjoy a pleasantly macabre atmosphere and comfort ourselves with tales of horror that chill the blood and make us grateful to be alive,  snug and safe, because there are other alternatives that are decidedly. . .less pleasant. While you're relaxing between trick or treaters coming to the door for their yearly candy you need a solid read to get you through that long interval as the shadows lengthen and day gives way to night. Which is where Faith: Dreamside #2 comes in.
When last we left Faith Herbert, things for her weren't great: framed for murder by a cadre of her enemies she's had to lie low in her secret identity to avoid arrest. But when a friend of hers came to her for help she couldn't refuse, especially since said friend's timely arrival and transformation into a hero-kidnapping kaiju effectively saved Faith from the cops. Monica Jim, a shapeshifting heroine in her own right, is a young kid with a problem: she believes the ghosts of her dead teammates are stalking her. Having little experience with magic or ghosts, Faith decides to seek out Doctor Mirage, a parapsychologist with a twist: she can speak with the dead. Is Monica really seeing ghosts? Can the good doctor's spectral spouse help her make the call? Or is something even more sinister at work here?
This comic is all manner of fun. As I've said previously the character of Faith Herbert is one of the best comics characters to debut in the last ten years and Jody Houser's writing makes her an absolute delight. The art by MJ Kim is spectacular and conveys the humorous tone of a great deal of Faith: Dreamside #2 but doesn't fail to bring the chills when it's time for the book to get frightening. Jordie Bellaire's colors make everything look equal parts warm and inviting and appropriately chilling, while Sharpe's lettering conveys terror when the balloon finally drops. It all adds up to one delightfully wicked read.
The Verdict: Buy it.
To the shock of no one, comics that are a joy to read are a personal preference of mine and Faith: Dreamside #2 doesn't disappoint. If you want fun comics, trust me when I say you gotta have Faith. Recommended.