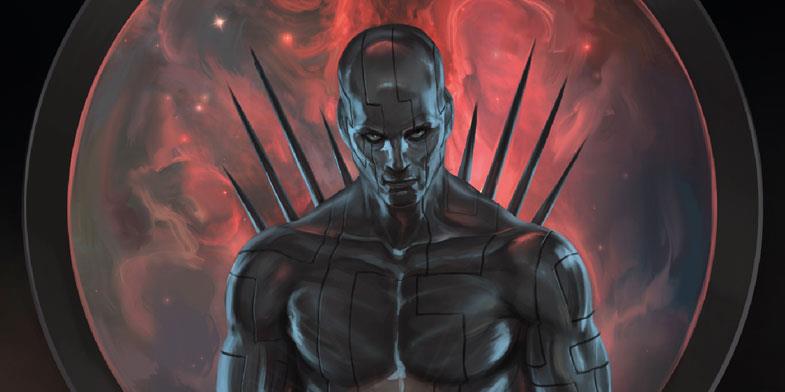 Eternity #1
Writer: Matt Kindt
Artist: Trevor Hairsine
Inker: Ryan Winn
Colourist: David Baron
Publisher: Valiant
A review by Josh Rose
Eternity #1 introduces a fantastic, new addition to the Valiant Universe in the form of… the Gods of the Unknown? Anyways, Marvel has the Eternals and the Celestials. DC Comics has the New Gods of New Genesis and Apokolips. And every publisher seems to have a classic mythological pantheon or two included somehow, whether it be Greco-Roman, Egyptian, or Norse–except Valiant. Valiant holds up to the Big Two in every avenue except when it comes to gods. Valiant does have Shadowman and magic based on Louisiana/Haitian folklore and voodoo, but that's not nearly on the same level of fantastic as this.
Eternity #1 sees Abram Adams, aka Divinity, living with Myshka in Russia. Elsewhere in a whole different reality, the Observer has been killed–putting the residents of this realm into a panic. Without an Observer, their society could be destroyed by some unseen, unsavoury characters. As the Brothers of the Bomb seek out the Divinity, who loses something in the process, Abram and Myshka are forced back to the Unknown where they got their powers.
Everything in Eternity #1 is influenced by the late Jack Kirby, from the otherworldly art to the extravagance and alien-ness of the characters. You really can't touch sci-fi/cosmic/mythological gods without paying homage to Jack Kirby, and the creative team do a fantastic job of doing this, while also making it feel fresh and new.
Trevor Hairsine's pencils and David Baron's colours in Eternity #1 are so on point. Hairsine has drawn a world that is so strange and alien. If we were to plant other cosmic or magical characters like Silver Surfer or Dr. Strange into this world, they would feel and look right at home. Kindt worked on most of the character designs, and they are wonderfully crazy! Baron's colours are vibrant and chaotic, but they really fit into this new cosmic world. Or rather, they define this world and show you are out in the fantastic and no where near grounded and realistic. It's not everyday you see trees with pink leaves and blue bark against a red sky.
The Verdict: Buy it!
Holy crap, Eternity #1 has me so excited for this series. I can't wait to see how Divinity and Myshka interact with these new gods, and the art is so Kirby-esque I could stare at the same panels for days. If we did numerical ratings, I would give it something like 13/10. But we don't, so go buy it when it comes out. To quote famed philosopher and motivational speaker Shia LaBeouf: "Just do it!"