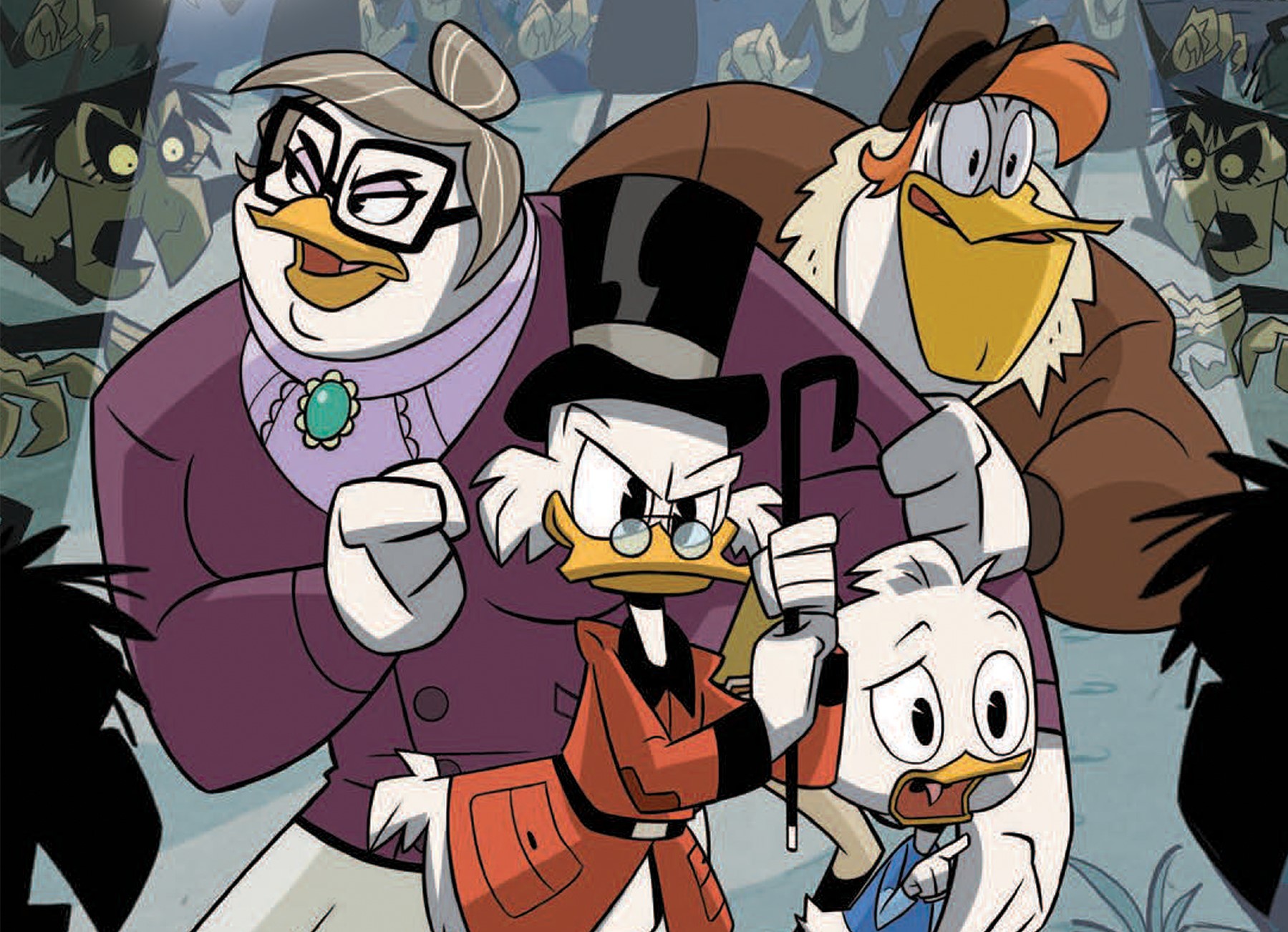 DuckTales #11
Writers: Joey Cavalieri, Steve Behling
Artists: Luca Usai, Antonello Dalena, Danilo Loizedda, Cristina Stella
Colorists: Lucio Giuseppe, Kawaii Studio
Letterer: Tom B. Long
Publisher: IDW
Review by Laura Forsey
DuckTales #11 is as full of humor and familial affection as ever. When Scrooge is accused of faking his Scottish nationality in Horror in The Highlands, he takes Huey, practising for his Unique Sports Junior Woodchuck badge, and number one McDuck family fangirl Webby on a trip back to Scotland to find proof of his ancestry. While there, the family has a chance to see the famous Highland Games, a festival known for the celebration of Scottish heritage and athletics challenges including shotput, tug-of-war, and the caber toss. In the course of finding proof of Scrooge's past, the McDuck family gets a chance to prove themselves handy with all three iconic Scottish skills- with Scrooge even repeating his well-known boast from the original comics: "I'm tougher than the toughies!"
That throwback to the original Duck Tales isn't the only reference older fans may catch, though. There's also an allusion to Scrooge's voice actor David Tennant and his very popular live-action television career. Interestingly, Tennant is the first Scottish voice actor to play McDuck–the rest really have been putting on a fake accent, as Scrooge is accused of doing in this story. In a story about how to judge authenticity, it's a subtle wink and a nod to the history of Duck Tales which is sure to get a chuckle out of any BBC fans who stumble across it.
The second, shorter story in DuckTales #11, "Nightmare on Bear Mountain," starts off with somewhat of an unlikely pair: Dewey, the middle triplet, and Mrs. Beakley, Scrooge's spy-turned housekeeper/Webby's grandmother. From Dewey, we learn that Scrooge has been gone for a week on an unknown mission, and the two of them team up to track Scrooge down and bring him home.
"Nightmare on Bear Mountain" is a typical heartwarming DuckTales story about family–with surprisingly few bears, given the title–but it gives the reader a glimpse of insight into Dewey's character. Dewey compares Scrooge's absence to his mother's mysterious disappearance, and asks Mrs. Beakley anxiously if Scrooge would ever abandon them like their mother did. It's clear that Dewey is still dwelling on Scrooge's claim in the first episode of the television show, that "family is nothing but trouble," and that he may have deeper issues believing that adults won't disappear on them again.
Of course, most readers probably won't think much of only a couple lines from a ten-page story, especially since Scrooge proves once again that he only wants to protect the family he loves. For kids struggling with trust or abandonment issues, however, Dewey's fears may give them reassurance that they're not alone, and that they can rely on the people who love them. It's a good message, and it doesn't come across that the writers are trying to hammer a moral into the reader's head any more than is necessary for a children's comic.
Verdict: Buy it.
The stories in DuckTales #11 are both cute and entertaining, with plenty of fun for younger readers and a few morsels older readers may enjoy as well.