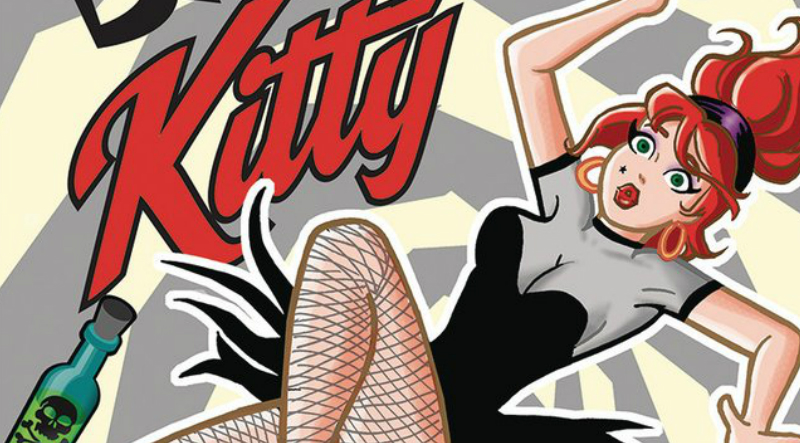 Die Kitty Die #1 Review
Story & Art by Fernando Ruiz & Dan Parent
Inks by Rich Koslowski & J. Bone
Colours by Glen Whitmore
Letters by Janice Chiang
Published by Chapterhouse Comics
Review by Billy Seguire
The cover of Die Kitty Die #1 promises wacky cartoon hijinks and mayhem with a comic book heroine rebelling against her murderous creator. One glimpse into the centre of this book tells you that's exactly what you're going to get, but it's also so much more. Taking a daring plunge into metafiction, Die Kitty Die #1 delivers way more adult jokes and nods towards comics history than I was ever ready for, making this book of lighthearted, cheeky fun take on a whole new dimension for longtime comic fans that was instantly enjoyable to me. Much to its credit, Die Kitty Die is first and foremost a comic about comics and our community, and as such it totally lives up to its potential.
The world of Die Kitty Die exists in a Who Framed Roger Rabbit inspired reality where comic book characters live and work alongside their creators and readers in the real world. Characters are affected by their book's storylines and sales, so they have a bit of a personal stake in what makes their series a success. The story focuses on Kitty, star of teen-witch comic She's Kitty as she works through the malaise of starring in a book with slouching sales. Of course, the title Die Kitty Die also gives a little bit of a hint at her intended fate. In an attempt to gain publicity, her cutthroat publisher has a plot to kill off the real Kitty and reap in the profits. It may not technically be murder, but it's enough to get Kitty rattled up.
Kitty herself is a modern riff on Sabrina the Teenage Witch, but there's definitely more of an edge to the character depicted here. She's a redhead, after all, and that's comics code for trouble. In keeping with her exploitative She's Kitty image, Kitty is oversexualised by both the supporting characters and art. She's repeatedly in a state of undress, intentionally emphasising the adult nature of this book. There's some commentary here on female comic characters and how they're treated by their (often male) creators. While it could have been done in poor taste, there's always a sense of Kitty either owning her own power or rolling her eyes at the artists in a knowing way that lets you know it's okay. The fact that she has magic powers definitely helps out when it comes to power dynamics. There's also a sense of freedom here in how both Ruiz and Parent interact with their world, and it definitely comes off more MAD Magazine than Archie Comics once you get into the swing of the material.
Both Dan Parent and Fernando Ruiz are clearly the perfect creative forces to drive Die Kitty Die forward. The first issue alone makes a statement and delivers the perfect tone to make this meta-comic as fun to read as it is. You can tell that there are ideas here that they haven't been able to express before now working in more all-ages friendly environments, but those sensibilities also ensure an optimism that most adult deconstructive tales seem to disavow. Everything you see in Die Kitty Die #1 has been built from the ground up, and you can see in its construction a desire to use this story to vent frustrations at the industry, live out outlandish fantasies of storytelling, and even the chance to get a few zingers in that would fly over the heads of kids. It's a completely different feeling from other books currently being released at Chapterhouse Comics, which is delightfully refreshing. The word "zany" very much applies to Die Kitty Die, and to see that descriptor work in a more adult-themed playground is vastly appealing.
The art is perfect for the tone they're hoping to achieve with this book. It looks modern and fresh while still retaining a connection with family friendly comics of the past. One of my favourite aspects of this book is simply the plethora of minor details that make just looking at this book an entertaining experience. I mean seriously, just look at all those comics in the background! I would read Iron Ghost in a heartbeat and Dippy the Dead Kid makes a huge impression on the plot of this issue. There's tons of potential for future issues of Die Kitty Die to feature retro mini-comics in future issues in the style of old-time greats like Casper and Richie Rich.
The Verdict
Buy It. This is a different book than I initially expected upon picking it up for the first time. It's far more adult and daring, with a retro flavoured look into comics history that really bolsters its appeal. The She's Kitty opener and teases of more Dippy the Dead Kid to come are really fun diversions that make its world feel unique and alive. Although the lead character is audaciously sexualised through much of the book, it's done with enough of a wink and respectful agency of the character that it's not a problem area for me, though others may of course feel differently. Personally, I am completely sold on the meta thrill-ride of Die Kitty Die. This is the Who Framed Roger Rabbit of comics. Pick it up now.