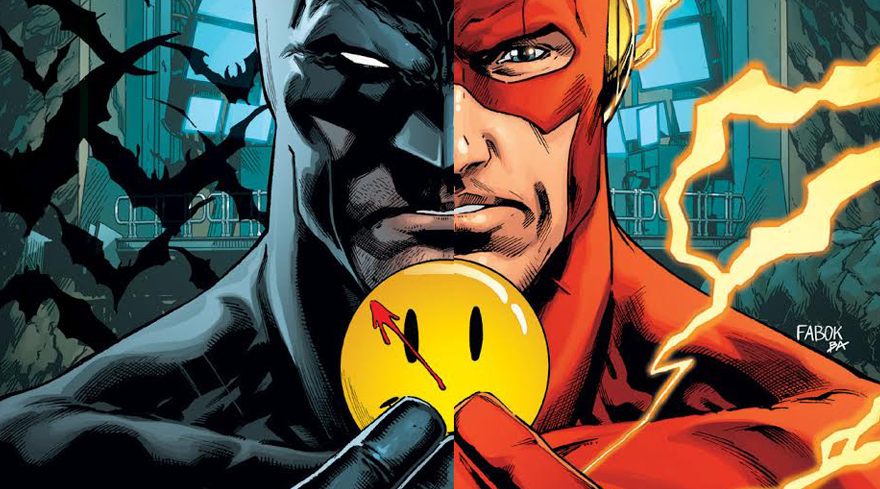 Nearly one year after DC Universe: Rebirth #1 hinted at the Watchmen's introduction to the DCU, April 2017 will see the start of The Button, a four-part story arc hitting the pages of Batman and The Flash. Tom King and Joshua Williamson, who write both titles respectively, will be joined on art by Jason Fabok and Howard Porter. As with other DC Rebirth titles, each issue is priced at $2.99, but special editions of all four issues (with lenticular covers by Fabok) will cost a dollar more.
Keen readers are likely to recognize the iconic button held by Batman and Flash on both covers, which last showed up in the aforementioned DC Universe: Rebirth one-shot. While it's still unclear why DC's been teasing the looming presence of the Watchmen in their mainline titles, one could surmise that it'll end up being a huge deal sooner rather than later.
Batman #21 and The Flash #22 are solicited for April 19. Check out the original press release & the first lenticular covers below!
---
THE DARK KNIGHT AND THE FASTEST MAN ALIVE DIVE DEEPER INTO
THE MYSTERY OF DC UNIVERSE: REBIRTH THIS APRIL!

Batman and The Flash Team Up For the Four-Part Mystery "The Button"
All Four Issues to Also Feature Special Lenticular Covers
 If you've been wondering about how the mystery behind Geoff Johns' DC UNIVERSE: REBIRTH #1 continues, you'll find out more beginning this April in "The Button," a four part story arc in issues #21 and #22 of BATMAN and THE FLASH.
Courtesy of the Batman team of writer Tom King and artist Jason Fabok, along with The Flash writer Joshua Williamson and artist Howard Porter, the two greatest detectives in the DC Universe unite to unravel the mystery behind a certain blood stained smiley face button stuck in the Batcave wall. However, what begins as a simple investigation soon turns deadly when the secrets of the button prove irresistible to an unwelcome third party – and it's not who anyone suspects! This is a mystery woven throughout time, and the countdown starts here!
In addition to the standard $2.99 covers on Batman and The Flash in late April and early May, each of the four issues will feature a special $3.99 lenticular cover, all drawn by Jason Fabok. Don't miss the chance to find out more about the mysteries behind DC REBIRTH when these issues hit your local comics retailer beginning April 19!