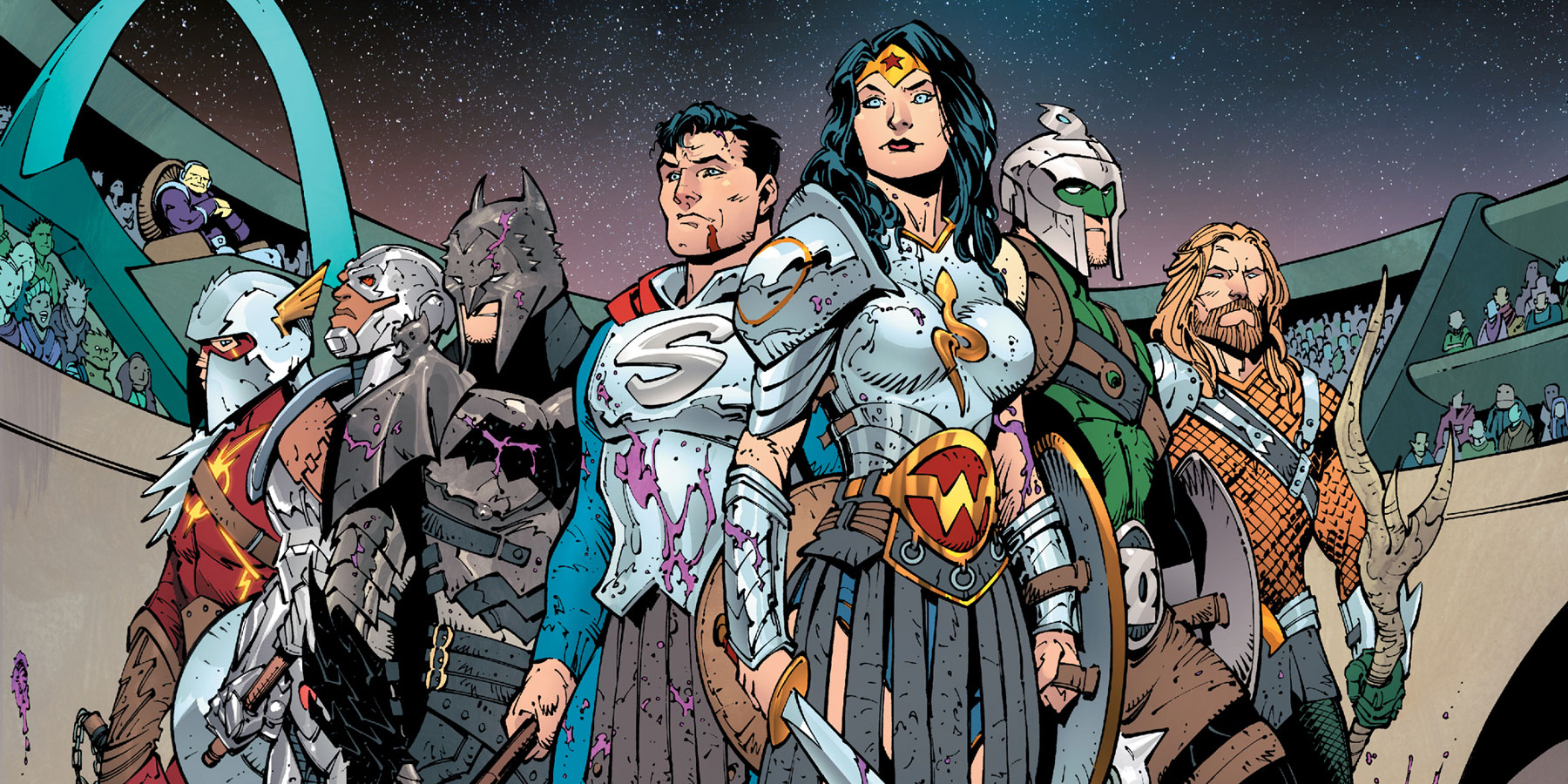 Dark Nights Metal #1
Writer: Scott Snyder
Pencils: Greg Capullo
Ink: Jonathan Glapion
Colorist: FCO Plascencia
Letters: Steve Wands
Publisher: DC Comics
A review by Greg Brothers
Dark Nights Metal #1 starts with the Greg Capullo main cover that has the Justice League posed to form the classic Rock On! two fingers up hand gesture, and ends with what maybe one of the most surprising arrivals in recent history. In between, we are treated to the most metal, over the top, and eye popping moments. Snyder and his team prepare readers for what promises to be an event that will have long-lasting effects throughout the DC Universe.
Dark Nights Metal #1 drops us right in the middle of the action. The Forge and The Casting have already done the heavy lifting and set up the Metal event, so no need to set anything up. Instead, we open with the promotional panel released months ago: The Justice League dressed as gladiators seemingly preparing to battle an unknown enemy. The battle that follows is as epic as you would expect it to be when the first panel is Justice League Gladiators.
All the big, bold, and over-the-top panels that make their way into Dark Nights Metal #1 would be wasted without an exceptional story to back them up. That is where the brilliance of Snyder comes into play. Any fan of Snyder already knows that he has a strong grasp on how to write Batman.
However, it is his ability to really capture the essence of the other Justice League members that elevates Dark Nights Metal #1 to more than just the start of an event. Each member plays a key role and they do it well within Snyder storytelling. The whole Metal event was advertised as all-encompassing. Snyder peels away the layers so you learn something new, while the final answers to the event stay protected.
Obviously, I have no way to prove it, but I am sure that most of these crazy ideas that Snyder had for the visuals came about because he could trust Greg Capullo. For my money, Capullo is one of the best artists out there today, and in Dark Nights Metal #1 he only cements that title. Don't believe me? Answer this question: after you read the issue, name another artist who can make the simple task of flipping over a map look as dramatic as he does here.
Let's be honest, though. It isn't map-flipping that makes Capullo a top-notch artist. No, it's the character designs, action, and attention to detail. All of which are on point throughout this book. From Wonder Woman, to lush and detailed forests, to Batman riding a dinosaur, you have it all here. Capullo doesn't miss a beat.
The rest of the art team is working at just as high of a standard as Capullo. The colors within the uniforms are spot on, with the right blue for Superman's suit to the shine on Steels' head. No detail is missed in these panels.
Verdict
Buy it! Seriously, if you read the whole review, did you think that I would say anything other than BUY!? Dark Nights Metal #1 is the start of an event done right. At the end of this event, there isn't going to be some cube that makes everything right again. There are going to be universe-changing results. I cannot think of a better team than Snyder and Capullo to usher in those changes. Jump in and enjoy the ride! If issue #1 is any indication then this event is going to be so METAL!