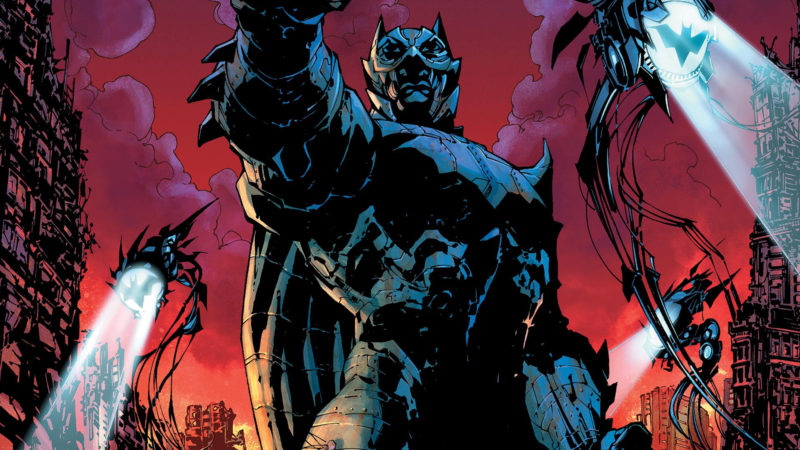 Dark Days: The Road to Metal TPB Review
Writers: Scott Snyder, James Tynion IV
Pencilers: Jim Lee, Andy Kubert, John Romita Jr.
Inkers: Scott Williams, Klaus Janson, Danny Miki
Colorists: Alex Sinclair, Jeremiah Skipper
Letterer: Steve Wands
Publisher: DC Comics
Review by Cory Webber
Dark Days: The Road to Metal is the prologue to DC's big event Metal. Batman is hiding a dark secret that could threaten the very existence of the multiverse. This special collection consists of Dark Days: The Forge and Dark Days: The Casting. It also includes classic DC stories that built the foundation of Metal, including Final Crisis #6-7, The Return of Bruce Wayne #1, plus (from the New 52 era) Batman #38-39, Nightwing #17 (current series), and more! My review, however, will focus mainly on the two Dark Days issues.
Dark Days: The Road to Metal has all the hallmarks of a great event series. Most impressively, it doesn't feel like a bloated, convoluted mess. Snyder is having a blast, and it is obvious. It is large scale, has far-reaching effects, a large cast of DC characters and unexpected twists. As a result, this event is off to a great start here.
First of all, I wasn't sure how I would fare going into this. After all, I'm fairly new to DC, and comics in general (I started about halfway into the New 52), so I was uncertain if I could follow along. Snyder and Tynion's writing erased those doubts early on. They did a great job of explaining all the new characters and situations without going overboard on exposition. They have both proven to be adept at writing Batman. So, it was no surprise to see them nail the voices and characters of the likes of Hal Jordan, Superman, Hawkman, et al.
Because the pacing is so steady, they're able to seamlessly switch between different time periods and storylines without feeling discombobulating. Consequently, the buildup to Metal is extremely satisfying. Moreover, there are some revelations regarding Snyder's superb New 52 run concerning the Joker and Duke that were welcoming. More than anything, the insight into Duke intrigued me. Especially since he's a character I've had a hard time warming up to.
The art in Dark Days: The Road to Metal is split three ways. Therefore, each team has a unique look, which serves to clearly distinguish the different parts of the story. They each do a good job at excelling without feeling like they are competing with each other. As a result, it helped maintain a balanced flow throughout the story.
While I don't want to examine all the extra back issues, I will say that they were helpful. They provided some pertinent background info that helped build Metal's foundation.
Verdict: Buy it.
Dark Days: The Road to Metal is a fantastic prologue to the main event. The included back issues were a welcome addition to this DC novice. However, if you don't need the refresher, and you don't want to spend $20 for this trade, you can buy the two main issues in a collected Director's Cut Edition for $8 on ComiXology. Either way, you should be satisfied with your purchase. I can't wait to sink my teeth into the main event!