Comicsbound E26: Making The Comics Community Positive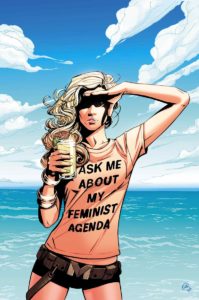 The whole gang is back together again! Lan, Insha, and Stephanie bring the Mockingbird/Chelsea Cain drama to the table and in the wake of it, share some ways that we can all help to make the comic book industry a more positive environment for fans and creators alike.
Meanwhile, the gang haven't had a chance to talk about the books on their pull list for a bit so there's a ton of things to cover (as seen below).
Comics We Discuss:
Teen Titans, Future Quest, Flintstones, Frostbite, Spell on Wheels, Shade the Changing Girl, Cave Carson Has A Cybernetic Eye, Jonesy Vol. 1, Poison Ivy: Cycle of Life and Death, SP4RX, and more.
Ending Music: Aretha Franklin – Respect
Comicsbound is:
Stephanie Cooke – @hellocookie
Lan Pitts – @pittsed_off
Insha Fitzpatrick – @benwyyatt