Considering that I went to the first day of the first comic con in Riyadh, it was so much fun! Congratulations Riyadh! Also, congratulations to the organizers! You did a very good job. Comic Con Arabia, which was held from November 23-25, 2017, was a success!
The organizers of Comic Con Arabia did a great job creating this event. The volunteers were kind and communicative. The artists were cool and talented. The main stage had a bunch of fantastic guests' interactions. The success was clear to me as soon as I first walked in. I could definitely see the potential for expansion. I mean the organizers got Jason Momoa to come as a guest for the first con!
In the day I attended Comic Con Arabia, there were many things that I would like to highlight: the minimal segregation, the presence of different creatives, the presence of famous actors and voice actors, and the presence of sponsors and big companies.
Concerning the segregation at Comic Con Arabia, it was negligible. The entrances were different. There was a female only stage. Finally, the organizers divided the main stage two areas, men and women. These measures created a level of safety as well as enjoyment. Though people could still mingle in the midst of the event, I really believe the minimalism of the measures shows a massive tide of positive change in Saudi.
Another factor was the presence of creatives at Comic Con Arabia. From cosplayers to artists, there is an abundance of talent in Riyadh, and the organizers were able to find them. They helped the attendees witness what fan culture is like in Riyadh. For example, there was Batcave_Store who was selling travel mugs with awesome logos or comic clips. Another example is Hananmadani, who had added Supergirl to her Justice League notebook, proudly showing her feminism. My last example is a game creator T7TLT7T, who uses Saudi's internal stereotypes to recreate the narrative of Coup.
The actors and voice actors were minimal at Comic Con Arabia, but their presence was terrific and gave life to the con-goers. This was especially true during the Q&A sessions. For example, during Game of Thrones star Pilou Asbaek's Q&A, a bunch of "Jon Snows" started interacting with him protesting his claim to the throne. The scene was amusing to see.
Although I thought Comic Con Arabia was an incredible first attempt at hosting a worldwide fan activity, I do believe it had its faults.
One of these missteps was the lack of indie comic culture. Don't get me wrong: I loved the presence of gaming, manga, and local publishers ( NK Comics and Ironix Comics). I just wish there were more comics and comic related panels. As anime has been historically more accessible, these narratives are more familiar in Riyadh. At least, that is my theory! So, more comics, more informative panels with creators, and maybe more stages for different purposes would be welcome.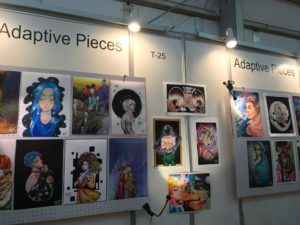 The other issue in Comic Con Arabia was some of the props. They felt like they had no life to them. For example, the Marvel cinematic universe was just a bunch of boxes where people could pose with a flying Thor. The character is from Thor Ragnorok so there was some excitement there. However, there was no one manning it and offering to help those who attended alone. Although this might have changed by the second day, I felt the event was catered towards groups, not individuals.
Still, Thank you Riyadh for Comic Con Arabia and for finally giving me a way to express my nerdiness with my geeky family!