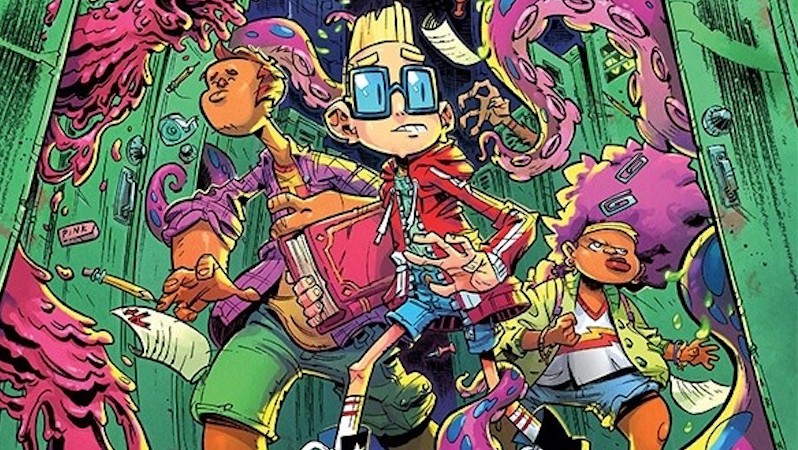 Bully Wars Volume 1
Writer: Skottie Young
Artist: Aaron Conley
Colorist: Jean-Francois Beaulieu
Letterer: Nate Piekos of Blambot
Editor: Kent Wagenschutz
Design: Carey Hall
Publisher: Image
Review by Christoph Staffl
As with a lot of comics and movies, I began reading Bully Wars without any knowledge of its plot. It was from Skottie Young, and that was reason enough to get me started. Imagine my surprise as I discovered who the real protagonist of this story is. Reading the back matter of the comic made a lot of things clearer, though:
"…bring you the hilarious tale of Rufus, who is as mean and swirly-happy as they come. In the first day of high school however, Rufus' world is turned upside down as he goes from locker-stuffer to locker-stuffee. In an effort to compete for Rottenville High's top prize, he's forced to make a shaky pact with his favorite spit wad recipients, Spencer and his twin sibling besties, Edith and Ernie. Even with these dweebs' devotion, can Rufus defeat Rottenville's roughest and most monstrous, win the Bully Wars, and rule the school?"
One of the first things you read after opening the book is the name of the town: Rottenville. From this point on you know that this book is not about subtlety or subtext, but it hits you with its message and story over the head time and again until you get it. However, that does not mean that the story is flat, obvious, without depth, or boring. No, it is none of the above. Thankfully, Bully Wars also comes with all the light-heartedness and quippy dialogue we know and love from I hate Fairyland.
Skottie Young and the creative team built something wonderful, and I am glad I waited for the first trade paperback. It allows the reader to dive deep into its gruesome and horrible world, where you have to hold on to every light you see because at the next corner awaits a new bully. Though the artwork and storytelling come with a lot of comic-book-y circumstances and over-the-top-situations we know from TV shows like Hey Arnold! and others, it never loses its grip. Rufus's adventure keeps going until the bitter end.
Speaking of world-building, from the first page on, as we meet the nerds (Spencer, Edith, and Ernie), there also comes the feeling of uncertainty. A feeling like an itch you can't scratch. The feeling that in any moment something terrible is about to happen to one of the main characters. In my opinion, that comes mostly from the way the world is drawn and colored. The exterior of the school itself looks like a brutal bully. With its big smoking chimneys and massive mice statues out front, it might be one of the most unwelcome schools in the world. In addition to that, everything always looks dirty and gross — like an infection that befalls the students. The world as a whole reflects the feelings of any kid that ever got bullied.
I dare you to take your time and take a closer look at each panel — you will find details where you might not expect to. Be it in the world and the surroundings or the exaggerated facial expressions. Add to it the great dialogue we know and love from Skottie Young, and you get a story you do not want to miss.
The Verdict: Buy it.
Bully Wars might start as your typical high school story, but it quickly turns around and delivers a lot of surprises. What makes a bully, what is a nerd, and what might those two have in common? These are just some of the questions the story dares you to think about. Because in the end, we might not be as different as we initially think.