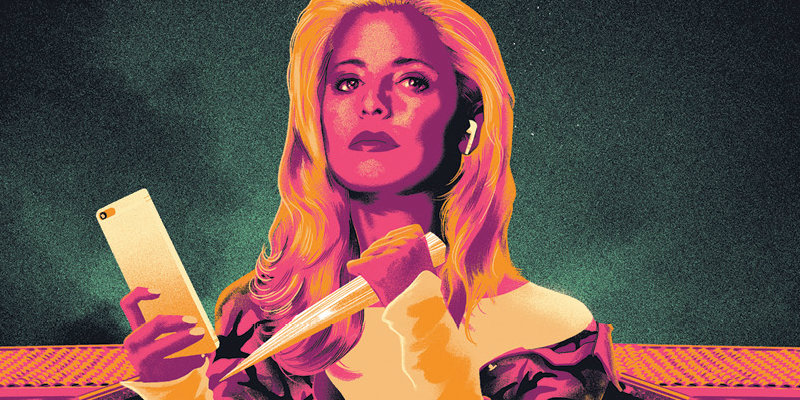 Buffy the Vampire Slayer #1
Writer: Jordie Bellaire
Artist: Dan Mora
Colorist: Raúl Angulo
Letterer: Ed Dukeshire
Publisher: BOOM! Studios
Review by Melissa Prange
I fell in love with comics thanks to Buffy the Vampire Slayer. After binging all seven seasons of the TV series in college, I finally braved the comics world to find out what happened next. It's funny that Buffy did what years of watching Batman films and superhero TV series couldn't. It got me kickstarted in comics, and, for that, Dark Horse's Buffy the Vampire Slayer in particular will always have a place in my heart.
With the conclusion of that Dark Horse series, however, a new era of the Buffster has officially begun. Now published by BOOM! Studios, Buffy the Vampire Slayer #1 is a reboot of the TV series. Set in modern day (rather than the 90s), the story picks up with Buffy moving to Sunnydale and meeting Willow and Xander for the first time. The comic doesn't completely rehash the TV pilot but rather revises the familiar story. Buffy fights vampires, struggles at school, and wonders about who she truly is — all in a slightly different way. The changes work in some ways (the introduction of a later season's character is a plus) and fail in others (the insta-friendship between Buffy, Willow, and Xander is awkwardly handled), but on the whole, the comic still feels like Buffy the Vampire Slayer — just with better fashion.
The art by Dan Mora certainly helps with that familiar feeling. Buffy, Willow, and Giles look like Sarah Michelle Gellar, Alyson Hannigan, and Anthony Head, and Sunnydale High is still most definitely Sunnydale High. Impressively, the art manages to perfectly blend a more modern aesthetic with familiar Buffy visuals, and it completely makes the comic. Raúl Angulo's colors, in particular, help create the bright, modern look that makes the comic beautiful.
Unfortunately, the story itself is a tad more clunky than the art. Choosing to reboot Buffy the Vampire Slayer from the very beginning might have been a mistake as the issue feels like a so-so pilot for a TV series. The characters are thrown together in implausible ways, and there's a lot of exposition. It's not enough to turn you off to the comic, but it's a little frustrating. Obviously, this is a first-issue problem, but it is one that could have been solved by dropping the reader in medias res. Hopefully, by issue two things will flow more smoothly and Buffy and the Scooby Gang will be on their way.
The Verdict: Wait and See.
As a Buffy fan, I found myself let down by Buffy the Vampire Slayer #1. It's a gorgeous comic, but the awkwardness in the storytelling frustrated me. Thankfully, the art and a few of the plot choices saved the comic, making it worth another look. If you're a Buffy the Vampire Slayer fan (who's open-minded to the idea of a reboot), the comic is worth a peek. It's just not a must buy — at least, not yet.