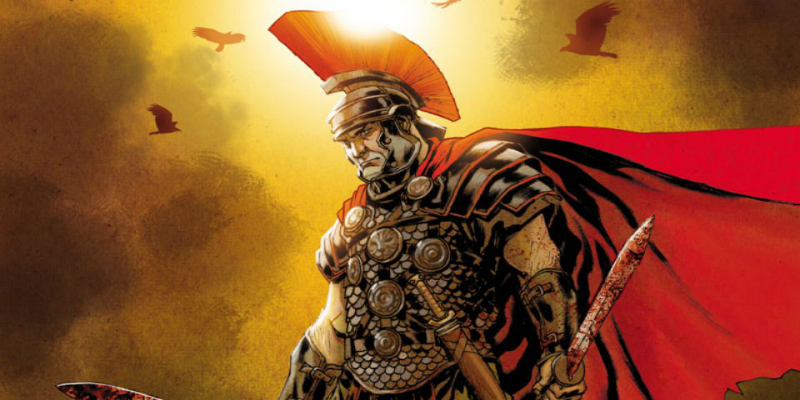 Britannia Volume 1

Writer: Peter Milligan
Artist: Juan Jose Ryp
Letterer: Jordie Bellaire
Publisher: Valiant
A review by Adrian Hodgkiss
On the fringes of civilization, the world's first detective is about to make an unholy discovery… Ruled by the Fates. Manipulated by the Gods. Commanded by Caesar. In the year 65 A.D., one's destiny was not his own
Does a detective comic book based in the ancient Roman Empire with added elements of the mysterious and supernatural, sound good? You bet your sweet rear end it does. For me, Britannia did not disappoint.
Imagine Sherlock Holmes was a mega ripped former Roman Centurion on the trail of mysterious Druids and embodied with a power and intellect gifted to him by the Vestal Virgins of Rome itself. I feels like Peter Milligan opened up my head and literally pulled Antonius Axia right out of my subconscious from the box marked "Wouldn't it be awesome if…" It's astounding. I was quite literally astonished by Britannia.
In the UK, we're all taught of the Roman invasion and occupation of Britain at school. That same old familiarity rings out in Britannia, revolting locals, slaves, druids, and Roman brutality all set against a backdrop of darkness, fog, and grime. This time however, something else is afoot and emperor Nero sends the Detectioner Antonius Axia to try and solve the mysterious goings-on.
There is humour in places that genuinely made me smile and even a bit of romance and love interest. Actually there is even a bit of "how's your father" as we call it in Britain, but it isn't gratuitous or rude. Britannia feels a little more modern than the period would dictate, but that is part of the book's charm. A heavy and overbearing script full of Latin and unusual phrasing would have bogged this down and potentially ruined the pacing. Like many of the Valiant books, there is also a neat little introduction to the  world you are about to enter in the first few pages so you wont need a PhD in ancient history to understand what's going on.
The art by Juan Jose Ryp is every bit as compelling and astonishing as the writing. At sometimes visceral and always beautifully detailed; the panels wonderfully convey the atmosphere and murkiness of the story. As Axia gets more and more embroiled in the dark goings-on, so does the art, the foggy woodland scenes being worthy of particularly high praise. The battle and fight scenes are so detailed and brutal and I was really pleased with how they looked. This was just exactly what I was hoping for.
I can't complete this review without yet another tip of the hat to the awesome color work by Jordie Bellaire, I am quickly running out of superlatives to describe how she adds so much to the books she works on. It's almost getting to a point where I think, "I'm gonna give this book I wouldn't normally try a go; because Jordie is on colors, and that usually means the book will be good!"  Guess what? It was.
The Verdict
Buy It! If you're a fan of historical fiction, the supernatural, or just a fan of good comic books then try Britannia out. This story just urged me to keep turning the pages and delving deeper into the plot. Britannia as a whole is a great series with new, original character and world I wouldn't mind visiting again for another volume.