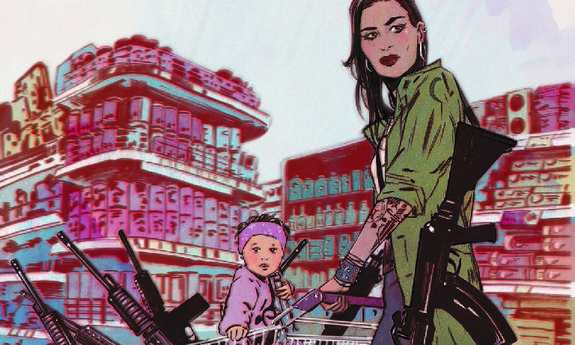 Briggs Land #4 Review
Written by Brian Wood
Art by Mack Chater
Colors by Lee Loughridge
Letters by Nate Peikos of Blambot
Published by Dark Horse Comics
Review by Robert Coffil
Briggs Land #4 is the beginning of a new arc for the series. Focused on Grace's consolidation of power and Caleb's move to increase his vice-like grip on the family's revenue stream, this isn't an issue with a huge, action-heavy set piece. Instead, Briggs Land #4 is all about political posturing within the machination that is the Briggs Family itself.
In the Briggs Family, the eldest son is the accountant. One would think that would make him the softest of all the family. The youngest son, Isaac, being a veteran and having just come back from the desert seems to have proved his mettle. The middle son, Noah, is the head of security, and in previous issues, we've seen him prove his worth when the proverbial shit hits the fan. However, eldest Caleb, might be the staunchest supporter of the Alt-Right view point the family. See his neo-Nazi tattoos for proof that you should imply he's a force to be reckoned with as this story continues.
The stock and trade of this series is tension building. Briggs Land #4 takes place over two days. Wood, Chater and Loughridge excel at the pacing this story out over that period so that the reader is always at the edge of their seat waiting to turn the next page. Furthermore, Wood and the team use every panel to convey meaning in this issue. Even the panels without dialogue have such strong storytelling that they demand your eyes attention.
The Verdict
Buy It! This issue is a wonderful slow burn. Noah is absolutely terrifying in his yellow shirt. He has all the presence of Heisenberg in the final seasons of Breaking Bad. I love this series and definitely feel that Brain Wood and team are doing excellent work.