Odd Spirits
Author: Sarah Taylor Gibson
Review by Molly McGowan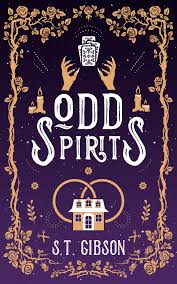 Like a lovingly-prepared home-cooked meal, Odd Spirits compels its reader to both devour and savor. Many times while reading, I had to force myself to stop racing and take in every single word. I have been following Gibson's work as a poet for years; I think about "Lamentation Of John" at least once a week. I was well aware that she knows her way around an atmospheric turn of phrase, but I was curious to see how her voice in prose would compare.
Poets writing prose sometimes struggle with dialogue, pacing, and plot– unless you're Dante or Homer, your poem is likely more impression than narrative. Odd Spirits, however, moves along at a breathless pace; here, Gibson's background as a poet allows her to deftly create richly-drawn little moments. Within a few paragraphs, I felt that I knew our protagonists, Rhys and Moira, intimately. I saw a great deal of my neurotic, research-obsessed, imposter syndrome-afflicted, epicurean self in Rhys– and like everyone else in their town, I fell in love with Moira's warmth, confidence, and generosity. Their offbeat relationship is suffused with such affection at the beginning that as the story progresses and things get icy between them, the tension is palpable. Their house falls victim to a strange haunting so ousting the demon(s?) and saving the marriage becomes paramount.
I enjoy magical realism and speculative fiction because of the many creative ways those works can raise provocative moral and philosophical questions. Odd Spirits delivers an epic tale of good and evil tied up in fairly mundane marital conflicts. Rhys is white and Moira is black. Rhys is bisexual and Moira is straight. Rhys is academic and Moira is intuitive. Rhys is an introvert and Moira is an extrovert. None of those differences end up being the problem, however; a lack of communication and good faith causes their metaphysical strife. Moira observes that "not bringing it up just ends up ruining us from the inside out… Is that it then? Are we ruined?" but all hope is not lost– the novella ends on a joyful note, with passion restored and the lights coming back on.
Verdict: Buy it.
For fans of: The Shining by Stephen King, Bridge to Terebithia by Katherine Patterson, art by Frida Kahlo, One Hundred Years Of Solitude by Gabriel García Márquez, Pushing Daisies, Orphan Black, Alice Isn't Dead, Santa Clarita Diet, and The Raven Cycle series by Maggie Stiefvater
Odd Spirits is available online from various sources.