The first time I ever saw a Mission: Impossible film, I was on an airplane and it was playing. It was the third film in the franchise and I began tuning in as Ethan removed a mask of Owen Davien (Philip Seymour Hoffman). I was both confused and intrigued… which are feelings that still come over me from time to time when I watch the films.
The Mission: Impossible films are utterly ridiculous but in the best possible way. The title tells you exactly what they're all about and every single movie is going to involve a new mission that is most certainly impossible… OR IS IT?! (spoilers: it never is)
On July 27, Mission: Impossible – Fallout hits theatres and I could not be more excited to see it. I don't get out to the theatre much these days but for me, seeing Fallout on the big screen is a must.
With Fallout's impending release, Paramount Pictures released all the prior Mission: Impossible films in 4K Ultra HD editions, and let me tell you: they look good. One might even say that they look impossibly good. SORRY NOT SORRY.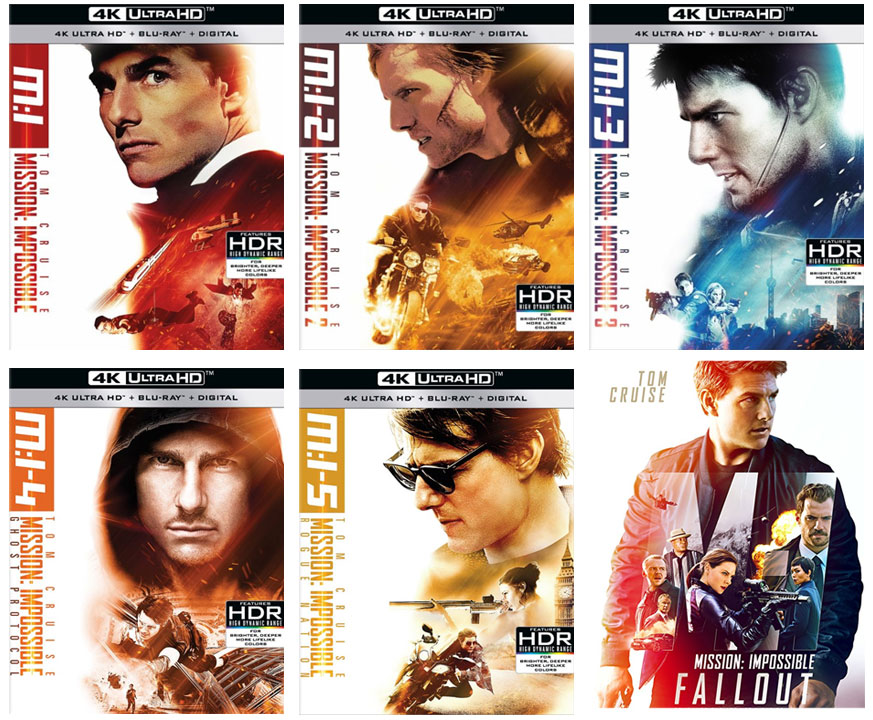 I love the branding for the covers (see above) and for anyone who is all about consistency when it comes to their movie collection, this is essentially movie cover porn.
But most people aren't just buying films for a snazzy looking cover (although no judgement if you do). Do the films hold up? Are they worth owning on 4K Ultra HD? Well, this reviewer is still not entirely sure what 4K Ultra HD is and how it's different from a regular Blu-ray (I don't want to know, don't @ me… I could look it up but I'm not going to) but the quality looks great. It's like watching a theatre-quality film on a home video screen.
Full disclosure: I do not have a gigantic TV so my "home video-sized TV screen" is pretty modest in comparison to what's out there these days. Everything essentially looks SUPER HD on it.
As for whether the films hold up, I think so! The fourth and fifth films are newer having come out in 2011 and 2015, respectively. The original trilogy of M:I films came out in 1996, 2000, 2006. While many films from the 90s and early 00s that definitely aren't worth your time nowadays, watching the M:I films was still a lot of fun.
The mix of actors that we see is great. Each film offers an almost entirely new roster of agents that compliment each other on screen. Because I had gotten used to seeing the latest M:I film in theatres without a big rewatch of the franchise, I hadn't realized how early on in the films Benji Dunn (Simon Pegg) is introduced. I forgot that Thandie Newton, Maggie Q*, Jonathan Rhys-Meyers and Emilio Estevez were in the films. Same with Anthony Hopkins and Jon Voight.
*Unrelated: Please put Maggie Q in more things again. Okay, thanks.
But enough about being delighted by forgotten stars. There's been enough time in between the films that the tension and excitement that I got from the films originally was back there for me. I forgot a lot of the plot beats and found myself along for the journey all over again. Sure, a lot of the characters aren't really developed into three dimensional human beings. Do I know anything about Ethan Hunt aside from the fact that he's real good at impossible missions? NAH but that's part of the charm. I am 100% invested in the ridiculous action, tech, and other absurd things that the Mission: Impossible films have to offer.
Plus Mission: Impossible is essentially the more fun and less rapey version of James Bond. The women are given prominent roles (they're not really given proper characterisations but neither is Ethan sooo…) and they (read: Maggie Q) kick ass in the films. But if we're going by a comparison to James Bond, while I love me a good Bond film, Mission: Impossible is miles ahead of that entire franchise in its treatment of female characters.
Verdict: Buy them!
I honestly just enjoy the heck of the Mission: Impossible movies. They are so damn fun and they're a mindless ride that I can get on board with time and time again.
Mission: Impossible 1-5 are now available on 4K Ultra HD.