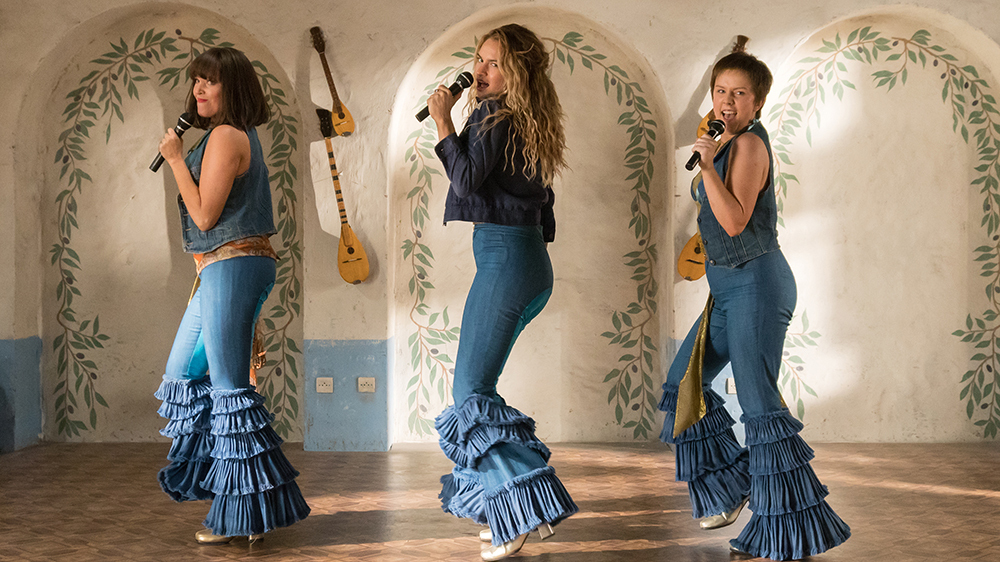 Mamma Mia! Here We Go Again
Directed by: Ol Parker
Written by: Ol Parker, Richard Curtis
Starring: Lily James, Amanda Seyfried, Alexa Davies, Jessica Keenan Wynn, Christine Baranski
Review by Stephanie Cooke
Mamma Mia! Here We Go Again is the sequel to the 2008 film adaptation of Mamma Mia! In this film, the film shifts between past and present. In the present, we focus on Sophie, as she is working through the loss of her mother and pouring her heart and soul into a hotel to honour her late mother. In the past, we focus on Donna and the events that led led her to living in Greece and becoming pregnant with Sophie.
And you know what? I actually liked this sequel better than the original. I think the original had the stage musical to live up to and shape into. Without the pressure of doing justice to what came before, the story really thrived as did the cast and crew. Lily James is the real star of this film playing Young Donna and knocking it out of the park. You can't take your eyes off of her while she's on screen – she exudes flawless charm and charisma in her role (and every role she seemingly takes on).
I think the word that I would use to sum of the film as a whole (as well as Lily James) would be charming. Mamma Mia! Here We Go Again really does do a great job of setting itself apart from its predecessor. The music and dance numbers were catchy and fun to watch, again, especially with Lily James in the role. She just looks like she's having so much fun while she's performing and it's hard to not really feel that energy coming through the screen towards you.
Basically this entire review is just my love letter to Lily James' acting career. Okay, let's be honest: it's just a love letter to Lily James in general…that beautiful effervescent creature. Who would've thought that the girl who played the annoying Lady Rose MacClare in Downton Abbey would go on to be one of my top actresses to keep an eye on in the following years.
Love letter aside, the only really lacklustre part of the film for me was Cher, who felt needlessly added in. I'm not sure if Universal thought that in lieu of Meryl Streep that they needed a big star attached in some way but I think it honestly would've been a much stronger film without Cher. She doesn't ruin the film by any means but by the time she shows up, I was pretty invested in everyone else and didn't really care to see her role play out. That being said, the cast is pretty wonderful all round and I'm sure that they probably enjoyed the chance to work alongside the legend herself.
There is no shortage of special features included on the Blu-ray (as well as the 4K release) so if you're flip flopping on whether or not to pick the film up, I must say that there's lots of extras for you to enjoy that definitely put the icing on the cake here.
Mamma Mia! Here We Go Again Blu-ray Special Features:
Deleted/Extended Songs and Scenes with Commentary by Director/Screenplay Writer Ol Parker

Extended Song Performance – The Name Of The Game
Extended Song Performance – Knowing Me, Knowing You

Enhanced Sing-Alongs

One Of Us
S.O.S.
Why Did It Have To Be Me?
I Have A Dream
Kisses Of Fire
Knowing Me, Knowing You
Angel Eyes
My Love, My Life

Cast Meets Cast

Tanya Meets Tanya – Jessica Keenan Wynn interviews Christine Baranski about playing the sassiest Dynamo – Tanya.
Rosie Meets Rosie – Alexa Davies interviews Julie Walters as the two actresses share their experiences playing Rosie.

Cast Chats

Dynamo Chit-Chat – A conversation between the three Young Dynamos reflecting on their favorite song, costumes, scenes to shoot, and funniest moments.
Dad Chat – The young dads come together to share some of their favorite memories from set.

High Jinks
Sophie's Story – Of all the characters, Amanda Seyfried's Sophie has developed the most since the first movie. Here we will chart how Sophie has gone from a vulnerable young girl to a confident young woman following life-changing events.
Choreographing MAMMA MIA! HERE WE GO AGAIN – Choreographer Anthony Van Laast and his team will reveal some of the secrets behind the highly original dance routines.
Dancing Queen: Anatomy of a Scene – The most famous piano roll in musical history opens one of ABBA'S biggest hits, "Dancing Queen." The number is the biggest and most complex sequence. Ol Parker will discuss where and how he wanted to use the song in the story.
Performing for Legends – Here the Young Dynamos will discuss the daunting prospect of stepping into the recording booth at Air Studios to sing ABBA to ABBA.
Class of '79 – The story of the Young Dads and Dynamos is told against the backdrop of Oxford, Paris and the Greek Islands of 1979, when hairstyles were wackier and the fashions were bolder. This featurette will focus on the Young Dads and Dynamos and their experience bringing these characters to life.
Deleted Songs and Scenes with Commentary by Director/Screenplay Writer Ol Parker

Deleted Song Performance – I Wonder
Deleted Scene – Tahini

Enhanced Sing-Alongs

Thank You For The Music
When I Kissed The Teacher
Waterloo
Andante, Andante
The Name Of The Game
Mamma Mia
Dancing Queen
I've Been Waiting For You
Fernando
Super Trouper

The Story – Producer Judy Craymer reveals how the MAMMA MIA! legacy began, evolved into the first feature film and how she teamed with executive producer/co-story writer Richard Curtis and director/screenplay writer Ol Parker to develop the perfect sequel.
MAMMA MIA! Reunited – Focusing on the legacy performers and their excitement at reuniting a decade later, the filmmakers discuss the paths they've paved for the characters since we last saw them.
Playing Donna – This piece centers on Meryl Streep's cameo performance and Lily James' preparation for filling this iconic role.
Meeting Cher – The Queen of pop reveals her excitement at joining the MAMMA MIA! family as Ruby Sheridan – Sophie's glamorous grandmother. Fellow cast members will share their delight at meeting and watching a legend on set.
Costumes and The Dynamos – The Young Dynamos have some pretty cool costumes in MAMMA MIA! HERE WE GO AGAIN, and of course so does Cher. And who could forget those trademark dungarees? We will join costume designer Michelle Clapton as she highlights some of her favorite outfits from the movie.
Curtain Call – Who can forget the finale to MAMMA MIA! when the cast danced onto cinema screens in full spandex for one final number? Ol Parker has chosen "Super Trouper" to close his movie and it features all 16 key cast members.
NBC's TODAY Show Interview with Cher & Judy Craymer
Feature Commentary with Director/Screenplay Writer Ol Parker
Feature Commentary with Producer Judy Craymer
Verdict:
You know what? This is actually a very strong BUY IT from me. Not only is the film fun and charming (specifically Lily James…) but there are tons of special features that Universal has gone to great lengths to include. You get a delightful movie as well as lots of bonus content to help you enjoy the film even more. It's a crowd pleasing film that you can enjoy with a group of friends (enhanced with the sing-a-long feature) or something to have fun watching on your own.