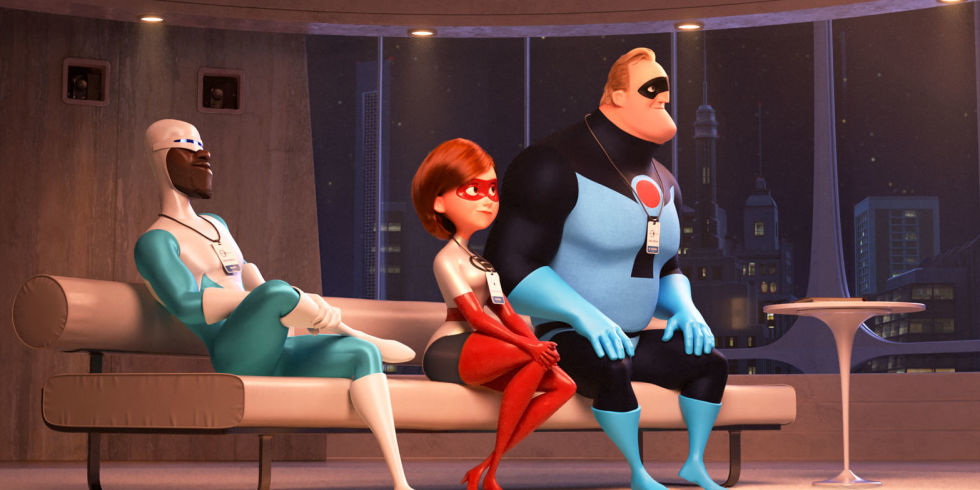 Incredibles 2
Written and Directed by: Brad Bird
Starring: Craig T. Nelson, Holly Hunter, Sarah Vowell, Huck Milner, Catherine Keener, Samuel L. Jackson, Bob Odenkirk
Review by Stephanie Cooke
I completely missed Incredibles 2 in theatres so getting to finally watch it was exciting for me. I don't think there's anyone who saw the original film that wasn't immediately endeared to the entire family and the delightful story presented to us. It's essentially a well done version of the Fantastic Four as made by Pixar! What's not to love!?
I wouldn't say that I was apprehensive about the sequel, but I really really just hoped for the best. Pixar has a so-so track record with sequels and I didn't want anything to take away from my love of the original.
Thankfully, Incredibles 2 was a joy and I had a lot of fun watching it. I don't think it's quite as charming as the original (the bar was set incredibly high…no pun intended) but it does a good job of exploring new territory with its characters.
I can't tell exactly how much time has passed since the first film wrapped up but the family are still at, superheroing and trying to help their fellow citizens survive the wrath of nefarious supervillains…except now, superheroes are illegal. It kind of plays around this time with what these characters would do in a Marvel's Civil War type situation. There's a lot of conflicted feelings about carrying on doing the things that they love doing or just giving up to live a regular life. Obviously the regular life thing doesn't really pan out…they're The Incredibles!
Things get shaken up when Helen is chosen to carry on with the superheroing and to help make a case for superheroes to become legal again. Bob is left behind to take care of the family and take on the "traditional matriarch role" at home. He's begrudgingly happy for Helen to take the lead for their household and to step back and assist with the family, but there are big cracks in his "supportive" facade. It's clear that while Bob is at home, he'd rather be out fighting bad guys and he thinks that he's the right person for the job, not Helen. At no point does he really acknowledge that she is the smart choice to rebuild the superhero persona. He holds onto his true feelings of resentment with them bubbling to the surface in moments of extreme exhaustion.
I know they wanted to show the tables being turned and to depict how modern families can have the woman paying the bills with a stay-at-home father instead of mother, but I don't know that they really nailed it. They never really address that resentment that Bob has for Helen as she gets the chance to shine and be in the spotlight as Elastigirl. The failure to have a resolution there left a sour note in the overall prestige of the film.
Heavy stuff and deep diving into the themes aside, I did enjoy the film and watching it. It was great to have the family on screen again and to watch the family dynamic as they all continue to grow together and figure out how to superhero on their own terms but also as a team.
Incredibles 2 Blu-ray Special Features:
All-New "Auntie Edna" Mini-Movie – When Bob Parr visits super-suit designer Edna Mode looking for help with his high-energy toddler Jack-Jack, Edna pulls an all-nighter designing a suit to harness the baby's seemingly limitless powers.
10 Deleted Scenes With Introductions – Suburban Escape, Kari Revisited, Return of the Supers, Chewed Out, Late Audition, Slow Day, Frozone and Honey, Restaurant Robbery, Fashion Show and Security Breakdown.
Super Stuff – From buildings and vehicles to costumes and props, every action movie requires a lot of really cool stuff. Meet the makers and learn what it takes to design and build such a uniquely incredible world.
Heroes & Villains – A collection of mini-docs about the backstory and major design ideas behind the "Incredibles 2" characters — featuring voice actors, director Brad Bird, and Pixar artists talking about the many elements that make these characters feel real.
Ralph Eggleston: Production Designer – This short piece explores the many ways a single production designer has influenced the look, feel and character of the Pixar universe, culminating in "Incredibles 2."
Strong Coffee: A Lesson in Animation with Brad Bird – Brad Bird's passion for animation dates back to his childhood and mentorship under Disney's Milt Kahl, and that enthusiasm and powerful insight emanates from every film he's made. Take a deep dive into Brad's early years at Disney Animation Studios and his time at Pixar.
Paths to Pixar: Everyday Heroes – At its heart, "Incredibles 2" is about family dynamics and the challenges of being a working parent. Meet the parents of Pixar as they discuss their personal connections to the film and their experience with stretching to balance work and family.
SuperBaby – A documentary/hip hop music video hybrid hosted by Frankie and Paige from Disney Channel's Bizaardvark. This piece explores how Jack-Jack came to life onscreen — from design to special effects to animation — all set to a hot beat.
Commentary – Get inside commentary from animators Alan Barillaro (supervising animator), Tony Fucile (supervising animator, story artist and character designer), Dave Mullins (supervising animator) and Bret Parker (animation second unit and crowds supervisor).
Theatrical Short: "Bao" – An aging Chinese mom suffering from empty nest syndrome gets another chance at motherhood when one of her dumplings springs to life as a lively, giggly dumpling boy.
Making "Bao" – Director Domee Shi shares her secret recipe for making an animated short — discussing how her rich cultural heritage, unique relationship with her mom, and her love of food all informed the making of the food-fantasy "Bao."
Outtakes & Stories – Raccoon Fight Story, Evelyn Animation Outtakes, Puppet Animator Interview, Outtakes Goofy Arms Story and SuperBaby Music Video.
Character Theme Songs, Vintage Toy Commercial TV Spots , Toolkit Montage and Global "Incredibles 2" Trailers
Verdict:
Buy it! I love Pixar's films and Incredibles 2 is no exception. While I don't think it shines as brightly as the original, it still plays around with a lot of fun themes and tells a great story that features a family we've come to love dearly.
The Blu-ray comes with a lot of bonus features, including the beloved Pixar shorts that are usually played before the feature film. It's definitely worth picking up for the film alone but the features make it something extra special.