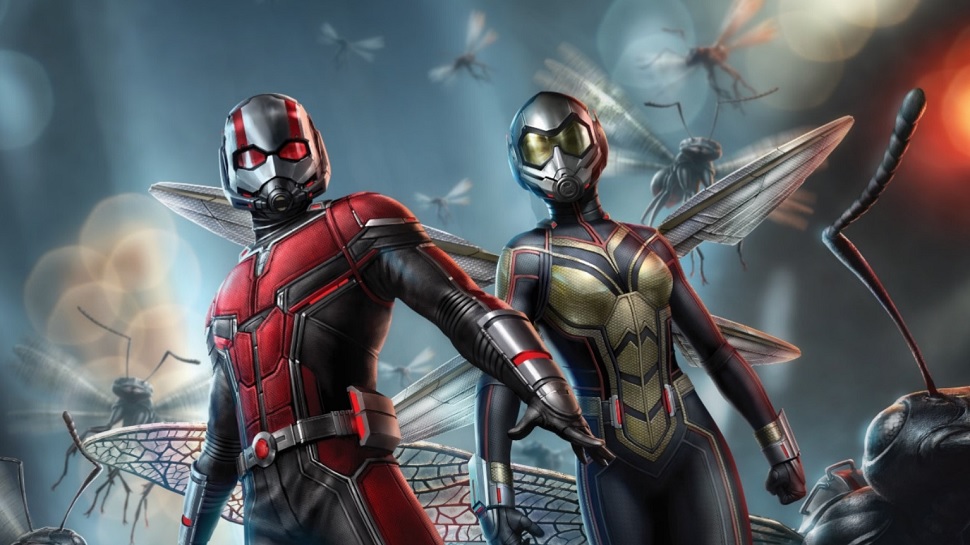 Ant-Man and the Wasp
Directed by: Peyton Reed
Written by: Chris McKenna, Erik Sommers, Paul Rudd, Andrew Barrer, Gabriel Ferrari
Starring: Paul Rudd, Evangeline Lilly, Michael Peña, Michael Douglas, Hannah John-Kamen, Michelle Pfeiffer, Laurence Fishburne
Review by Stephanie Cooke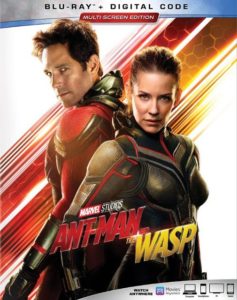 Ant-Man and the Wasp might be the first Marvel movie that I missed during its theatre run. I never thought there would come a day when I missed a superhero movie on the big screen, but here we are. I liked the first Ant-Man movie well enough – it was the second, after Guardians of the Galaxy to really change the mold of what Marvel had been doing thus far. So sitting down to Ant-Man and the Wasp on Blu-ray was my first time watching the film.
With the inclusion of Hope as Wasp (Evangeline Lilly), you would think that we could maybe push her into being a bit more of a major character. After all, the character of Wasp is one of the original members of The Avengers in the comic books and is beyond worthy of getting more screen time. While Hope definitely has an increase as far as her screen time goes, she's still not really developed as a character. She is given some fantastic fight scenes and remains the character that most certainly in charge of things (at least between Scott and herself). And yet, I don't feel like we get much more of her. With the plot revolving around them trying to find her mother, it was an opportunity to explore her as a character and the relationship she had with her. Not to mention that it was a great time to further explore some of the father/daughter dynamic between Hank and Hope.
Scott remains the focus of Ant-Man and the Wasp with him trying to do right by his daughter and serve his time for his part in assisting Captain America in Germany (during Civil War).
Joining the cast for this film was Laurence Fishburne and Hannah John-Kamen. I've been a fan of John-Kamen's for a while now having seen her in the fantasti sci-fi show Killjoys. Bringing her into the Marvel fold here was an excellent casting choice and she did great justice to the character of Ghost. My qualm here is that I feel as though she was sorely underused. Ghost is easily the most interesting character in the entire film (I say this liking the other characters just fine) and we don't really get enough of her as a character. We very briefly get a glimpse at her origin story as she talks about how she phases through things with Scott, Hope, and Hank, but that didn't satiate my curiosity.
She's not particularly evil in the film and while she's make an interesting point of conflict for Scott and Hope, she's not really a villain. Our very own Michael Farris Jr. wrote about how the real villains of Ant-Man and the Wasp are actually the supposed good guys. It's a compelling read that definitely changed my perspective of the film. Heroes put other people first and while they're technically launching a mission to save someone else, it is a mission that is self-serving for them and selfish. Sure (spoilers), it eventually turns out that Janet is able to assist with fixing Ghost's affliction and find a permanent cure for her, but they don't know that at the time, and thus their mission exists to appease a need of our supposed heroes. It's an interesting direction for the film to go in and one that sort of makes them borderline anti-heroes.
The story itself, stepping away from the characters here, is quite fun. There's lots of enjoyable banter and charm that endeared us to the first Ant-Man film. I don't think there's quite as much fun in it as what came before but that doesn't mean that this isn't a good film. Like all the Marvel movies, they try to cram a lot of content in. All Marvel films at this point seem to suffer a bit from the shared universe connection. In the same way that comic books are hard to get into because of the continuity, the MCU is so intricately tethered that watching any of them requires a lot of legwork. Ant-Man and the Wasp is slightly less bogged down by the continuity of the rest of the MCU but there's still a lot of groundwork thrown in to make sure we know it is a part of the bigger picture overall.
I don't think we'll ever have a MCU that is under at two hours long at this point; there's just way too many things that the filmmakers want to include.
Ant-Man and the Wasp Blu-ray Special Features:
Director's Intro by Peyton Reed – The talented creator behind some of Marvel Studios' funniest and most charming films will invite home audiences deeper into the world of "Ant-Man and The Wasp."
Making-of Featurettes:

Back in the Ant Suit: Scott Lang – Hero and all-star dad Scott Lang keeps the laughs coming for the audience, cast and crew.
A Suit of Her Own: The Wasp – Highly trained Hope Van Dyne is now the Wasp. See how some of her craziest stunts and action-packed scenes were brought to life.
Subatomic Super Heroes: Hank & Janet – Hank Pym's wife Janet was lost in the quantum realm. Trace the legacy of these characters and the iconic actors who portray them.
Quantum Perspective: The VFX and Production Design of "Ant-Man and The Wasp" – Explore the movie's visual effects and production design from a whole new viewpoint, in which every micro and macro detail counts.

Gag Reel and Outtakes – Audiences are treated to the hilarious quips that did not make the film as well as exclusive outtakes from Stan Lee and Tim Heidecker.

Gag Reel – Join in the fun with these outtakes from the set.
Stan Lee Outtakes – Stan Lee tries out a series of hilarious one-liners for the scene in which his car shrinks.
Tim Heidecker Outtakes – Check out Whale Boat Captain Daniel Goobler and his improvised whale-watching riffs.

Deleted Scenes (with commentary by Director Peyton Reed)
Verdict:
Buy it! Ant-Man and the Wasp is a fun romp with likeable characters. It is a breath of fresh air within the larger continuity of the MCU. While I think there are a few missteps and underutilizations of characters (with Ghost as well as Hope and Janet Van Dyne), I think that should hopefully amend itself a bit in future movies. Disney and Marvel put loads of extras onto their Blu-rays for folks who want to commit to a physical copy and I think most folks will enjoy all the bonus material.