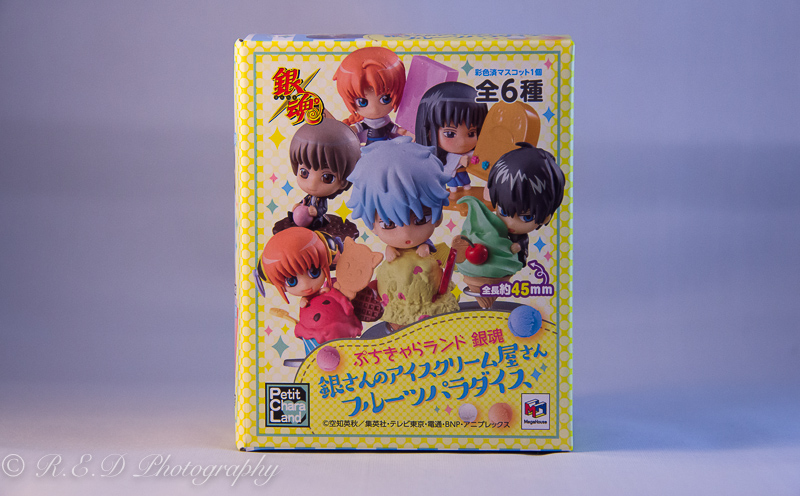 Back in January I opened a Gintama blind box that I had bought as a set of six off amiami.com and it was one of the most adorable figurines I own! I used to find it difficult trying to find anime based blind boxes but recently I haven't stopped seeing them! Gintama is my favourite anime and I was lucky enough to find the blind box set online!
The blind box is created/distributed by Petit Chara Land and Megahouse who create all the Gintama blind boxes. I opted for the Gintama Gin-san no Ice Cream-yasan Fruit Paradise six pack box which cost me £46, shipping included. All the characters are in their chibi form and all have a different dessert accompanying them. There are six characters to collect and they are;
Gintoki Sakata
Kagura
Toshiro Hijikata
Sougo Okita
Kamui
Kotaro Katsura
And, without further ado, I got…
TOSHIRO HIJIKATA!!
Again I'm really pleased with the result of this blind bag opening! To think I have managed to get both boys of the Shinsegumi! I'm not quite sure if I'm definitely going to get all of the figurines or if I might receive doubles, so I'm just going to be super happy with the pulls I've had thus far.
The quality of the figurine is great for the price, which is £7.60 per blind box. I love the fact they're in chibi form, makes the figurine extra kawaii! The colours compliment each other well with the lime, yellow, and red. Also, what I would come to realize after taking the images is that Hijikata is holding a bottle of mayonnaise behind his ice cream, which is a sweet touch! The dessert he has is pine and melon.
Hijikata Toushirou is the former Vice-Commander of the Shinsengumi. Introduced as the brains of the Shinsengumi, he is commonly known as the Demonic Vice-Commander, striking fear into his enemies and subordinates (with the exceptions of Kondou Isao and Okita Sougo). Hijikata is one of my favourite characters in the Gintama series due to his strong sense of pride and yet his willingness to help others.
You can buy Gintama blind boxes here!