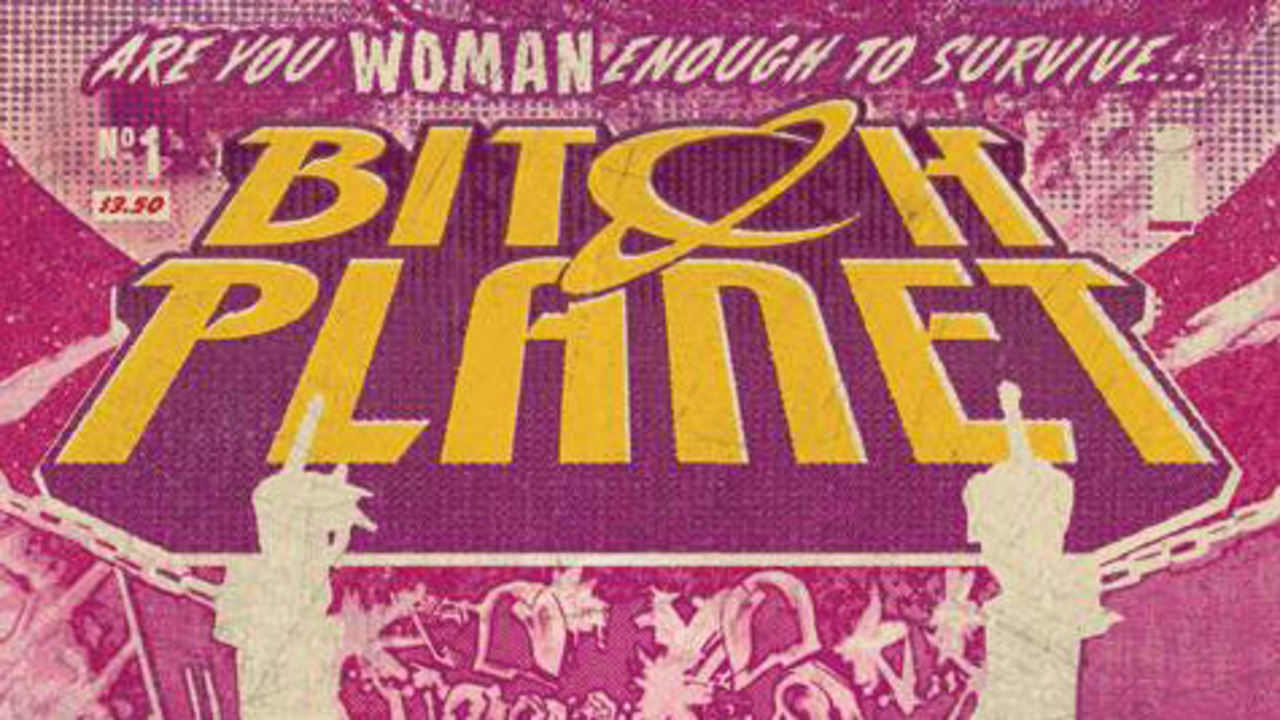 Bitch Planet: Triple Feature #1

Writer : Andrew Aydin, Cheryl Lynn Eaton, Conley Lyons
Artist: Joanna Estep, Maria Fröhlich
Publisher: Image Comics
A review by Anthony Pollock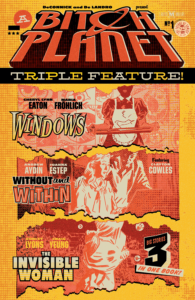 I'm just going to start by saying that I've never liked anthology comic books. The purpose of the short stories to show the reader the many different character's points of view work only in theory. More often, the exploration of the multi facets surrounding the comic's universe fall by the wayside with lack of consistency. They make sense only from a the writer's perspective. I rarely see an anthology ladened comic/graphic novel execute the whole vision realised well enough to be taken seriously. It just doesn't strike a chord enough to have me wanting for more from each short story.
That said, Bitch Planet: Triple Feature is a well executed anthology of three stories for what it its. The self described comic takes place in a "not so far away future" where troublesome and offensive women are jettisoned off world to a planetary penitentiary. But what is troublesome and offensive? The juxtaposition of the main characters of each story highlight the complexity of Bitch Planet's residents. From violent secret agent to submissive secretary to screwed over career woman turned pro-feminist picketer, we have a world where art isn't imitating life. It is life. This is the struggles that every woman has faced or will face at some point. Albeit carefully written and fictionalised into an enjoyable literary piece.
I'm torn in comparing the vision of the story with the drama of each artist's interpretation of said story. The art of the first two stories, Windows and Without and Within are the highlights of this release. They work together with their similar styles. So well that I'd like to see more of the Cheryl Lynn Eaton/Maria Fröhlich and Andrew Aydin/Joanna Estep teams in the long term. In terms of consistency, the art of The Invisible Woman, just doesn't work with this release.
This issue of Bitch Planet: Triple Feature sings loudly by establishing an awkwardly and all too familiar world. The characters aren't as three dimensional as I'd like but that's hard to achieve when the creator has limited the plot and character development with the constraints of these short stories. I'd like to commend the comic creator for her bravery in refusing to be held back by the ordinary bounds of superhero vs super villain formula. Bitch Planet needs to delve into the broken nature of this penitentiary planet to keep me engaged in this series in the long term.
The Verdict
Check it out. If the endless diatribe of superhero versus supervillain has become too vanilla for you then be sure to give Bitch Planet: Triple Feature a read. It's a comic that is relevant in the now, pays homage to the quasi-retro fashion of a by gone era, chucks in some blaxploitation throwbacks yet all the while tells three stories of sexism and exploitation that we're all too familiar with. There's lessons to be learnt here and Bitch Planet teaches it well.