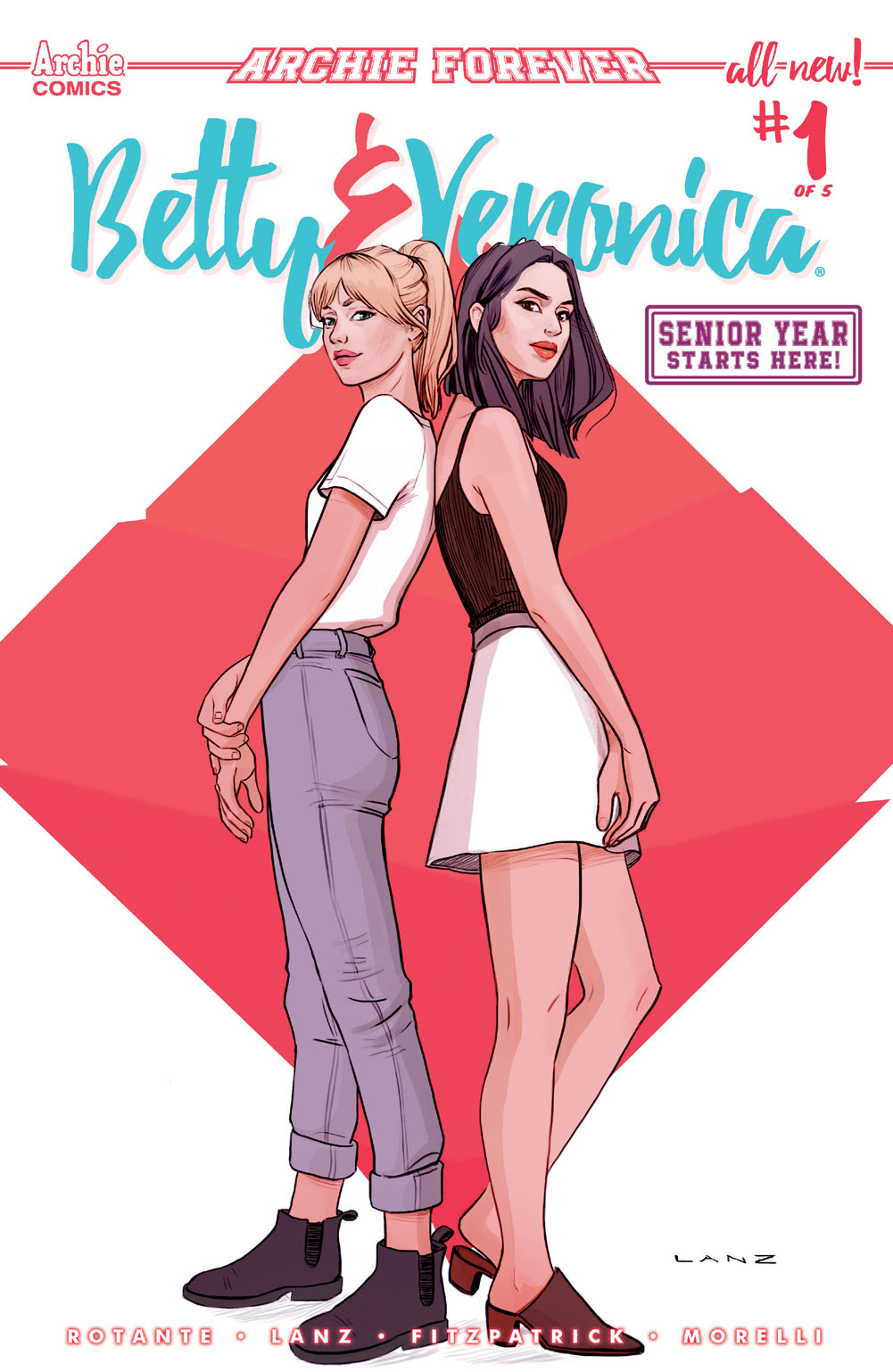 Betty and Veronica #1
Writer: Jamie L. Rotante
Line Artist, Cover Artist: Sandra Lanz
Colorist: Kelly Fitzpatrick
Letterer: Jack Morelli
Publisher: Archie Comics
Review by Anelise Farris
Archie Comics has shown us the famed Riverdale clan in all walks of life. Here in Betty and Veronica #1 Betty and Veronica are beginning their senior year of high school. While senior year has plenty of perks and fun milestones, there's certainly a lot of added stress and anxiety about what the future holds. BFFs Betty and Veronica make a pact to go to the same college. However, when circumstances change concerning their higher-ed plans (and of course boy plans), their friendship is in jeopardy.
The story told in Betty and Veronica #1 is fun, lighthearted, and typical Archie and co fashion. Everyone is characterized as you'd expect them to be: Archie the goody two shoes; Jughead, sleepy and hungry; Betty, kind and naive; Veronica, determined and calculating; Cheryl with her biting wit and sarcasm; and of course, the surrounding cast like Ethel and Reggie adding some extra flair to the crew. All of that to say, some of the characters definitely pop out more than others — like Cheryl and Ronnie. Betty was a little sleepy, and I'm not sure that this first issue balanced background setup and character development as well as it could have. The transitions were clunky, and overall it felt rushed.
Like the writing, the art made certain characters more recognizable than others. It was obvious who Cheryl, Archie, and Jughead were, but our two titular characters — Betty and Veronica — were more uniquely designed, especially Veronica. I don't know what it is exactly, but I had trouble looking at her and seeing Ronnie. The context and friendly banter with all of the Riverdale crew helped though. The lettering is well-integrated into the story, and Fitzpatrick's coloring is always spot on — helping to ease any first issue blunders.
Verdict: Check it out Out.
Betty and Veronica #1 is the first in a five-issue last-year-of-high-school mini series. If you're a big fan of the Riverdale clan, then I'm sure you'll read this anyway just to get more of these characters in your life. That said, if you don't care much for these characters already, then I'm not sure that this tale of senior-year woes will have enough to grab you.