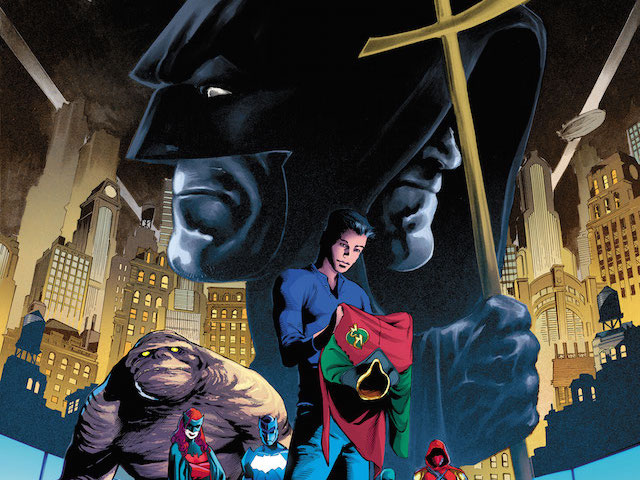 Batman: Detective Comics — Vol. 5 A Lonely Place of Living
Writers: James Tynion IV and Christopher Sebela
Pencillers: Eddy Barrows, Alvaro Martinez, Carmen Carnero
Inkers: Eber Ferreira, Raul Fernandez, Carmen Carnero
Colorists: Adriano Lucas, Tomeu Morey, Ulises Arreola, Kelly Fitzpatrick, Jean-Francois Beaulieu
Letterer: Sal Cipriano
Publisher: DC Comics
A review by Cory Webber.
Batman: Detective Comics — Vol. 5: A Lonely Place of Living answers the question "Where in the world is Tim Drake?" Red Robin faces a crossroads: escape the most devious prison ever devised, or find himself abandoned beyond time and space for all eternity! Not much of a choice, right? But when he finds out who is locked in there with him, Tim's world will change in ways he never imagined! Collects DETECTIVE COMICS #963-968.
James Tynion IV has been stringing one wonderful story after another in Detective Comics, and this volume is no exception. It offers a plausible explanation as to Tim Drake's whereabout aftwr we thought he died, almost a year ago, way back in #940. Be warned, though, that the identity of Mr. Oz is revealed here. If you want a more satisfying reveal, read about in Superman: Action Comics —The Oz Effect Deluxe Edition. Not sure you want to? Go ahead and check out my review first.
A Lonely Place of Living cleverly refers to Tim Drake's first appearance in the story A Lonely Place of Dying. Mr. Oz, in the first chapter, talks with Drake and rehashes his first appearance and eventual lead up to becoming the next Robin. His astute analysis nicely paints the picture as to why he is my, and many people's, favorite Robin — he did it because he wanted to make the world a better place, and not because he was led to it by some sort of traumatic experience.
Tynion does some solid character work by means that I don't want to explore for spoiler's sake. However, I can talk about how well the story is written overall. This book moves at an exceptional pace. Tynion has included a wonderful, diverse cast of characters. They each play their role perfectly, and I could not have picked a better lineup. He does a phenomenal job of writing distinct voices for each characters, and there are a lot of characters in this one. Now, there are a couple reveals that were pleasant surprises, especially the identity of Drake's cell mate; a reveal that creates an imminent and long lasting effect that will surely be felt for a while.
The art in this book is pretty consistent in spite of the rotating artists. The pencils, inks and colors, regardless of the creative team, all gelled together well. The action is dynamic and well-plotted, particularly a scene involving older-model Batplanes. Plus, each member of the team gets their moment to shine, including some special guests of the bat family. Again, Tynion's ability to write each character so well, in such limited time, is uncanny. I rather enjoyed the banter amongst all the past Robins.
Verdict:
Buy it! Especially if for you are a fan of Tim Drake. Tynion IV continues to deliver great stories for this series with the promise of something bigger building for upcoming volumes.