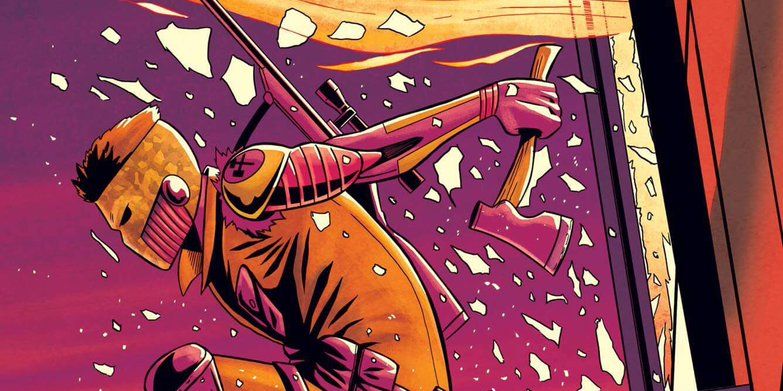 Auric of the Great White North #4
Writer: Davis Dewsbury
Artist & Letterer: Andrew Thomas
Colourist: Sharon Gauthier
Publisher: Great North Comics
Review by Josh Rose
This is a story all about how my life got flipped, turned upside down, and I'd like to take a minute, just sit right there, I'll tell you a story about how I read Auric of the Great White North #4. First some background: The short version is that Auric is a 100-year-old warrior from northern Ontario who can turn into a little lion-man. Think Thundercats meets Old Man Logan. For the last century he's been defending the North from a collective of monsters he thought he finally defeated 10 years ago. But, now he's old and the monsters are back.
Auric of the Great White North #4 flashes back 10 years ago to when Auric had a team of people working with him. Rolly was one of those teammates who was in the middle of a hunt for a firebug that left him horrifically injured and requiring a couple of prosthetics. Fast forward to today, and thanks to Auric, Rolly is back in fighting form with some serious tech upgrades.
Auric was created by Aftershock cover artist Mike Rooth for the Northern Ontario Comic Expo in 2014. He was designed as a lion-man due to the show's connection with the Lions Club in Timmins, Ontario. A contest was held to name him, which Katherine Montigny won. Andrew Thomas and Davis Dewsbury got together in 2015 to make an annual comic exclusive to the show. Needless to say, it was very popular: leading into a regular series with several reprints, a couple successful Kickstarter campaigns, and a kid's spinoff series.
Davis Dewsbury spends his time introducing and fleshing out the history of some of the characters. Auric of the Great White North #4 isn't bogged down with word bubbles like an early issue of Spawn. Rather it does have moments with some action, but those aren't the main focus. Character is what drives the plot, as well as the mystery behind the tech Auric gives Rolly. But, what are its limitations, and just how much will it affect Rolly in the future?
There's a panel that is a great homage to Spider-man unmasking the burglar when Rolly catches his own robber. Andrew Thomas has moments where his foreground characters are incredibly detailed, but the guys hanging out in the background are simple and cartoonish. It's not a great contrast in my opinion, and I think he can maintain a high level of art. I really enjoy Thomas's design for Rolly's action suit. It's like Casey Jones meets the Winter Soldier. In addition to the character designs, I also like the execution of the flashback scenes. Sharon Gauthier colours the scenes from 10 years ago in black and white, while the ones for days ago are in more grey-ish colours. Her colours otherwise are very vibrant, particularly the sunset panels composed of purples and oranges.
The Verdict: Buy it.
To truly appreciate Auric of the Great White North #4, I recommend readers go check out past issues. One of the great things about this series is that it feels new and old at the same time. Auric is a character with a very long history, but it's not bogged down with continuity. You really get a sense that each member of the creative team is truly a comic fan at their core. This is a great all-ages low-fantasy series that is authentically Canadian.