Animal Crossing: Pocket Camp
Genre: Community Simulation
Developer: Nintendo
Publisher: Nintendo
Platforms: iOS, Android
A review by Brooke Ali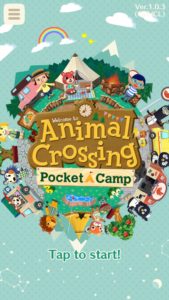 The Animal Crossing franchise has always been home on handheld devices, so bringing it to mobile gaming is a no brainer. Animal Crossing: Pocket Camp gives you the same community sim experience you've come to expect, but in a – ahem – pocket size.
You step out of a camper van to the bubbly introduction of Isabelle, everyone's favourite assistant mayor from New Leaf. She assumes you're the new camp manager and fills you in on your new role. She's not the only familiar face, of course; the other campers are villagers from the previous games. You start off with Goldie, and other campers trickle in as you gain levels. However, there are two characters, K.K. and Tom Nook, who have to be accessed with Leaf Tickets, but more on that later.
One major diversion that this game makes from the others in the franchise is its focus on goals. Isabelle gives you 3 daily goals and a list of "stretch goals" (with no time limit) that you can complete for rewards. The campers also have their own requests for you to fulfill, giving some structure to your wandering and collecting. For gamers, like me, who can feel a little overwhelmed and untethered by sandbox games, this can be a welcome feature. And for those of you who experience FOMO-induced motivation at limited-edition rewards, there are seasonal challenges like the current Christmas challenge.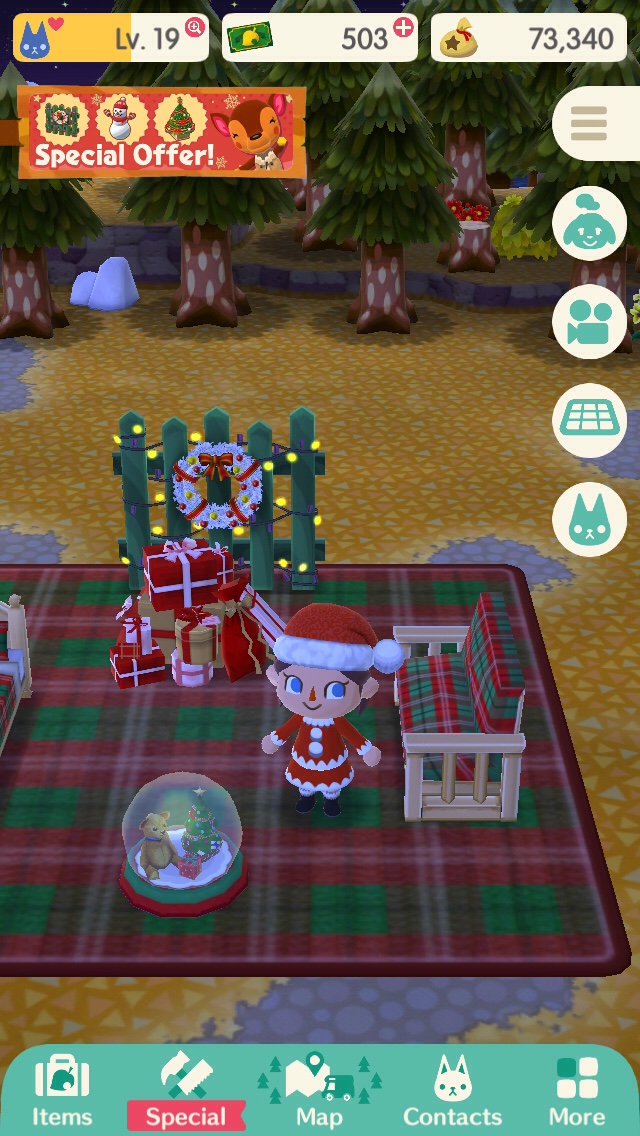 Instead of the seamless open world of other Animal Crossings, Pocket Camp is divided into separate areas that must be traveled to via the map. This, unfortunately, means enduring a load time between areas, a concession to the limits of the mobile game format. Each area has different items to collect and an ever-revolving (every 3 hours) cast of campers to fulfill requests for. Shovelstrike Quarry is the only area with special requirements for entry; you need to get help from 5 people on your friends list or pay 20 Leaf Tickets. You can only visit the quarry once per day, which makes this a daily cost.
Of course, every Animal Crossing game has a social aspect and this one is no different. Along with requesting your friends to help you gain access to the quarry (and, hopefully, helping them as well), you'll find a random player's character hanging out alongside the campers. Their interactions with you are limited, but you can visit their campsites and see how they've arranged their space or add them to your friends list. There's also an open market where players can list items for sale to other players; a great recourse when you've run out of pears and that seems to be the hot item of the day among the campers.
The other major addition to this game is crafting. Fulfilling requests for campers benefits you in two ways: increasing your friendship level and earning materials for crafting. This is how you obtain all the furniture and items you use to decorate your campsite and the interior of your camper van. You also need certain items to invite campers to your campsite. Instead of waiting to randomly come across all the pieces to a collection, you can now control making them yourself. At the moment, there is no crafting for clothing, but the game promises that it is coming soon.
It wouldn't be a free-to-play game without some sort of micro-transactions. In Pocket Camp it comes in the form of Leaf Tickets. These can be used to buy the furniture needed to invite K.K. and Tom Nook to your campsite, enter the quarry without help from your friends list, or speed up crafting. However, they are so plentiful as rewards that you can play without ever spending real money on them. A possible downside is that the game requires constant internet connection, which means no playing in subways or other deadzones. It also uses a lot of phone battery to run, so it's not an app you'll want to keep open in the background all day.
Verdict:
Play it! Current Animal Crossing fans will find Pocket Camp a welcome addition to the franchise and the mobile format will likely bring new fans to the games. Although there are some things I miss, like the seamless open world and a museum where you can catalog your finds, it brings exciting new aspects that I hope to see in future Animal Crossing games.