Writer: Janet Harvey
Artist: Megan Levens
Colorist: Nick Filardi
Letterer: Crank!
Publisher: Oni Press
A review by David Hildebrand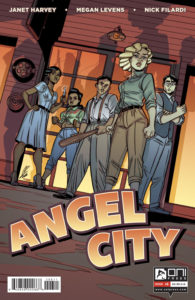 From the first issue of Angel City, I was drawn in. The characters, the action, the drama, the mystery, this comic has had it all! I was both eager and sad to get my hands on this final issue. I was excited to see how the story would come together in the end, but at the same time, I didn't want the story to end. I have grown quite fond of all the characters that Janet Harvey brought to life before my eyes. I also have my hopes up that I will encounter some of these characters in the future!
Angel City #6 jumps right into the thick of things. There is a gunman out to tie up some loose ends as Brenda, the Mob Madame, almost gets gunned down outside the Ambassador Hotel. Dolores' newly acquired allies clash with the police. The clash causes a diversion so Dolores can make her escape to (hopefully) find the witness to Frances' killer and also the one that can clear her good name. Dolores receives more information as she infiltrates the Ambassador and a new twist is unveiled that further complicates her emotions and brings the whole series of events just a little closer to home. Will Dolores find out who killed her friend, Frances? Will Dolores and Joe finally get together or will Dolores go running back to Gino? What will become of Bugsy Seigel? So many questions that scream for answers!
I would love to share all the spoilers and discuss the ending and how it made me felt, but I can't! You have to go out and buy this book to see how it all ends! Angel City #6 is the end of my roller coaster ride that Janet Harvey has been the operator for. In just six issues, Harvey has pulled all these emotions out of me with these well written characters she has put on display. I have also done some research and discovered past history I wasn't aware of due to this story. I also have Janet to thank because she shared some history with me herself. So thank you again, Janet! It has been fun!
The art has been consistent and beautiful through the entire series. Levens and Filardi make a dynamic duo! They brought the dirty underbelly of L.A. to life but at the same time filled it with a beautiful palette of color and gorgeous artwork. The visuals combined with Harvey's scripting made Angel City the complete package.
The Verdict
Buy it! If you have missed Angel City from the start, you can pick up the trade when it comes out in September. But that is way to long to wait to read a story that is as good as Angel City. It has been quite a while since I have enjoyed a crime story as much as I enjoyed Angel City. If you are new to the genre, this is a great narrative to begin with. I hope this creative team gets together for another story soon! I will be one of the first to pre-order!