Angel Catbird Volume 2
Writer: Margaret Atwood
Artist & Cover Artist: Johnnie Christmas
Colorist: Tamra Bonvillain
Publisher: Dark Horse
A review by Anelise Farris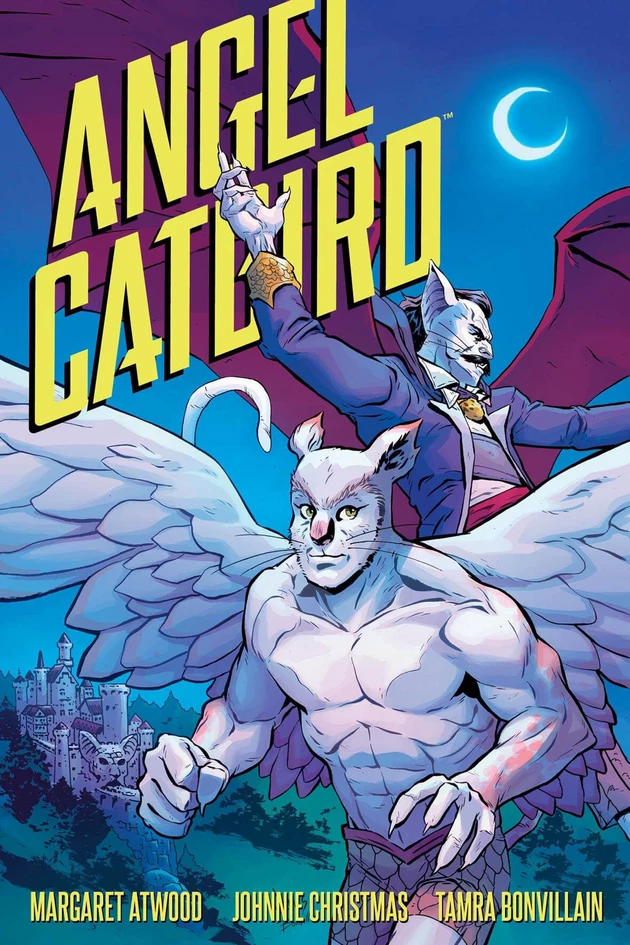 I've said it once, and I'll say it again: I want to be Margaret Atwood when I grow up. Being a huge fan of Atwood's fiction and her work as an environmental activist, I was not at all surprised to find myself in love with Angel Catbird. Volume 1 (check out my review here) introduced readers to Strig Feleedus: a genetic engineer who becomes Angel Catbird following an incident with a cat, an owl, the serum, and himself. Angel Catbird Volume 2 builds on some of the underlying tensions of Volume 1—Strig dealing with his often contradicting cat-like and bird-like impulses, the romance between Strig and Cate Leone, and of course the evil plans of Dr. Muriod—to advance the plot in a compelling direction.
In Angel Catbird Volume 2, Strig, Cate, and their crew of cat-human hybrids are headed to the home (or more accurately, the castle) of Catula to plan their strategy for defeating Dr. Muriod and his team of rat-hybrids. Although the majority of Angel Catbird Volume 2 focuses on their trip through the woods, their journey is just as interesting as when they actually arrive at Catula's home and the action escalates. Their expedition really showcases Atwood's skill as a writer as we see the characters banter and commiserate with each other. Who knew there were so many clever insults to be shared between cats and birds? Angel Catbird invites readers into this entire half-cat culture, and you can't help but believe in this fully developed world.
As with volume 1, the art has a fantastic energy and a total 1940's noir vibe with bold pastels and thick lines. Though seemingly clean and simple, there is a lot of detail here in each of the characters, and I especially enjoy the diverse cast of cat hybrids and the wonderful array of costumes. Although the art and panel arrangement is nothing avant-garde, quite a few of the panels are brought into focus in interesting ways. The Angel Catbird series as a whole very much feels like an homage to superhero comics from the Silver Age, and it is refreshing how clear-cut the divide is between the cat-hybrids and the evil Dr. Muriod.
As Atwood always does, she manages to approach really important issues—like bird conservation—in an informative yet fun way. As with volume 1, there are a whole lot of useful tips and facts about how to be both cat lovers and bird protectors. The advice comes across in a useful and not heavy handed way—which I really appreciate as it doesn't distract from the comic itself. Great writing, gorgeous art, and an animal-loving cause—what's not to love?
The Verdict
Buy it! While I was impressed with volume 1, Angel Catbird Volume 2 demonstrates that Atwood and her gifted team can produce an action-packed story that also packs an important message. Also, totally worth mentioning, there is a ton of fantastic guest art of Angel Catbird, like a beautiful watercolor by Jeff Lemire. If you want a read that is both edifying and entertaining, look no further than Angel Catbird.
Angel Catbird Volume 2 will be available on February 14th, 2017.