ALI WONG: HARD KNOCK WIFE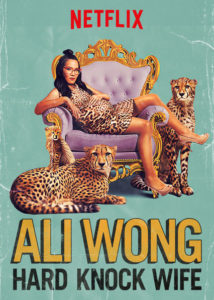 Comedian: Ali Wong
Producer: Netflix
A review by Brooke Ali
Once again on Mother's Day fans of comedy got to watch a very pregnant Ali Wong strut her stuff on stage and be awesome. A perfect sequel to her first comedy special from 2016, Baby Cobra, Hard Knock Wife tells it like it is, like your best friend with no filter when you get together out for drinks after your kids are in bed. This sequel is every bit as good as the first. Wong's presence in the comedy world shows no signs of stopping.
In her first Netflix comedy special, Wong bragged about having "trapped" a husband with a Harvard degree and high earning potential so that she could relax as a kept woman. She said things like, "Feminism is the worst thing that happened to women. Our job used to be no job." She was on the edge of a transition from a raucous, debauched young adulthood to the unknown world of motherhood where she would get to "eat snacks and watch Ellen." In Hard Knock Wife, she unabashedly admits that she only managed to stay at home with her daughter for eight weeks. "I liked the stay at home part," she jokes in a way we can all relate to. "But I didn't realize the whole price you have to pay for staying at home is that you gotta be a mom. Oh, and that's a job. It's a wack ass job!"
Wong brings the truth with a no holds barred account of childbirth, breastfeeding, and butt sniffing that is instantly recognizable to any parent. She talks about the persistent double standard between men and women in new parenthood. Her husband gets praise for sometimes changing diapers. Where's her confetti when her daughter poops on her chest? She also points out the attitude particular to comedy. When a man has a baby, he's back on stage a week later with a whole new set of relatable material. When a woman comes back, everyone asks why.
In her signature whisper-jumping-to-a-shout style of delivery, she talks about the need for better maternity leave "so we can hide and heal our broken ass bodies!," how she balances work and family, "I have a nanny," and how parenthood has changed her sex life, "when you give birth to a baby they hand you a diploma that says, 'Congratulations! You've earned the right to not suck dick out of obligation anymore!.'"
Following in the tradition of breakout comics, she also talks about how her sudden fame has affected her life, but without falling back on cliches. She does the standard joke about how she hates getting recognized in restaurants, only the issue for her is that it means she'll have to give a bigger tip. Whenever you think she's going to use a common comedy trope, she changes it up and delivers a surprise.
Verdict: Watch it! Ali Wong is a strong, unique voice in comedy. We need more comedians like her, willing to joke boldly about miscarriage and maternity leave and income and insecurity. Her humour and on-stage physicality have an intensity that makes her endlessly fun to watch. I recommend watching the two specials back to back; they compliment each other perfectly!