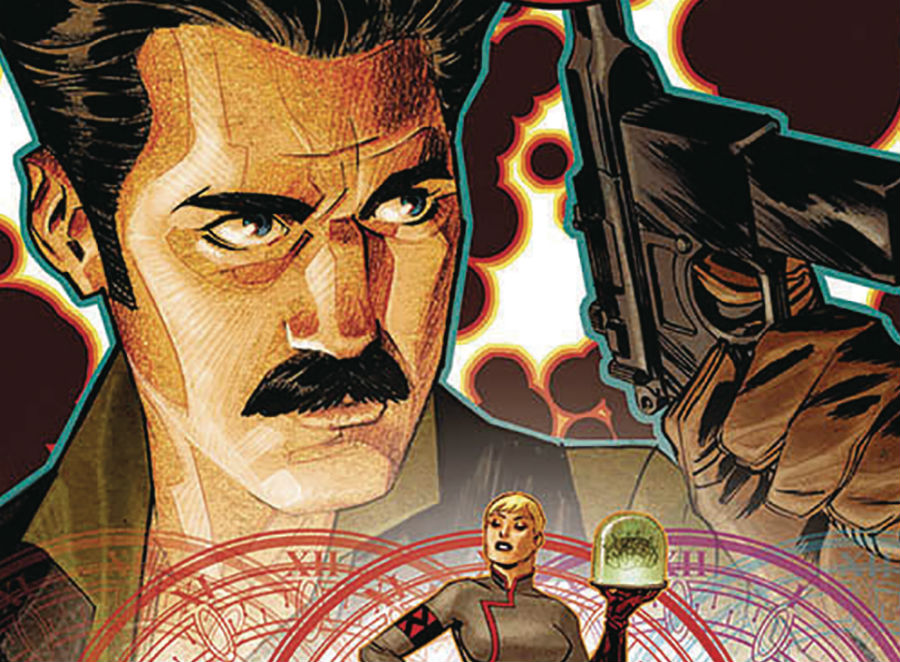 Albert Einstein: Time Mason #1
Creator: Tony Donley
Publisher: Action Lab
Review by Frank Lanza
When you've read comics for as long as I have (30+ years for this old man), sometimes it's easy to get jaded at the latest cross-over event or big death that's touted to change everything as we know it. You can get a little burned out on story retreads and line wide reboots. But sometimes, you pick up a book and are pleasantly surprised at just how much fun comics can be if you let them. Albert Einstein: Time Mason #1 is one such book that reminds you comics should be a little bit silly, a little bit "out there," and mostly just a whole lot of fun.
Albert Einstein: Time Mason #1 is, at its heart, a throwback to those old Sci-fi classics of yore. I'd say it's definitely got a Buck Rogers/Flash Gordon meets Indiana Jones kind of charisma going on. The book jumps right in with a youthful Einstein working under the banner of the mysterious Time Masons battling the nefarious Sci-Oscalists. They've stolen Albert's brain from after his death in 1955 and in the process have a gaping hole in the space/time continuum that must be repaired. Their leader, the dwarf scientist Doctor Rupret Stiltzkin (you gotta love this stuff!) uses the brain to build a massive Time Robot to travel through time and enslaving humanity to the will of the Sci-Oscalists. Of course, chaos and hilarity ensue, and by the end of the book you'll be wanting another crazy adventure from our ineffable young Einstein.
Tony Donley has really outdone himself with a comic that's just flat out fun to read. He handles the chores of writing and illustrating this book admirably. His style is just the right mix of Mignola and a Saturday morning cartoon to really bring these characters and environments to life in all their insanity. Even if this book is just a one-off tale, I'd buy it in an over-sized treasury edition just to read it over and over again. I hope he gets the chance to take whatever ideas he has for Albert Einstein: Time Mason and run with them for a good long while.
Verdict: Buy it!
Like I said, this book is really just a huge rollercoaster of fun and enjoyment. I literally smiled through the entire issue. If you like sci-fi, reading, having fun, crazy outlandish comic book tropes utilized to their fullest extent, then please pick up this book. In this day and age of dark and brooding heroes in tights, Albert Einstein: Time Mason #1 is the perfect antidote.