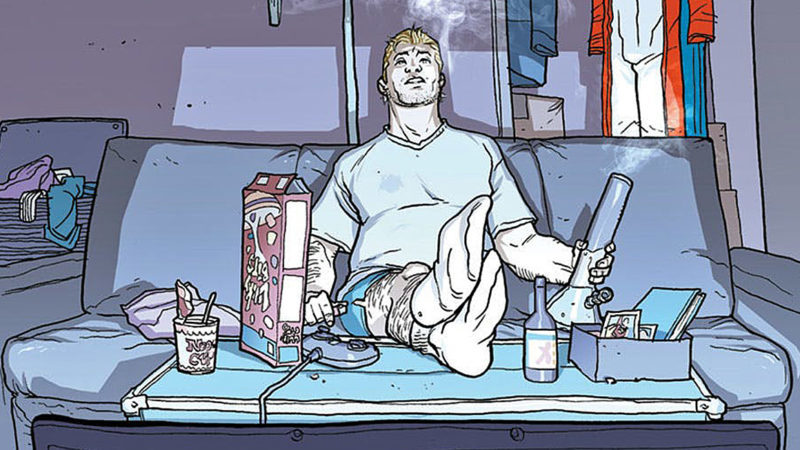 The Further Adventures of Nick Wilson #1
Writer: Eddie Gorodetsky & Marc Andreyko
Illustrator: Stephen Sadowski
Colorist: Hi-Fi Colour Design
Letterer: A Larger World Studios
Publisher: Image Comics
Review by Greg Brothers
For all of us comic book readers we can only imagine what it would be like to have super powers: out there trying to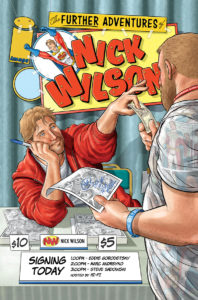 save the world or protect those around us, unless you decide to use you powers for evil, but that's a different story. So as impossible as it would be for us to imagine having such great power, it would be equally hard to imagine wielding such power only to have it simply disappear one day.
As hard as it would be to imagine, that is the premise of The Further Adventures Nick Wilson #1. As the first issue starts up, Nick Wilson has already lost his powers. To pay the bills, he dresses up as a look alike and works kids' birthday parties. Unfortunately for him, a car accident reveals to the world where he is living, and memories that he has been trying to avoid come rushing back. For his part, Wilson tries to be a better person than he was before. However, former superheroes are bound to have some enemies.
The writers work hard throughout The Further Adventures of Nick Wilson #1 to make Wilson a likable character. He is given several chances to make the immoral choice, but with each of them he chooses the more noble path, even if his agent doesn't understand. Overall the plan works. Wilson comes off as someone who is misunderstood, and, although powerless, he wants to do the right thing. It is a familiar story. In many ways it is oto familiar. The entire time reading the story I felt like I had read it before. There is little to make the story stand out or hook the reader.
The same things that plague the story are present in the art. The art is good, realistic, and not overly done. Wilson is not drawn as some big hulking guy with no powers. It is art that is safe. From the panel designs and layouts, to the character designs and coloring, there is nothing that offends the eyes. At the same time, however, there is nothing that makes you look forward to what wonders await on the next page.
Verdict: Wait and See.
The Further Adventures of Nick Wilson #1 is not a bad comic book. In fact, it is far from it. The problem is that in a sea of books that are constantly pushing the industry in new directions, The Further Adventures of Nick Wilson #1 is just there. Maybe the writers have some trick up their sleeves in future issues. But, for now skip this first issue and come back to see if there is magic in future issues.