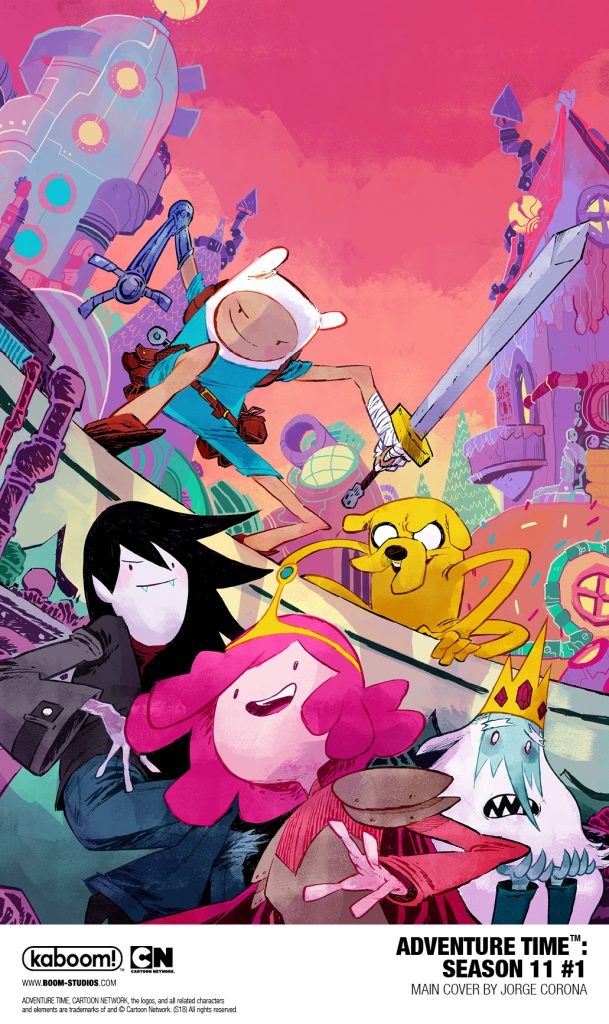 Adventure Time Season 11 #1
Writer: Sonny Liew
Artist: Marina Julia
Colorist: Meg Casey
Letterer: Mike Fiorentino
Cover Artists: Jorge Corona, Julie Benbassat
Publisher: Boom! Studios
Review by Cameron Kieffer
(Spoilers for the Adventure Time Series Finale!)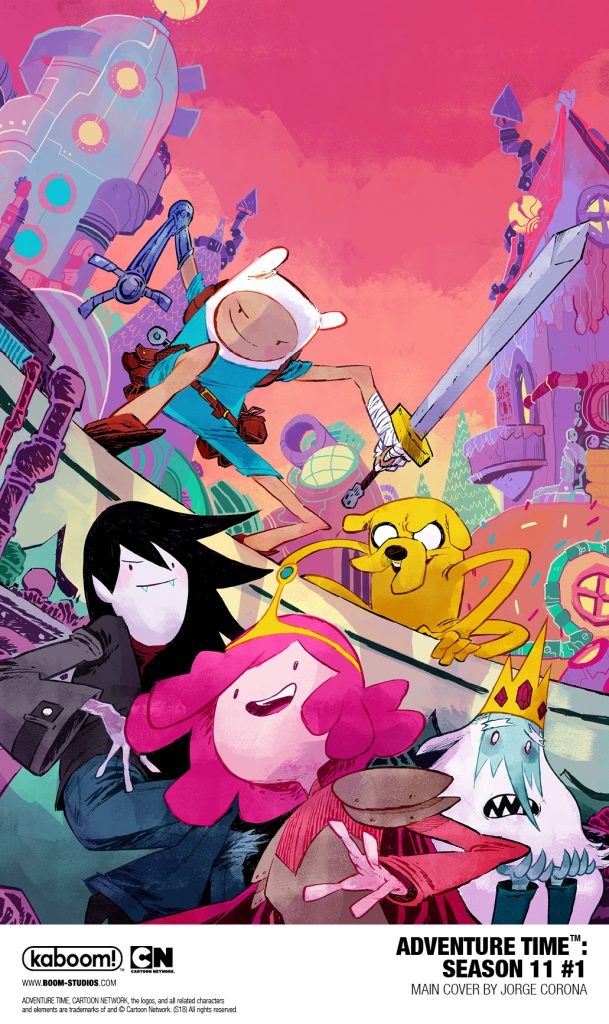 If you, like so many others, were devastated by the recent departure of Adventure Time, have no fear: Finn, Jake, Princess Bubblegum and the rest of the gang are back for more fun in the Land of Ooo. Following in the footsteps of other television series gone before their time (that may or may not also feature vampires), Adventure Time Season 11 #1 picks up right where the series finale left off, as our intrepid bunch of goofballs attempt to restore order to the Candy Kingdom, or at least what's left of it.
This issue wastes no time in throwing our main heroes Finn the Human and Jake the Dog into another adventure (it's what they do, I mean it's in the title!) that involves a malfunctioning B-MO, mysterious robots, and a weird future timeline. It's very clear that this new title won't just be a series of one-shots – there's a pretty complex mystery afoot and it may take more than a heroic young warrior and his shape-shifting dog to unravel it.
Sonny Liew's script is vintage Adventure Time, from the ludicrous slang and juvenile-sounding dialogue, to the blatantly weird and mysterious undertones the latter half of the story takes on. It's also clear that many of the drastic changes that occurred in the last season are here to stay, at least for now. Simon is still around, with no trace of his former alter-ego, Ice King. And "Bubbaline" shippers will be happy to know that the tender moment between PB and Marceline in the finale wasn't just swept under the rug either. There's even a great line about how long it took them to get together. The story doesn't go full-meta but it's a nice little nod to something a LOT of us have been feeling.
The only complaint I have in terms of the story is that it's not particularly accessible, especially for a first issue. Most Adventure Time comics I've read don't require much, if any knowledge of the characters and can be enjoyed by just about anyone. While it might seem silly for someone to even start with a book called SEASON 11, they say every comic is someone's first comic and this comic would certainly benefit from a recap of some kind. It's a bit like watching Adventures: Infinity War without seeing any of the other Marvel films — it's entertaining but you need to have seen this, this, and that to understand it.
The artistic team behind this book is stellar: Marina Julia draws each character exactly as you'd expect but still puts her own unique spin and every panel radiates with her sketchy, cartoony style. Meg Casey's colors are a little less vibrant that's we're used to but it matches Julia's art and the tone of the book perfectly. After all, this is the aftermath of an apocalyptic battle so it's not going to be all bright and shiny everywhere. The lettering by Mike Fiorentino is great and looks very much like the style of a young cartoonist, albeit much more legible. Everything comes together to re-create the look and feel of Oo but in a unique, stylistic way.
The Verdict: Check it out.
This is an excellent start to what promises to be a very different but still familiar Adventure Time. It's great to see the return of so many beloved characters, and the focus is rightly kept on our main cast while they continue to pick up the pieces of their old lives. There isn't much here for non-AT fans (hence why it isn't a BUY IT) but fans of the show will have plenty to enjoy. So come on, grab your friends and say it with me now: WHAT TIME IS IT?!