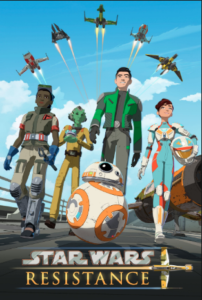 STAR WARS RESISTANCE
Starring: Christopher Sean, Bobby Moynihan, Suzie McGrath, Scott Lawrence, Myrna, Josh Brener, Donald Faison, Jim Rush, Lex Lang, Rachel Butera, Oscar Isaac
Created by: Dave Filoni
Star Wars Resistance is Disney's second foray into Star Wars Television, following the widely successful (and amazing) Star Wars Rebels. Rebels felt like a sibling to the original Star Wars TV series, Clone Wars. Resistance feels more like a cousin ready to be welcomed into the family.
Star Wars Resistance opens up right away by establishing a firm spot in the Star Wars timeline. The series takes place in the lead up to Star Wars VII: The Force Awakens. The First Order is poised to attack the New Republic any minute now. To help establish an early warning system of sorts, Poe Dameron, voiced by Oscar Issac himself, places a spy on the far off racing platform the Colossus, deep in wild space.
Following a pretty standard pilot episode, which builds on the lore around Colossus, Poe departs, and the focus is fully shifted onto the lead character of the series, Kazuda Xiono, or Kaz. Kaz is a little green when it comes to the spy stuff. He is eager to prove himself to Poe and his new mentor on the Colossus, Jarek Yeager. His mission is simple. Find anyone loyal to the First Order on the Colossus and try to figure out anything about the First Order. Kaz really wants to impress Poe and Yeager, so much so that he starts to neglect his responsibilities that he is given as part of his cover: A mechanic for the Fireball crew.
This is where the first huge disconnect comes from. All of the previous trailers and media seem to focus on Kaz and the other racers aboard the Colossus. The reality is, after three episodes, only one of the other racer characters mentioned in any pre-release marketing has shown up. Instead of a mix of Top Gun and Speed Racer the initial trailers showed, we are given a pretty basic stock story about responsibility and what happens when others depend on you. Good messages, which are well executed, but something that kids TV has been churning out constantly since the 80's.
That said, I was constantly telling myself that in the beginning of Rebels I really didn't care for Ezra either. Only for him to become one of my favorite characters midway through the second season. Hopefully, Resistance will continue that trend and allow the characters to grow into fully fledged and developed characters Star Wars fans can love and care about.
One of the biggest divides from Star Wars fans as a whole though is the animation style. Rebels and Clone Wars have a very distinct and slightly exaggerated proportion thing going on for their style. Resistance leans into a full cel-shaded wonder. The show looks gorgeous in motion. It allows the characters to be more animated compared to the rigid, almost lifelike qualities of Rebels.
Random Musings:
Poe claims BB-8 is his droid. However, he loves leaving that little guy with random people.
Gwendolyn Christie is set to reprise her role as Captain Phasma, but that episode hasn't aired yet.
The designs of the ships are so cool. It will be great to add them to a toy or LEGO collection at a later date.
The Verdict:
Watch it! While the demographic skews a little younger compared to Clone Wars and Rebels, Resistance is still a fun little show. It is quite refreshing to see a Star Wars show without the overarching mystical tales of fate and prophecy of the Jedi that complicates matters and directing the plot. Kaz is not a child of destiny, just an average galactic citizen looking to keep tabs on a growing tyrannical force. I just hope the First Order shows up sooner rather than later so the overall story can start to take place.
Star Wars Resistance airs on Disney and Disney XD on Sunday nights. The first three episodes are available on the Disney XD app an Hulu now.