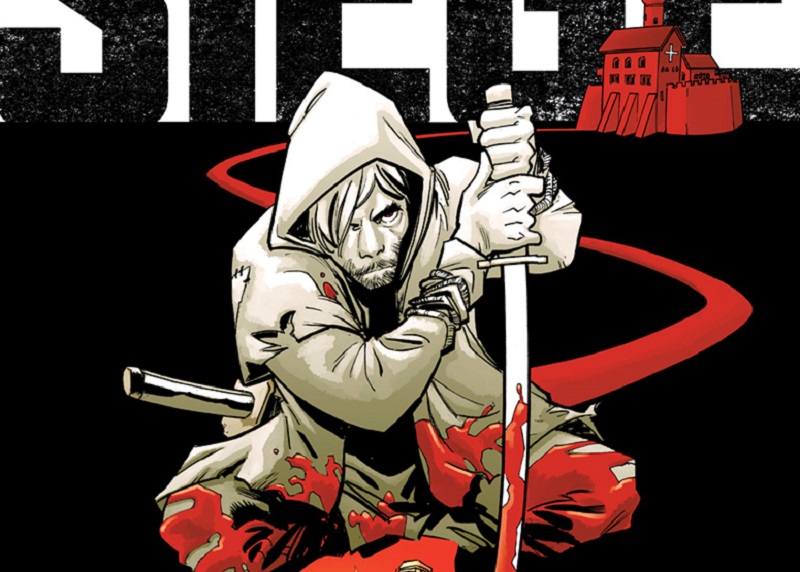 The Last Siege #1
Written by: Landry Q Walker
Artwork by: Justin Greenwood
Colouring by: Eric Jones
Lettering by: Patrick Brosseau
Published by: Image Comics, Inc.
A review by Brooke Ali
A bleak rain. A loan traveller arriving at a tavern. It's a familiar start to an adventure tale. A young girl sits in her room, holding a doll while listening to other people plan her future. Her father, the lord of this manor, has recently fallen in battle against a ruthless king. His equally ruthless knights have been sent to secure control of Lord Aedon's realm, by marrying his 11 year old daughter.
As the first issue in what is planned to be an epic tale, it's really just setting the scene. We get introduced to the main characters: the traveller, young Lady Cathryn, her father's advisors, and the cruel invading knight, Sir Feist. We also get a small glimpse at their characters, setting us up for conflicts down the road.
Usually known for writing superheroes and Disney properties, Landry Q Walker (Supergirl: Cosmic Adventures in the Eighth Grade, The Incredibles) is taking on a new challenge by writing an adventure story, and he's off to a good start. The setting is gritty, a kingdom fallen to war. The dialogue fits the characters, and he's doing a good job of teasing out the story, letting the reader get a feel for the atmosphere and the people while setting the stage for the adventure to come.
Justin Greenwood (Alexander Hamilton, Wasteland) is no stranger to works about war-ravaged lands and historical periods. His artwork matches the theme and tone perfectly. He does an excellent job of framing the panels. The first five pages have no dialogue, the beginning of the story is told entirely by how Greenwood follows the traveller as he approaches and enters the town, while still giving the reader a lot of information about this place and what to expect to come.
Verdict
Buy it! We've only just begun with this story which is already set up to be an epic adventure, in the vein of Game of Thrones or the work of Guy Gavriel Kay. If you like stories about waring kings and the citizens affected by them, add The Last Siege to your pull list so you don't miss a single sword fight or political scheme.
The Last Siege is out on May 30, 2018.