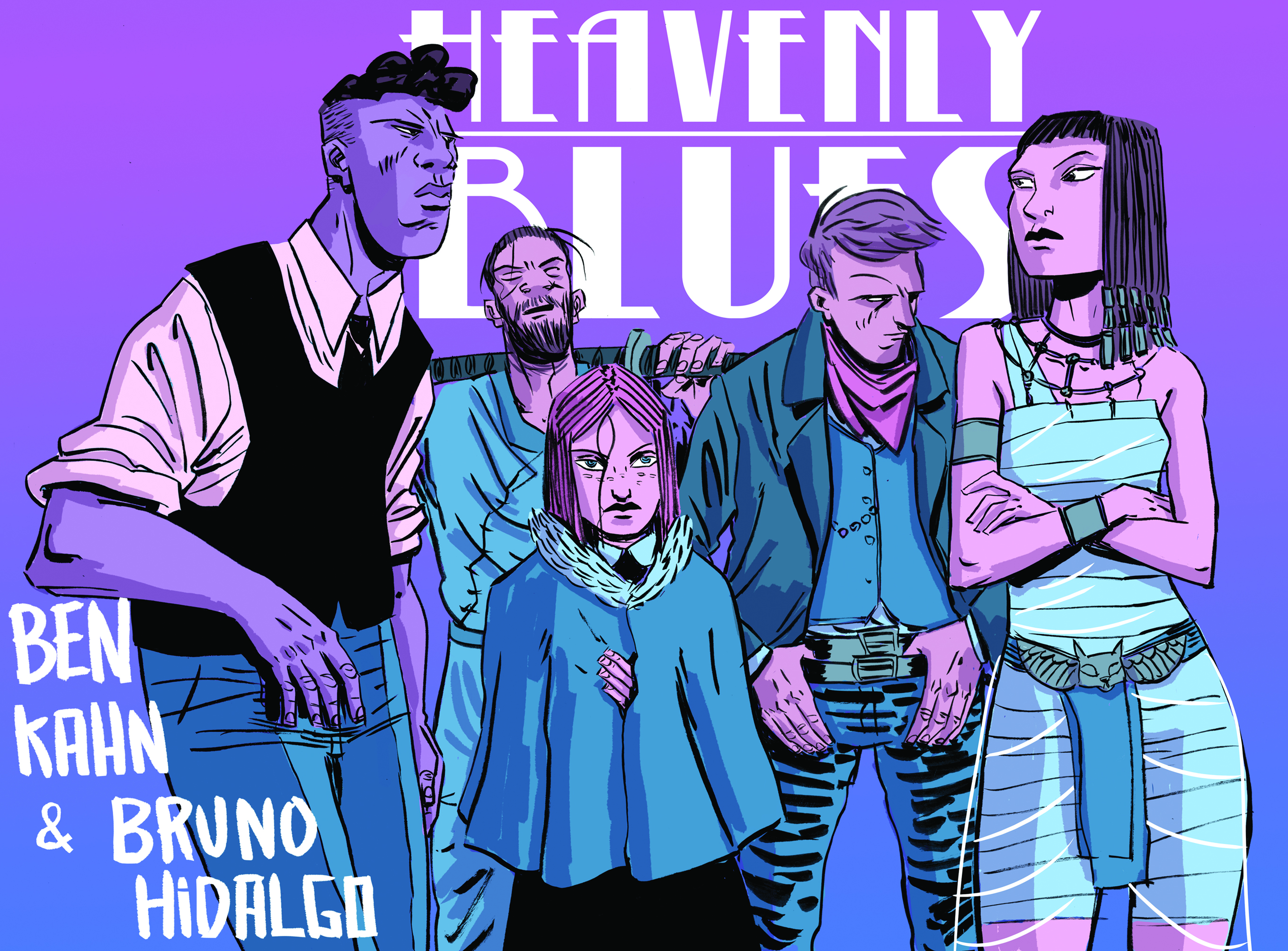 Heavenly Blues #1

Writer: Ben Kahn
Artist: Bruno Hidalgo
Letterer: Kathleen Kralowec
Publisher: Scout Comics
A review by Gregory Brothers
"From the pits of perdition! Isaiah 'Tommy Gun' Jefferson & 'Wicked' Erin Foley"
People often wonders what happens to their soul when they die. Some religions like Christianity state that it goes to one of two places, depending on how you lived your life. The righteous and good are welcomed into Heaven, while those who lived outside of their doctrines are sentenced to eternal misery. But to whom do the righteous turn when they need someone to do their dirty work? Heavenly Blues #1 sets out to answer that question and more.
Isaiah Jefferson and Erin Foley aren't really demons or the fire-and-brimstone type, but that doesn't mean they're good people. Thieves in life, they now toil away their meaningless existence in Hell, punishing lost souls until they accept their fate. After a night of commiserating over warm beers at the local watering hole, Foley and Jefferson are approached by an unlikely patron with a golden ticket out of their current situation. But it means pulling off one last heist… on Heaven.
Kahn does an excellent job of moving the story forward and keeping the pacing tight. We quickly get a chance to meet the major players and get a idea of their lot in death. The characters lead a tortured existence, although not necessarily from physical pain. The social commentary that runs throughout this issue adds a bit of an edge, allowing Heavenly Blues #1 to become more than just a comic you casually read and toss aside. Instead, it encourages the reader to reflect on their own beliefs and to think about what eternal damnation might really be like.
Despite being set in the afterlife, Bruno Hidalgo's artwork in Heavenly Blues #1 is grounded in realism. While the characters struggle through some violent encounters, the art isn't over-the-top or particularly bloody… although we do get to see some brains strung about at one point.
The Verdict
Buy It! It's always nice to find a good indie comic that's done well and has plenty of intrigue. Heavenly Blues #1 is entertaining, well written, and thought provoking. Do yourself a favor and support this creator owned series!
Heavenly Blues is upcoming mini-series to be published by Scout Comics later in 2017.