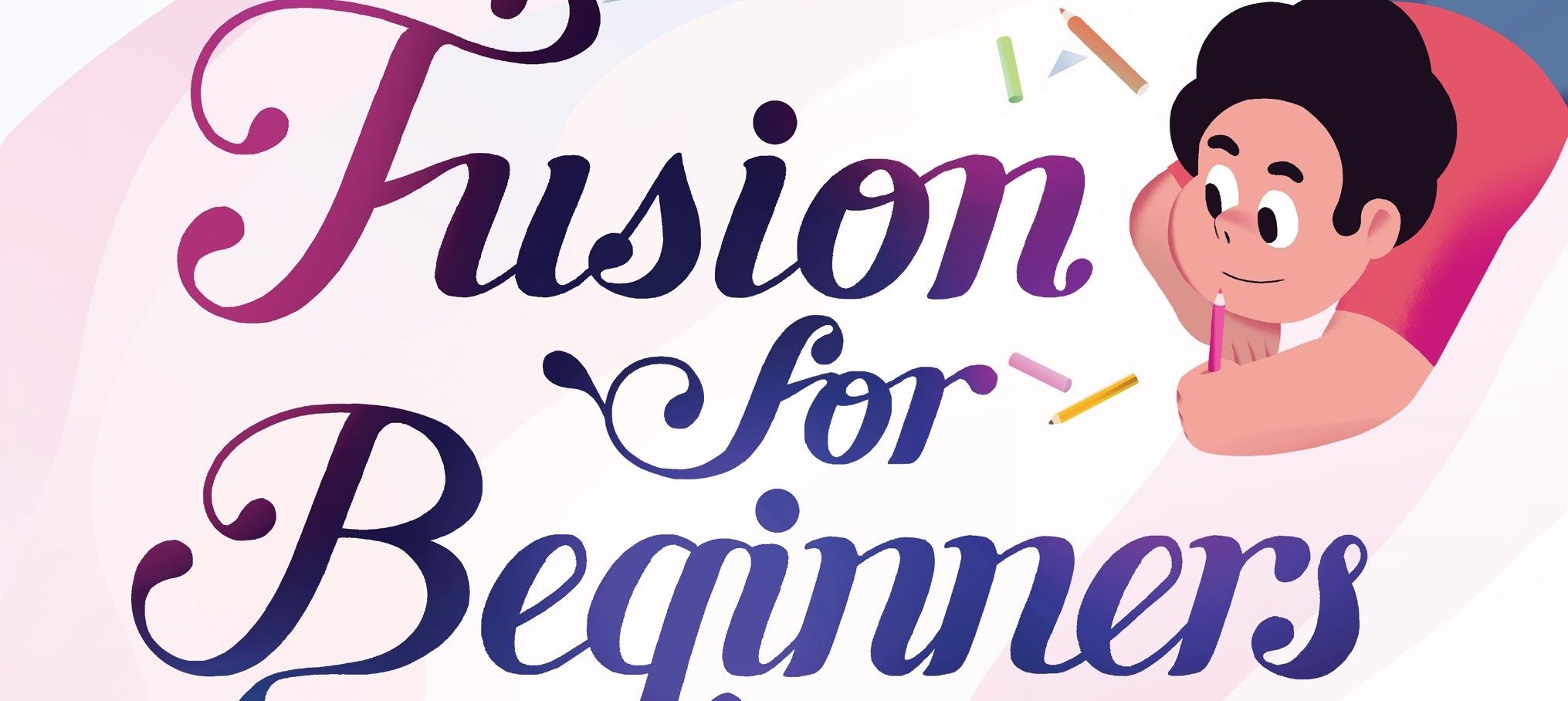 Fusion for Beginners and Experts
Author: Rebecca Sugar
Illustrator: Angie Wang
Genre: Children's
Publisher: Penguin Random House
A review by Samantha Puc
Steven Universe creator Rebecca Sugar released her first children's book, The Answer, in 2016. The New York Times best-selling storybook is an adaptation of a Steven Universe episode of the same title that tells the story of Ruby and Sapphire, who loved each other so much they decided to fuse and become Garnet.
Now, Sugar is releasing Fusion for Beginners and Experts, another children's storybook that explains all the reasons two Crystal Gems might want to fuse. The book is beautifully illustrated by Angie Wang, with full-color drawings that absolutely glow. Each page is packed to the brim with beauty, and they all tug at your heartstrings.
When two Crystal Gems fuse, they become bigger, stronger, and more powerful than they are in their individual forms. The process of fusing is based on deep trust, love, and respect, and not all Gems can or want to fuse. In many instances, Gems who fuse have a special dance or other form of communication they practice when they choose to fuse with each other, which allows them to get in sync and take on their joint form.
Fusion for Beginners and Experts explores what fusing means to various Gems in Steven's universe, including Steven himself. The story is ostensibly authored and drawn by Garnet and Steven; it explores how fusion may not always be easy, right, or good, and how two Gems may fuse for totally different reasons than two other Gems. Sometimes it's because they're very different. Other times, it's because they're very similar. And sometimes, it's just because they love each other a whole lot (like Ruby and Sapphire, a.k.a. the best couple to ever feature on a children's cartoon — or possibly any show ever).
This book is stunning. You'll likely want to read it over and over just to explore each of Wang's illustrations. The whole book just feels good in your hands. It's short and too the point but so imbued with love and care that it feels as warm and fuzzy as Steven Universe itself.
Fusion is a natural extension of the TV series. It's a beautiful, uplifting story that tells readers, "Hey! Fusing is really cool and if you want to do it, you should find someone who wants to do it with you! Talking about it is important! Consent is important! And if you don't want to fuse, then we support you!" Absolutely everything is awesome about that.
Verdict
Buy it! Fusion for Beginners and Experts hits bookstores on December 26, which makes it a great Boxing Day gift for yourself or a loved one. It would also make a great Valentine's Day gift for someone special. I highly encourage you to pick up a copy, especially if there are kids in your life!