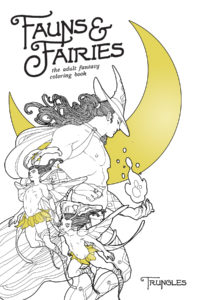 Fauns & Fairies: The Adult Fantasy Coloring Book
Artist: Trungles
A review by Insha Fitzpatrick
Haave you ever wanted to color some sexy queer fantasy scenes? Limerence Press, the imprint of Oni Press, that specializes in erotica and sex education comics and books has turned its eye to adult coloring books. Limerence was kind enough to send us an advanced copy of Trungles' upcoming coloring book Fauns & Fairies. It's not only alluring but also just downright gorgeous.
If you don't know Trungles, you're undoubtedly missing out. Trungles is an illustrator and comic artist with published works for BOOM! Studios (Adventure Time Marshell Lee Spectacular, Lumberjanes/Gotham Academy), Image Comics (The Beauty #9), Rosy Press (Beauties w/ Marguerite Bennett) and more. He's also produced his own comics, including retellings of fairy tales and mythology that are works of art.
Fauns & Fairies allows you to be a colorist with Trungles' work. He takes his illustrating game to a new level within Fauns & Fairies. One thing you notice (and adore) about Trungles' art is how delicate and surreal it is. Every illustration or comic that Trungles produces almost feels like you've stepped into a mystical dream. Every line is perfectly whimsical and meaningful. His work invokes the art nouveau style and throws back to artists of the time, such as Alphonse Mucha or Aubrey Beardsley.
Fauns & Fairies contains some of his most beautiful illustrations. If you're a fan of sexy drawings, D&D or anything fantasy, you're going to want this coloring book. Also, did I mention it's sexy? Cause that's VERY much the highlight of Fauns & Fairies… at least for me.
One really exciting thing that I was eager to see was how the differences between bodies and genders were going to be displayed. If you're picking up a saucy coloring book, you want to see some body diversity. In Fauns & Fairies, Trungles doesn't disappoint. He illustrates diverse types of bodies that are awe-inspiring. Fauns and Fairies have not only amazing bodies but also has various genders as well.
It's such a refreshing coloring book. It's a different type of coloring book than we're using to seeing on shelves and that's what makes it special. Fauns & Fairies is unique in the way of it being super queer friendly, but not limited. You're wondered by Trungles' fantasy, but also wanting to create stories from these pages as you color. You can see yourself reflected in the pages even though you aren't fantasy, but you can make it happen. I had a lot so much fun with this book. I even made a sexy Shrek that Stephanie, our EIC, called "Shrexy." Get it? Cause sexy Shrek. Hehe, we funny.
If you're craving some lovely bodies, smexy fantasy babes and some adult coloring time to yourself, I highly suggest you pick up Trungles' Fauns and Fairies as soon as it hits Amazon on Oct 3rd.