Buffy the Vampire Slayer: A Picture Book
Illustrator: Kim Smith
Story: Jason Rekulak
Based off the series created by: Joss Whedon
Publisher: Quirk Books
Ages: 4-8
A review by Stephanie Pouliotte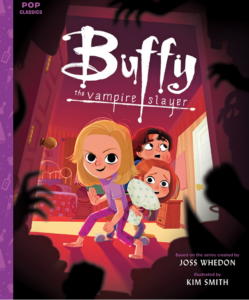 Into every generation a Slayer is born, and she alone will wield the strength and skill to fight the vampires, demons, and the forces of darkness… but, what if she's afraid of the dark?
The latest in the Pop Classics series from illustrator Kim Smith, Buffy the Vampire Slayer: A Picture Book is the perfect story for children who are afraid of things that go bump in the night. It focuses on one of the most common bedtime fears: the monster hiding in the closet.
These fears can be embarrassing for children, yet they ought not to be because everyone has them, even the Slayer herself! I really liked the opening to this book, as it not only establishes Buffy as the tough and strong heroine we know her to be, but also connects with the vulnerability some children may associate with their fears by letting them in on Buffy's 'secret'. Using the fun story of a Scoobies slumber party, Buffy approaches her fears on her own terms, emphasizing that it is ok to talk about them with her friends, family, and teachers. By confiding in others and allowing them to help you, you'll find you've always had the strength and courage to face your fears.
As with the rest of the Pop Classic collection, the book is printed on lushly crisp, thick paper that is sure to hold up to a child's eager page turning. Kim Smith's illustrations are charmingly adorable and can truly be appreciated on the large matte pages. I find Pop Classics to be a brilliant idea for a collection of children's stories. Many of these popular franchises play on our childhood fears, whether it's aliens from outer space, being forgotten at home alone, or vampires in your closet, and this collection comes full circle. For parents who are fans of the Buffy the Vampire Slayer series, Easter eggs are plentiful, from familiar wrinkly faces to the accuracy of the Welcome to Sunnydale! sign.
Verdict
Buy it! Buffy the Vampire Slayer: A Picture Book is a great story for any child who wants to be empowered to face their fears, or who just wants a fun, not-too-spooky bedtime read!
Buffy the Vampire Slayer: A Picture Book will be in bookshops on September 4, 2018. Click here to pre-order your copy now.