Starring: David Tennant, Michael Sheen, Frances McDormand

Writer: Neil Gaiman
Director: Douglas Mackinnon
Studios: BBC Studios, Amazon Studios
Back in 1990, Neil Gaiman and Terry Pratchett proved to be a dream team when they co-wrote Good Omens, a humorous fantasy novel about the end of the world. For those of you who haven't had the pleasure of reading it (yet), the story is about an angel, Aziraphale (Michael Sheen, Slaughterhouse Rulez, Home Again), and a demon, Crowley (David Tennant, Jessica Jones, Final Space), who have been on earth together since the garden of Eden (Crowley was the serpent who tempted Eve). In all that time together, they've grown into frienemies and have become quite comfortable with their lives on earth. Which is why Crowley is less than pleased when he is tasked with bringing to earth the Antichrist, the baby who is destined to bring about Armageddon.
The baby was meant to be exchanged with the newborn son of the American ambassador to England, but another couple unexpectedly arrives to deliver their own baby at the same time, and the antichrist gets swapped with their child by mistake. Instead of being raised into a position of wealth and international power, the Antichrist, now named Adam Young (Sam Taylor Buck, Medici), is raised by a perfectly normal British couple in the small country village of Lower Tadfield, Oxforshire. By the time Aziraphale and Crowley realize the mix-up, they only have a few days left to prevent the end times and the war between heaven and hell.
One of the things that makes the book so great is the narration: the wry humor and observations, the asides to give a tongue-in-cheek explanation of something. Making a screen adaptation that just showed the story would mean missing out on so much of what makes the book so endearing. Gaiman, who wrote the teleplay, realized this and wrote a voiceover narration provided by God (Frances McDormand, Isle of Dogs, Three Billboards Outside Ebbing, Missouri) throughout the miniseries. Voiceover narration can be a tricky thing to get right, but Gaiman nailed it, keeping the narration pithy and on point, as well as providing opportunities for some fantastic visuals that wouldn't have fit in any other way. I was initially surprised that they went with an American actor instead of, say, Helen Mirren, but McDormand did an outstanding job. I'm waiting for her to record an audiobook version of Good Omens; I would listen to it!
Sheen and Tennant have great chemistry as Aziraphale and Crowley, playing off each other masterfully. Tennant's portrayal of the demon was full of the swagger we've seen before when he plays antagonists, but he's not a typical "baddie," just a demon who has spent enough time around humans and an angel to no longer think along the strict party lines that the rest of his kind follow. Likewise, Sheen is perfect as the stuffy, introverted angel who really wants to want to be the good heavenly soldier, but sees too much value in humanity to destroy it for little more than a celestial pissing contest. Every scene with the two of them together is gold; they play off each other's characters beautifully and manage to be funny as hell (and heaven).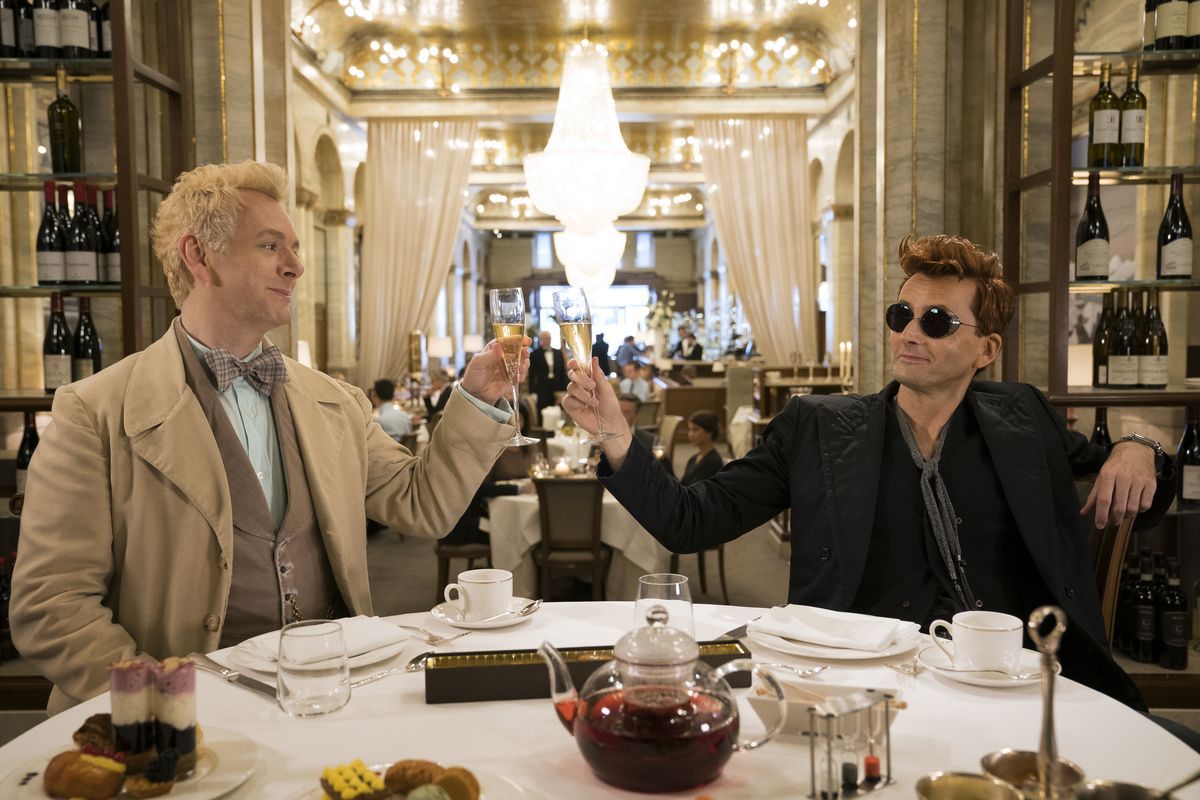 But it's not just the star power that makes this show great; it's the commitment to staying true to the story and bringing out the spirit of the book. The book is full of the wit and whimsy of Terry Pratchett and the imagination of Neil Gaiman, and the show goes above and beyond to reflect this. From creating fantastical visuals to illustrate the narrative asides, to using Punch-and-Judy-style cards on sticks to indicate the scene's setting, to some really clever use of diegetic music, Good Omens shows that with some out-of-the-box thinking, a studio can make a screen adaptation that stays true to the source material in spirit and tone, as well as story. Of course, it helps to have one of the original writers do the teleplay.
I'll admit, I was nervous when I first heard that Good Omens was getting turned into a show; there are so many ways that it could have turned out campy and disappointing. But the end result was a joy to watch from start to finish and a benchmark against which other studios which try to do book adaptations should aspire. The themes of the story — what it means to be good and evil, how to respond to things like climate change and corruption, destiny vs. personal choice — are as timely now as they were 30 years ago. Since Pratchett and Gaiman had planned a sequel that sadly never got written, I wonder if the success of this show will bring that sequel to life as a season two.
Good Omens will be available for streaming on Amazon Prime on Friday, May 31st.