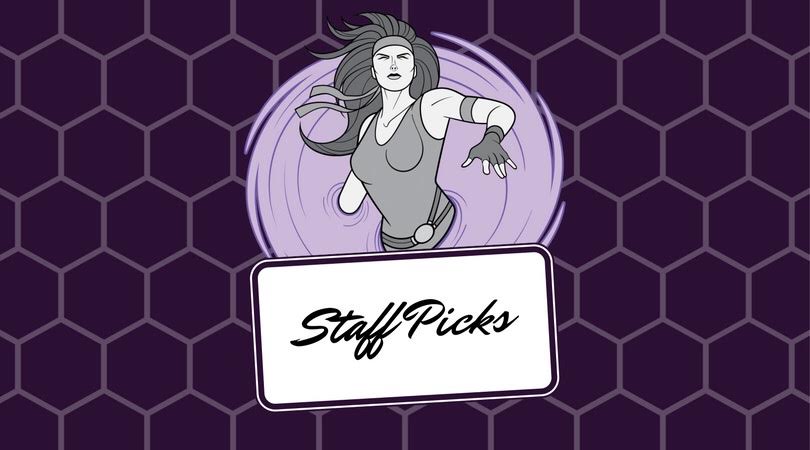 Welcome to the third Friday in June. All around the country people are celebrating Pride month. To show our support for Pride Month, all of our staff picks will represent different LGBTQ franchise, creators, and contributors. This week it is all about the creators and artists. This is by far not a full list, and we will continue our focus throughout the month and beyond. So sit back, get a pencil ready and write down these creators as ones to watch.
Insha's Picks
Alia Shawkat
A creator that I'd love to bring to the table for this month is this wonderful beauty. I recently had the pleasure of seeing her latest film Duck Butter in theaters, and there's something about her that's so magnetic in so many ways. Alia, with director and co-writer Miguel Arteta, created a movie that's so magnetic, uncomfortable and a profoundly moving film that's queer, fresh and entirely out of the box. I have the weirdest crush on Alia Shawkat as a person and as a creator. She paints, she sings, writes, acts, produces and so much more. She's someone I inspire to be. Alia contains so much ambition and drive within her that just isn't fair. She's someone who creates and put her spin of things into the weird and wacky world we've come to know. If you want to see her in anything (which you should), please see Duck Butter immediately. (Check out the review here – http://www.roguesportal.com/tribeca-2018-duck-butter/) You should also check out Search Party (TBS), Arrested Development, Paint It Black (Netflix), and Broad City (Comedy Central). (Listen. You watch the episode "Coat Check" and tell me it doesn't deserve to be mentioned. Okay?) Watch her episode with her and Aubrey Plaza on Drunk History because she plays Alexander Hamilton, and it's the best.
Dodie Clark
Dodie. Lovely Dodie. There's something about Dodie that you're able to connect to. You may not have the same experiences as her, but getting to know her is a prize. Dodie Clark is a British Youtuber with a gentle look about her, and she's very soft, lovely and wicked important. She's a creator that anyone who is soft will easily relate to. She creates music, writes, has two youtube channels (one for daily vlogging and one for music), and she's utterly swoon-worthy. Dodie's videos are something like life lessons, and she shares a lot about her mental health and her sexuality with her audience. Sometimes it's for good, sometimes it's for the bad, but these are things that she addresses. When I was figuring out my sexuality, Dodie, and one of her best friends Evan Edinger, helped me out with their videos. Her songs also lead the way to heartbreaking and bouncy material that has to deal with loving, losing and mental health. I stood next to her once at a concert. She's literally like sunshine.
Stacey's Pick
Katie Leth
My recommendation is Kate Leth. Ms. Leth is the writer of the awesome and delightful Patsy Walker, A.K.A. Hellcat! series from Marvel. Her writing is an incredible mixture of fun superhero action, humor and that pinch of drama that makes for entertaining as all get-out comics. She's also worked on Adventure Time for Boom Studios and an independent venture from Dark Horse Comics called Spell on Wheels, which features three young witches on a quest to recover magical items that have been stolen from them. Her writing is great and you should definitely check it out. Also, she's a Haligonian like yours truly!
Jameson's Pick
Shadi Petosky
Danger & Eggs is one of my favorite cartoons and it's due in part to its excellent transgender and non-binary representation. And I'm sure we have showrunner Shadi Petosky to thank for that! Seeing trans characters in kid's shows warms my heart, because I know what that rep is going to mean for LGBTQ+ youth who are just figuring themselves out. Knowing that it was made by a creative, successful trans woman is icing on the top of my happy pride month cake. Shadi also worked on Yo Gabba Gabba, another kid's show that I have a very soft spot for, and she's going to be involved with a new Netflix cartoon slated for 2019 called Twelve Forever. This picture of Shadi with her Daytime Emmy Award makes my heart sing because I love her work and I love seeing awesome trans folks succeed in their awesome, queer endeavors.
Josh's Pick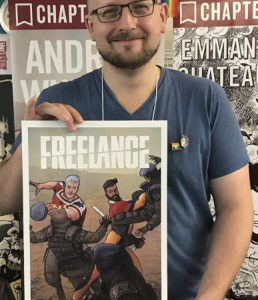 Andrew Wheeler
My pick for this week is Freelance from Chapterhouse comics. Chapterhouse wanted to update one of the earliest Canadian superheroes for the modern era and approached Jim Zub and Andrew Wheeler to take on the project. The original Freelance comics have some pretty homoerotic undertones, and Wheeler being a gay writer seemed to be the perfect choice to modernize it. Wheeler has been a long time advocate for LGBTQ representation in comics and puts forth a comic focused on a gay superhero.