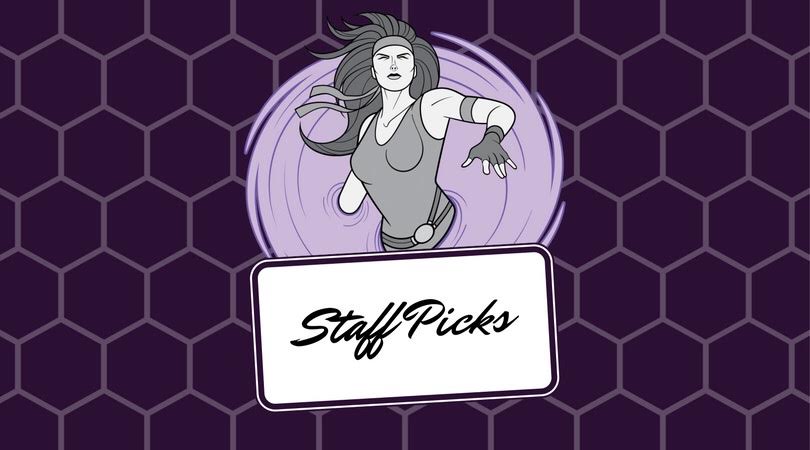 We are officially a week into June. As many of our readers already know June is LGBTQ Pride month. So, for the next month we are going to focus our staff picks on LGBTQ characters, creators, television, movies, and properties. This first week is all about the characters so sit back relax and enjoy Rogues Portal Staff Picks
Corrine's Pick
But I'm a Cheerleader (1999)
Gay conversion therapy isn't exactly the stuff of comedy but in Jamie Babbit's 1999 cult classic film, the subject is stripped down to the absurd and ripe for satire. But I'm A Cheerleader is the story of all-American high school sweetheart Megan (Natasha Lyonne) bewildered to find her parents, friends, and boyfriend have staged an intervention and all insist that she may be harboring some less than heterosexual tendencies. Despite her protests that she is absolutely not a lesbian (after all, she has a boyfriend!), Megan finds herself shipped off to a conversion therapy camp for gay teens. The camp is run by a strict deprogrammer (Cathy Moriarty) with the help of her ex-gay second in command (played brilliantly here by RuPaul). They hope to cure their campers of their homosexuality using an equally absurd five-step program.
There, she meets Graham (Clea Duvall) and things get a lot more complicated when she begins to realize that maybe she's not as heterosexual as she thought.
Although the movie isn't new, But I'm A Cheerleader is still one of my favorite teen comedies. Maybe it's unusual to say the film is cute but the finale's absurdly sweet ending always makes me smile, as does the way these teens find safe spaces and break free from heteronormative expectations. The film goes to great lengths to parody society's obsession with the gender binary and tackles the social construction of gender roles with some clever observations. The whole movie is wonderfully subversive and very much by queer people for queer people. At its heart, it's a movie about living authentically even when you are still figuring out what that means.
Foosa Pendragon's Pick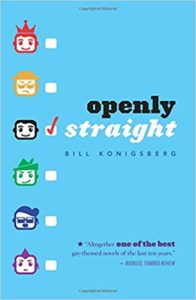 Openly Straight Series by Bill Konigsberg
This book is a young adult, sports, and LGBT (focusing on LG – Maybe B) narrative. Rafe got bored of being identified as the gay person in his school and life and decides to change schools so he could be straight passing until he started to develop feeling for one of his classmates. Although Rafe seems to be belittling the acceptance he receives from his friends and family, he is called out for his attitude and he does face the consequences of his actions. He is called out for his privilege and berated for his actions. However, as the series evolves, the point of view changes and you experience the other side of the story further into the story. The only critique I would have is the lack of intersectionality. Understanding that not all teenagers might be exposed to intersectional experiences, I feel like Konigsberg could have better handled that part of the subject! still I highly enjoyed it and really recommend it! I had so much fun reading it!
Jameson's Pick
Butterfly Soup
For the beginning of Pride month, I want to share with everyone the absolute joy that is Butterfly Soup. Butterfly Soup is a visual novel about a group of queer, Asian-American high school girls who all play together on the same softball team. It is also one of the best games I have ever played. It's completely hilarious. The art is adorable. It does an amazingly excellent job capturing what it's like to be a kid and the convoluted ways that small children think. It's relatable and heartwarming and the love story within made my heart grow three sizes. I literally laughed so hard during this game that I thought I was going to be physically ill. I cannot recommend Butterfly Soup enough. It's pay what you can and available on itch.io!
Josh's Pick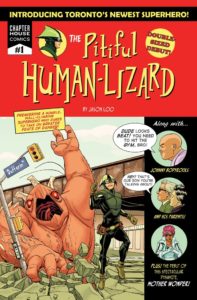 Pitiful Human-Lizard
My pick this week is the Pitiful Human-Lizard from Chapterhouse comics. One of the Human Lizard's allies in Toronto is Kenneth Kozlow, the Majestic Rat ruler and hero of the underground. He has an army of rats and is friends with a bear. Some of his rats and the bear were experimented on giving them super abilities. Kenneth has the ability to just talk to his animal friends and love them, and they obey him. Being the lord of subterranean Toronto makes it hard to date, especially when you don't bathe often. His first date with Sonny wasn't going so well until he had to fight a monster that appeared.