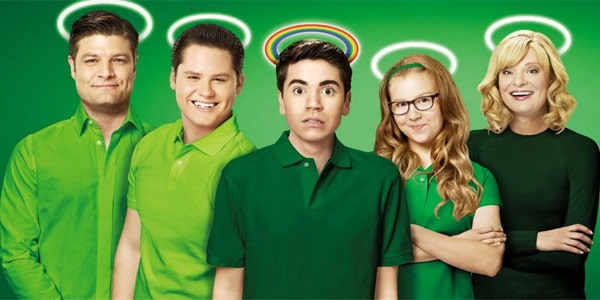 A mashup of "O Holy Night" and Sia's "The Greatest" sung at a church choir competition by an Irish Catholic altar boy and his boyfriend sounds like a fever dream I would have invented in middle school as a deeply closeted (and deeply devout) Catholic… but it's not! It's just another day in the world of The Real O'Neals, a sitcom that, despite only lasting two seasons, is quite possibly my favorite piece of gay media.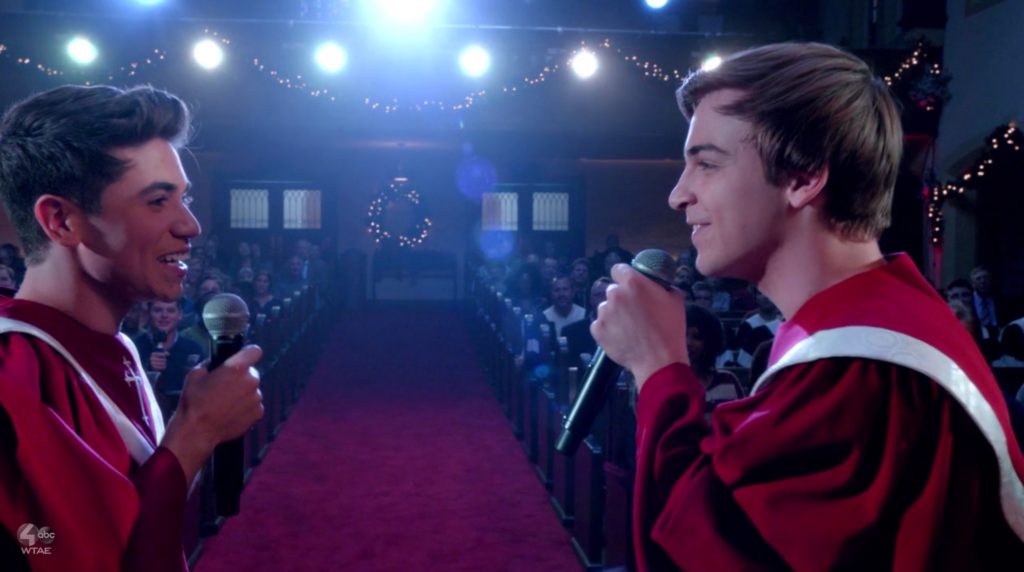 Fortunately, gay media is much more prevalent and accessible now than ever before — even compared to when I was reading Glee recaps on AfterEllen.com on my iPod Touch in middle school, circa 2008 — but there's something so special about The Real O'Neals. The Real O'Neals tackles issues that I have never seen addressed in your standard coming-out storylines with finesse and infinte quotable quips.
Watching Kenny (Noah Galvin, currently starring in Dear Evan Hansen) grapple with the realization that not all gay adults are cut out to be role models (2.15, "The Real Mr. Nice Guy"), or watching him dream about his first kiss for much longer than his straight peers only to be underwhelmed when it actually happens (1.13, "The Real Prom"), or watching his mom Eileen (Martha Plimpton, vividly reminiscent of every Catholic mom in my family) try to support him but panic when she finally sees him kiss another boy (2.03, "The Real Halloween") feels, well, real. This is likely due to the influence of out showrunner Dan Savage and out lead actor Noah Galvin. When pestering friends to watch the show, a major selling point is how obvious it is that there were actual gay people involved every step of the way.
Sometimes the best parts about The Real O'Neals are what doesn't happen– just as it touches on nuanced subjects, it avoids tired cliches. Kenny never has to choose between his religion and his sexuality, and when his homophobic grandmother (a pitch-perfect Frances Conroy) outright says "God doesn't accept you," her version of Catholicism is clearly painted as outdated and unethical. Kenny remains deeply committed to his faith, and everyone in his church community supports him.
Another thing The Real O'Neals does well is gay/lesbian friendship. For all its trailblazing, my biggest complaint about the original run of Will and Grace was how consistently its lesbian characters were cheap stereotypes. The Real O'Neals avoids that altogether with Kenny's lesbian friend Alison (a scene-stealing Ramona Young.) My friendships with gay and bi men (in high school and beyond) are important, and I have always been disappointed in how rarely it is portrayed in fiction. More importantly, when Alison's parents react poorly to her coming out (2.16, "The Real Secrets"), Eileen has the opportunity to prove how much she's really grown to accept and understand her own gay child.
Kenny's first relationship is bookended by two musical dream sequences that perfectly capture the highs and lows of young love. "He puts the 'twink' in 'twinkle of my eye'… just as I thought that I would die alone [at 17 years old]" sings Kenny as he pirouettes and fouettes and step-ball-changes through the streets of Chicago after he makes it official with Brett. After the big breakup, Kenny dramatically lip syncs to Roxette's "It Must Have Been Love" as happy memories are projected on sheets gently waving behind him. Kenny's relationship with Brett is important, but the series finale is not them riding off into the sunset– it's an adorable shot of Kenny and his siblings sitting on the couch together. The relationship is important, but I love that the show gives Kenny a chance to exist before and after it.
Much has been said about the pervasive and offensive "bury your gays" trope. The last thing a questioning teen needs to see is a love scene between two women interrupted with one of them getting shot. (Unfortunately, this has happened multiple times.) The Real O'Neals provides a much-needed dose of wish fulfillment, exemplified perfectly in 2.07, "The Real Match," where Kenny joins his brother's wrestling team and the entire team forfeits when a member of the opposing team refuses to wrestle a gay guy. It's not exactly realistic, but therein lies its charm. The Real O'Neals isn't about a perfect utopia where homophobia doesn't exist, but at its heart is the message that you, yes you, are worth defending and loving and supporting.
That being said, just because there are serious emotional stakes doesn't mean every moment feels like a Very Special Episode of Glee or Degrassi. The Real O'Neals is effortlessly hilarious: the show makes delightful use of cameos from out celebrities and dream sequences, which provide a balance of whimsy. For all of its deftly handled issues, the best part about The Real O'Neals is that it's HILARIOUS. Its humor is sometimes dark and always snarky but never cruel. The wrestling episode ends on a super sentimental heartwarming note, but it began with Kenny winning his first match with West Side Story choreography. The episode about Kenny's grandmother has its difficult moments, but it also features Kenny's dream sequence about what "conversion camp" might REALLY be like.
In a mediascape dominated by tragedy and angst, The Real O'Neals was a breath of fresh air because it strikes the perfect balance between accuracy and escapism. The O'Neals remind me of my own family, and watching the show feels like coming home to the best version of us.