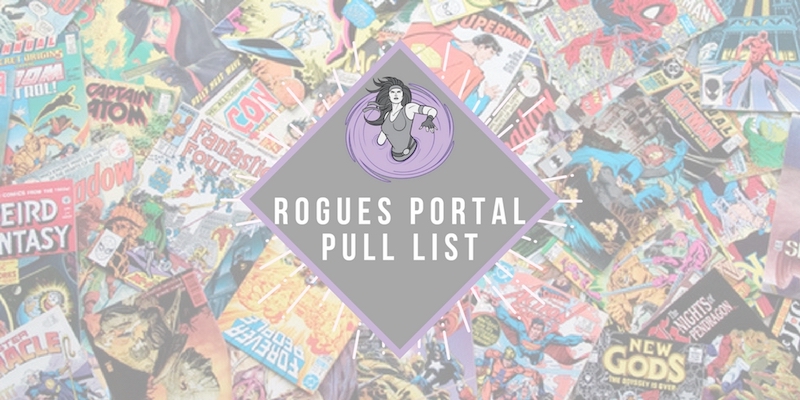 Welcome to New Comic Book Day: the day of the week when your local comic shop brings in a fresh batch of comics to devour. And I am your host, so let's see what's new on the Rogues Portal Pull List for November 15th. Every week we try to find the best books to add to our pull lists. Tons of comics hit the shelves each week, and it's not always easy picking out what to buy. So here's what we're getting and what you should check out today! 
---
Rogues' Essentials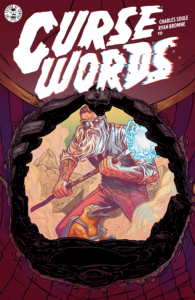 Curse Words #10

This series continually exceeds my expectations; it's gorgeous art, weird, wonderful characters, and a lot of fun! – Anelise
You know any week this book comes out it's going to be on my pull list, so quit avoiding the book and pick it up today! – Greg
Dogs and zombies are two of my favorite things. Enough said. – Anelise
I now want to find people to play the game with because of this book. Plus the book is good and fun. – Greg
Realm #3
I really feel like this is going to be Image/Skybound's next big hit that will eventually take off like The Walking Dead. Get on it now before it's too late. – Greg
This series isn't your typical post-apocalyptic story; it combines that setting with fantasy. This series leans more into D&D than I would typically prefer in my storytelling, but the first issue was so intriguing I will give it an arc to pull me in. – Robert
---
Anelise's Picks
Jenny Finn #1
I am new to the world of Jenny Finn, but this is a whole lot of Victorian horror fun!

Mech Cadet Yu #4
I have been so enjoying this series about a boy and a robot. Great characters and terrific art!
---
Greg's Picks
Batman #35
This arc as Batman and Catwoman go out looking for Talia al Ghul has been nothing short of amazing. Add in Joelle Jones's art, and this is a can't miss comic.

Batman Who Laughs #1
This is the one-shot that everyone has been waiting for. Dark Universe Bruce Wayne as the Joker. Should be crazy!
Fence #1
Boom! has been putting out some great, diverse character-driven stories. Hoping that this one will fall into the same category.
Peter Parker The Spectacular Spider-Man #297
Slott's run is still great, but, if you're only going to pick up one Spider-man book, for me Zdarsky is the way to go.
---
Josh's Picks
Ninja-K #1
Matt Kindt's run was great and explored the more mystical side of the character, while this series aims to explore the Ninja Programme at MI-6. Can't wait to see how this turns out.

---
Kylee's Picks
Briggs Land Lone Wolves #6
There's so much to unpack in every issue of Briggs Land that I'm exhausted by the time I finish it. Is that a good thing or a bad thing? I'm not exactly sure…

Neil Gaiman's American Gods Shadows #9
Honestly, it's the artwork that keeps me coming back for more in this adaptation of American Gods. I love to see how the artwork and the lettering work to really fill each issue to the brim.
---
Robert's Picks
Doctor Strange #381
Donny Cates's star must be in the ascendancy or something because after having a book dropped from Dark Horse he has been killing the comics underground with God Country, Redneck, and Babyteeth. The success of these books have lead him to a Marvel book. Jason Aaron's run on the Sorcerer Supreme was interesting, but to see fresh blood thrown into this book has me chomping at the bit.

Guardians Of The Galaxy #147
The scuttlebut on the internet has this book being cancelled. Marvel has yet to confirm, but I hope not. The Guardians book hasn't been this good since Dan Abnett and Andy Lanning were writing it. Duggan was in the middle of a great story line about bringing back the Nova corps. I hope this book goes on for a while. Support this book.

Rasputin The Voice Of The Dragon #1
In the Hellboy/BPRDverse very little work has been done with Rasputin. Sure, Professor Bruttenholm (pronounced Broom) is Hellboy's surrogate daddy, but the one who brought him into this world is Rasputin. I'm interested to see where Chris Roberson takes this series.
Wild Storm #9
Last issue revealed the history/origin of the alien races that have been on Earth since man has been upright. Also, we've seen the introduction of 'The Doctor' and Jenny Sparks. Warren Ellis is building not only a world but a whole universe with this story. Each issue is my new favorite.
---
Graphic Novels

Nancy Drew And The Hardy Boys The Big Lie TP
I read a lot of Hardy Boys and Nancy Drew novels when I was growing up. So to see them team up in a comic is something 9-year-old me is super excited for. – Josh

That's all folks! Thanks for checking out the latest edition of the Rogues Portal Pull List! We'll be back on November 22nd with another stack of comics for you to check out. Same Bat-Time. Same Bat-Channel.