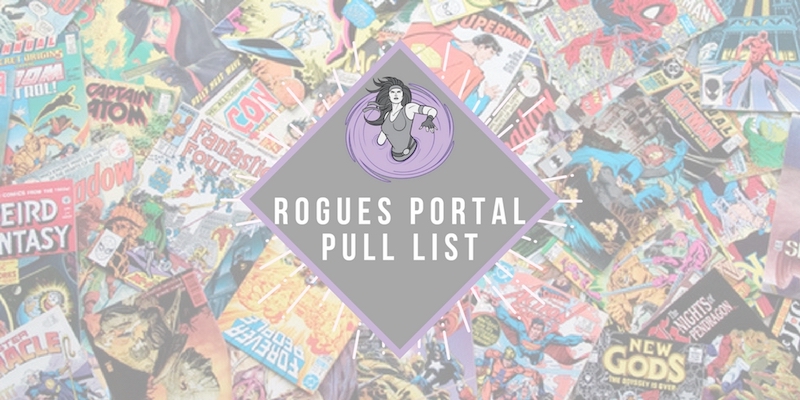 It's Wednesday my dudes! That means it's New Comic Book Day and time to peek inside our boxes to see what's new on the Rogues Portal Pull List for September 20th. Every week we compile a list of comics that get us super excited. Tons of comics hit the shelves each week, and it's not always easy deciding what to get. So here's what we're getting and what you should check out today!
---
Rogues' Essentials
Angelic #1
A story about the earth after the humans are gone and all that is left are the flying monkeys, and cybertronic animals we left behind. What's not to love? – Greg
Gorgeously drawn and colored, who knew I'd be so taken with life after humans become flying monkeys and other genetically modified animals? I couldn't have come up with this concept in my wildest dreams. – Kylee
This has been such a fantastic series so far, and I am excited to see where this new arc leads! The combination of social commentary, horror, and intriguing characters is my kind of read. – Anelise
I was late to the game on the series. I have now caught up on the first series, and I am excited to see the new story unfold. According to Jim Zub, this is part two of what he hopes will be a three series story.- Greg
---
Greg's Picks
Generations Ms. Marvel And Ms. Marvel #1
Of all the Generations books this and the Wolverine one were the ones that I was looking forward to the most. If this one is even half as good as the Wolverine one, it should be a great read.
Misfit City #5
Originally this was only suppose to go 4 or 5 issues. Now that it is 8 I am interested to see how much more of the story and the characters get developed.
Star Wars Adventures #2
The first issue of this new all-ages read was a lot of fun. I'm interested to see what stories get fleshed out leading up to the movie in December.
---
Josh's Picks
Bloodshot Salvation #1
This is a new series featuring Bloodshot and his daughter, Jessie. Reborn was a fantastic series, and I can't wait to see how Salvation goes. Also: art by Lewis LaRosa!
Dark Ark #1
New Series! What if there was another ark besides Noah's carrying all the mythical and dark creatures on earth? Written by Cullen Bunn? Sign me up!
Secret Weapons #4
Final issue! Will Livewire's training save the psiot-rejects as they face the assassin Rex-o, or are they doomed?
Unholy Grail #3
The Legend of King Arthur with a horror twist continues as Arthur's romance with Guinevere takes a turn for the terrifying.
---
Kylee's Picks
Unsound #4
Jack T. Cole's art is mind-bendingly perfect as it transports readers down the rabbit hole of Cullen Bunn's writing. As things are looking dire for Ashli and the rest of the staff, I can't wait to find out how dire they become.

Thanks for checking out the latest Rogues Portal Pull List! We'll be back on September 27th with another list of books for you to consider.