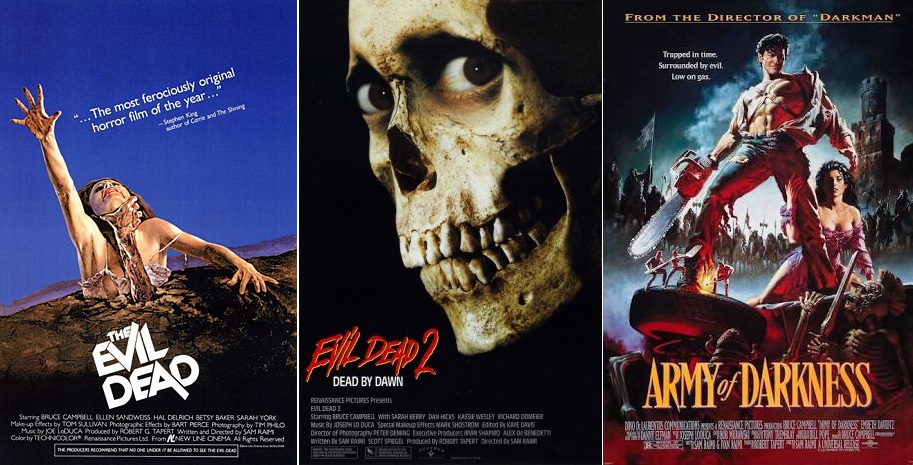 The Evil Dead trilogy always follows three things: Ash Williams, the Necronomicon, and Deadites. The saga of terror and gore starts with Ash and his friends finding the book of the dead in a remote cabin in the woods. Once the incantations are read aloud, evil is unleashed in the woods and picks them off one by one. Ash is the only survivor. When he encounters the Necronomicon again, evil is unleashed once again and Ash is once again the sole survivor. When he encounters the Necronomicon for a third time, he's sent back in time and tasked with saving all human kind from the Deadite army. Ash just can't seem to catch a break.
---
Amelia: This viewing of Evil Dead may be only my second or third viewing in my life. I'm all about Evil Dead 2 and will put on Army of Darkness when I need a Deadite related lark, but I'm not crazy about the first Evil Dead. Probably because the second one is so good as to block out everything else. Oh, and the tree rape. Fuck that.
What I will say about the first one is that it kicked off the glorious tradition of Sam Raimi treating Bruce Campbell like shit. Literally hundreds of gallons of fake blood just poured right on him. Just right on so he can't breathe and it goes down his throat and nearly kills him and then Raimi decides he doesn't like that take and does it all again!
Billy: The original Evil Dead lives forever in the shadow of its sequel. It's definitely a small film, made with love and care and not a whole lot of money from a group of friends who just really loved the genre and wanted to add to it. By all accounts, the making of this film was a friendship-straining miracle, and for that reason I find the behind-the-scenes story of Evil Dead a lot more fascinating than the actual film itself. It's a launching pad for the careers of both Sam Raimi and Bruce Campbell, that I would probably love a whole lot more if Evil Dead II didn't exist, because everything about the first film does seem pretty amateur by comparison. The tree rape scene in particular is something they should regret. It's something that feels like an idea they had that grew out of hand before they realized the full implications of it. So where does the first movie actually become a classic? Well, you need to actually look at it for that. The Raimi shot, that camera barrelling through the woods, is something unreplicatable. The amateur technique that felt scary and right.
And Bruce Campbell is a such a baby! Like… so young! You get to look at how the whole character arc of Ash will develop over this franchise from meek little wimp in this film, to broad-shouldered action hero in Army of Darkness. He made the right calls here, though he probably should have stood up to Sam Raimi a little more when he twisted his ankle and Raimi poked him with a stick until he got up and shot the scene again. That's friendship right there though. That's true friends.
Amelia: What I lack in love for the first Evil Dead I make up for a thousand fold with Evil Dead II! My mom's VHS of this cult gem was in constant rotation of things I would watch and rewatch in high school. Right up there with Red Dwarf and Disney movies. I have eclectic tastes, okay? It must have been at least twice a week as I sat at my desk and did homework that Evil Dead II would be playing in the background. Though unless I was working on a class that I liked, it would go from background noise to me just watching it. So I'm sticking to my story that Deadites are to blame for my terrible math grade, Ma.
I love how half this movie is Ash on his own seemingly just going crazier and crazier. He sees his dead girlfriend's corpse crawl out of the grave he just dug for her and pirouette around the forest. He cuts off his own hand and then they begin taunting each other. He has a grand old time laughing with inanimate objects. He's flipped and Campbell plays it up perfectly. Then, for the second half, Ash is brought out of his insanity when four other people show up and he charges himself with keeping them from dying. Well, he kind of does. He also kind of doesn't care. That asshole part of his personality really gets played up from this point onwards.
Also, a special call out to Annie in Evil Dead II. She's the tits! I love the scene where Jake is trying to rip them off for a hundred dollars and she says it's a deal if he carries her bags. Which he thinks is a single handbag but is actually a steamer trunk. The smile that spreads across her face when he agrees is priceless. I just love characters like Annie and I wish her part had more of her badass linguistics and history knowledge and less of her just flat out being told what to do by the ghost of her father. I mean, she's an archaeologist and she can read the Necronomicon. She can handle this!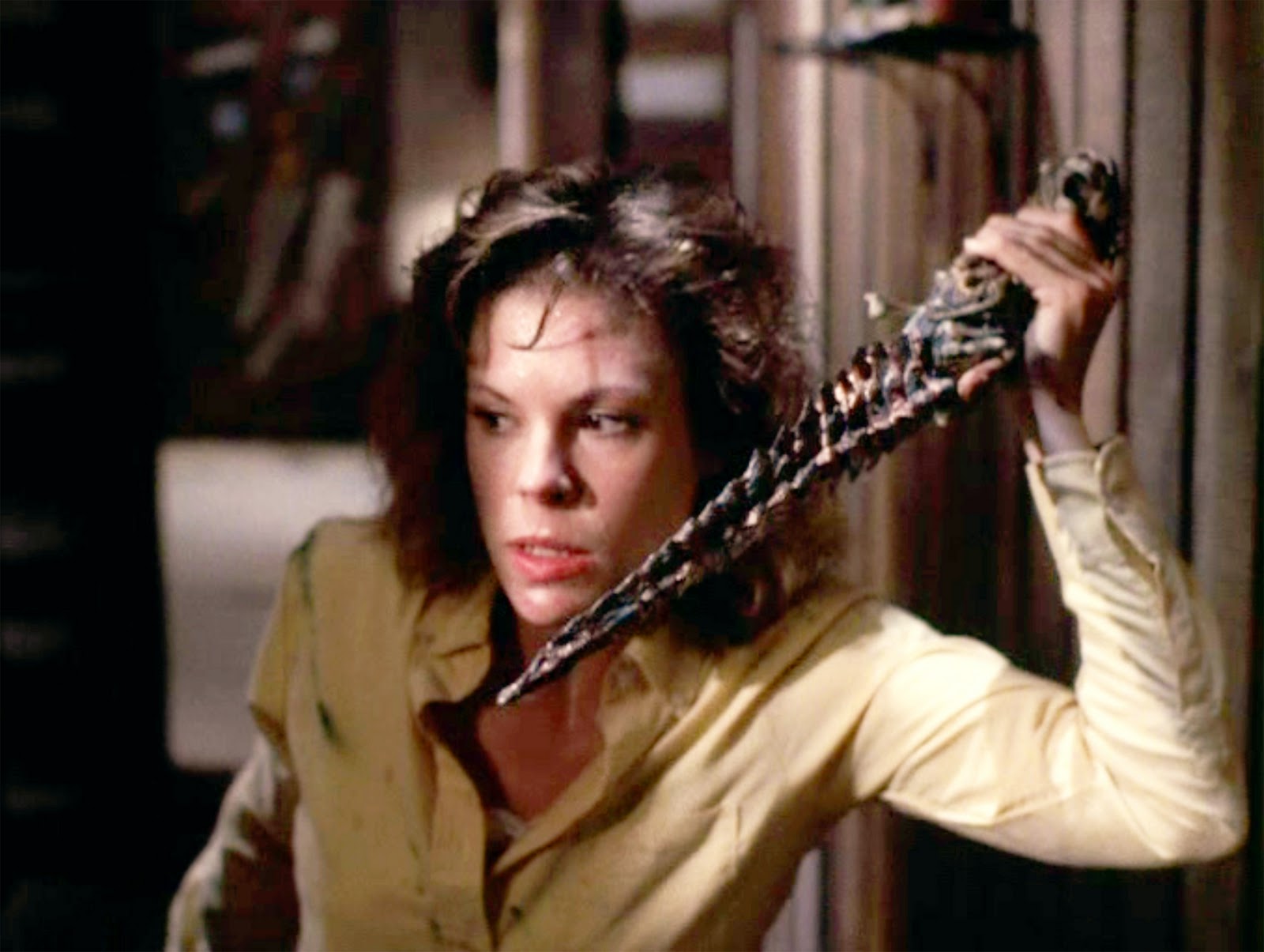 Billy: Evil Dead II is a masterpiece of its genre. It learned a lot from the first film and obviously eases off of its technical shortcomings by leaning harder into the humour aspects than Evil Dead, showcasing the comedic abilities of Bruce Campbell in a way I can't even begin to describe, but it also brings some of the most gruesome moments any series would see for quite some time. Like, I know it's kind of cliché to bring this up now, but Ash actually cuts his own hand off. With a chainsaw. No anaesthetic. He doesn't even look away. Saw DREAMS of reaching gruesome highs like that. Or chainsawing his girlfriend's severed head in half as she screams at him in a vice. This is a scary film that puts its protagonists through hell to get to the other side.
One of my favourite moments in this film is when we see Ash has actually been turned into a demon. The hero of the first film, the hero of this film, becoming the antagonist and attacking innocent people out of nowhere. What a great way to shock people. He never stops being Ash and we see him actively fight against it, but it brings up an awful lot of questions about those other Deadites he chainsawed in the face, doesn't it? I love the duality of it. I love the ambiguity. I love how they got to slap some prosthetics on Bruce Campbell just to make him suffer.
Evil Dead II also has that confusing bit at the beginning where they infamously remake the first movie. This was something they had to do apparently because they weren't able to use footage from the first film to get new viewers up to speed. They actually do it again in Army of Darkness, but at least that time it's a bit of a parody. It's as if they realized how much better this movie was going to be from the first and let you know it was the only one you really needed to watch.
Amelia: From Evil Dead II's self-contained story of monsters in the woods, Army of Darkness comes barrelling at you with time travel, medieval warfare, a Deadite army, and the fate of all mankind resting on Bruce Campbell's shoulders chin. To quote Ron Burgundy:
What needs to be addressed when talking about Army of Darkness is that it goes from a horror franchise to a fantasy stand alone. Campbell is now a dashing hero on horseback, not a gangly kid trying to survive till dawn as his friends die around him. It's a weird way to take the story, but it's fun! It's the angle that future entries in the franchise would take, a goofy base with gore piled on top. That's what Ash vs Evil Dead is doing and it's literally perfect!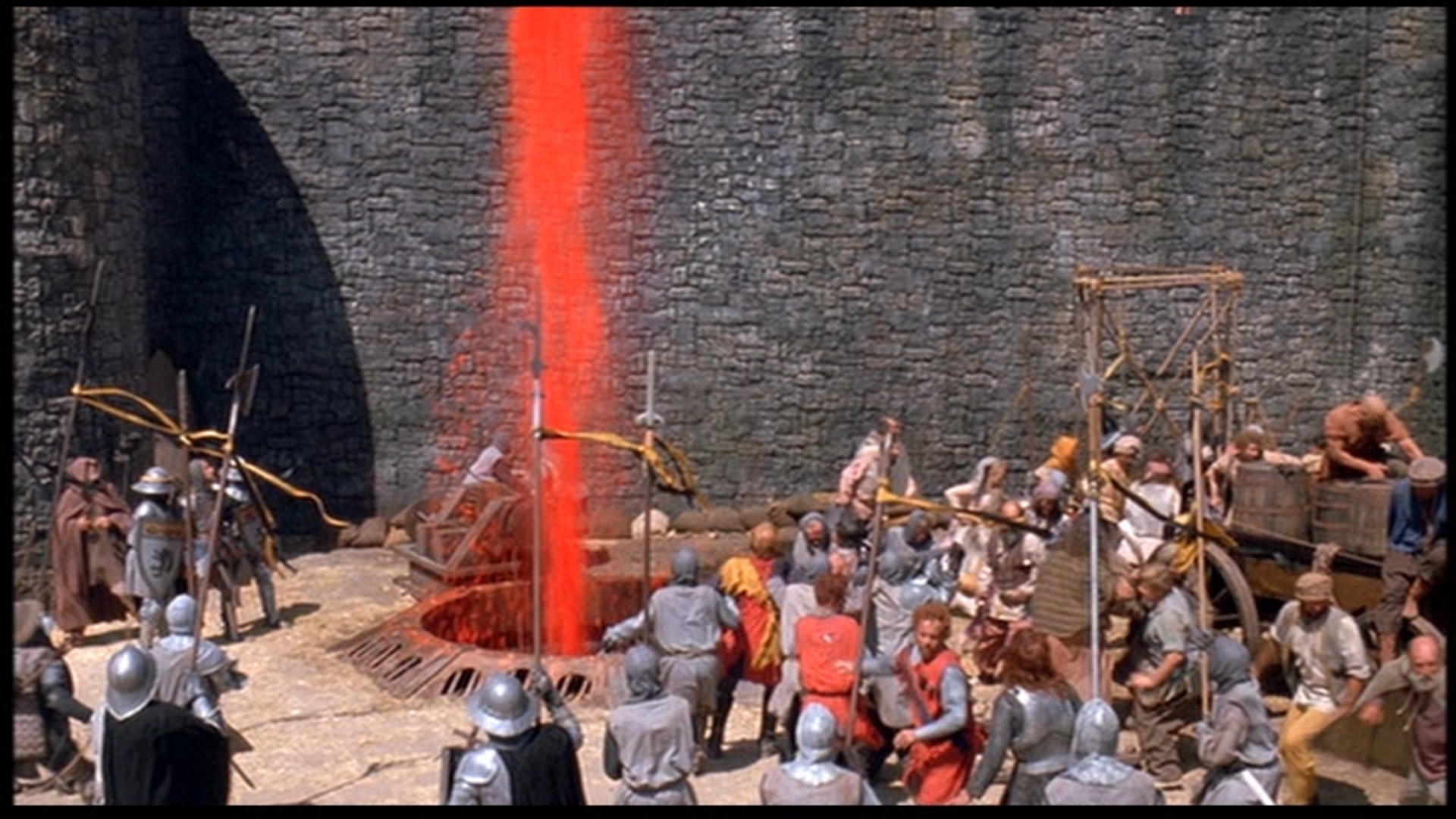 Billy: And then comes Army of Darkness, the film that finally turned Evil Dead into a flat out comedy adventure. I can't help but look at a lot of these scenes and say "this is a horror film" and failing to make myself believe it. I don't really blame the film itself. Sam Raimi set up this premise himself at the end of Evil Dead II and anything less than this would have been a disappointment. But it's just not the same, is it? Your cast is so large each death is so inconsequential that you don't feel any of it. That's not a horror movie. That's an action movie. But that's okay. It doesn't have to be. It just feels a little out of place.
However, it is the icing on the cake for Ash Williams as a character. This is where that development that started in Evil Dead really pays off. Ash has gone through hell and he's just barely out the other side. How has that experience in the cabin changed him? It's made him into an archetypal MAN who no longer holds any real human connections. That's kind of sad, isn't it? When you really think about it? That's an angle Ash vs. Evil Dead takes and I love that show for it. This is also the film where pretty much all the one liners come from. I definitely noticed that when watching Evil Dead: The Musical and it kind of makes this film worth it. Good. Bad. He's the guy with the gun.
Spooky Verdict
Amelia: Five Ash Williams out of ten for Evil Dead





Eight and a half Ash Williams out of ten for Evil Dead II








Six and a half Ash Williams out of ten for Army of Darkness






Evil Dead introduced us to the Deadites. Evil Dead II brought the Deadites back and did them 100% better, with the introduction to Annie. Army of Darkness just went balls crazy and did whatever the hell it wanted. Time travel, medieval warfare? It's Army of Darkness, do what you want! I think that sums everything the movies did nicely.
Personally I think the best thing the movies did was making me want to learn as much as I can about the Deadites. I want to keep seeing Deadites, I want more mythology about the Necronomicon, and I want more Ash Williams getting choked with blood while fighting the gross fuckers! And since the Evil Dead is one of those franchises that can literally go on forever, I think I'm going to get it. Evil Dead the Musical and Ash vs Evil Dead are proving that. Which, we didn't watch for our 31 Spooky Nights, but I will rate here as both being perfect ten Ash Williams out of ten. Seriously watch Ash vs Evil Dead. And if Evil Dead the Musical comes to your city, you consider yourself blessed and buy a ticket in the splatter zone!
Billy: Five Ash Williams out of ten for Evil Dead





Eight and a half Ash Williams out of ten for Evil Dead II








Six Ash Williams out of ten for Army of Darkness






There's a special place in my heart for the Evil Dead franchise. Army of Darkness notwithstanding, it's some pretty genuine horror mixed in with broad comedy, and Bruce Campbell deserves his place amongst the pantheon of horror movie figures. I'm still a little sad that the Freddie vs. Jason vs. Ash movie never happened because COME ON. That would have been awesome. But I do appreciate that Sam Raimi blocked it because there was no fathomable way Ash would win. Womp womp.