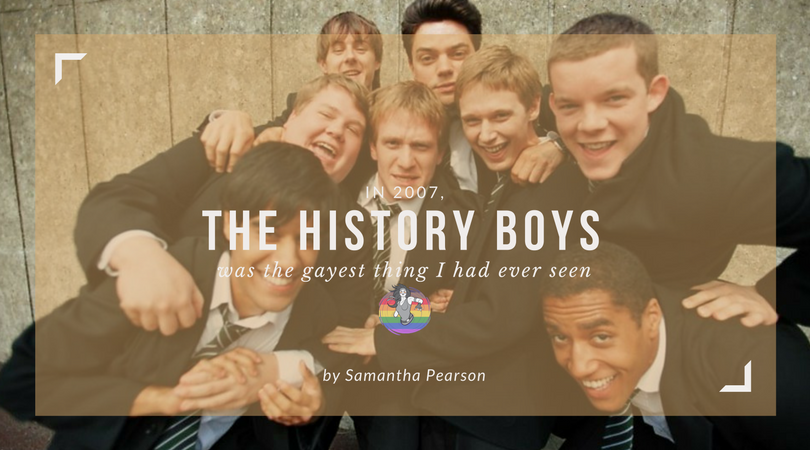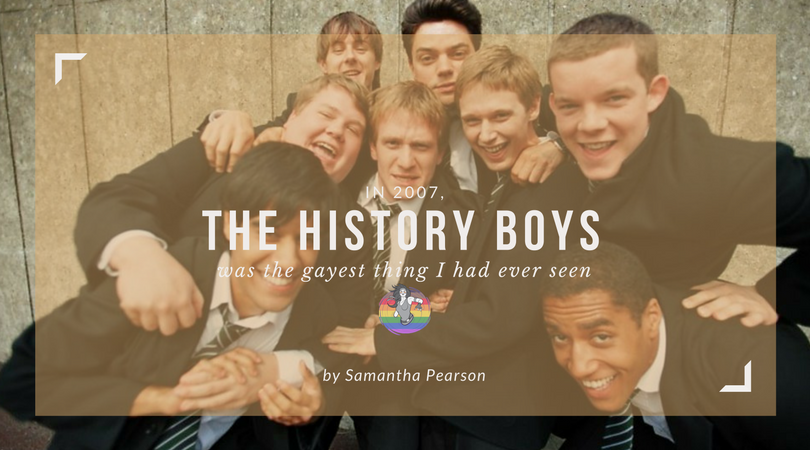 The year is 2007, I am a senior in high school, and my friends and I are discussing our senior quotes. These are so important, we say. If we're ever famous, people will care about this choice. (Fast forward ten years and I still think this is true — Darren Criss' senior quote, after all, is as famous as him.) A friend whose taste I trust implicitly says that her quote is from the movie The History Boys.
I have never heard of this film; when I say as much, her eyes light up, and I know I am in for a treat.
The History Boys began as a live play that premiered at the Lyttelton Theatre in 2004. It went on to tour internationally, with performances on Broadway and London's West End. The dramedy, written by Alan Bennett and later adapted to film, tells the story of a group of boys preparing for their Oxford and Cambridge entrance exams under the tutelage of three very different teachers. It is brilliantly funny, incredibly sad, and deeply moving.
And for a girl who, at 17, had only just started to dive into LGBTQ media (via the Harry Potter fandom), it felt life-changing.
Ten years ago, my relationship to sexuality was strange. I still insisted I was straight, initially felt weird about reading slash fanfiction, and worried about the fact that seeing Sarah Michelle Gellar and Selma Blair make out in Cruel Intentions when I was a kid had turned me on so much (and still did, if ever I thought about it). Consuming LGBTQ-centric media made me realize things about myself that I wasn't ready to realize yet, which made it difficult to enjoy.
When my friend introduced me to The History Boys, I realized rather quickly that it was the gayest movie I had ever seen. And I loved it. No holds barred. This movie remains one of my favorites, ten years later, and I still get the same feeling of genuine joy every time I watch it.
There are out gay characters, closeted gay characters, and characters who are just starting to figure out their sexuality and don't really put a label on it. It's a play about academia as much as it is a play about sex, love, and coming of age; it also dives deep into the social politics of attending an all-boys grammar school in the early 1980s in Sheffield, England, from competition over grades to competition over the affection of crushes and friends.
To no one's surprise,The History Boys took the theatre world by storm. It won at the 2005 Laurence Olivier Awards for Best New Play, Best Actor in a Play (Richard Griffiths), and Best Director (Nicholas Hytner). It also won at the 2006 Tony Awards for Best Play, Best Performance By a Leading Actor in a Play (Richard Griffiths), Best Performance By a Featured Actress in a Play (Frances de la Tour), Best Direction of a Play (Nicholas Hytner), Best Scenic Design of a Play (Bob Crowley), and Best Lighting Design of a Play (Mark Henderson). It won several Drama Desk Awards, Outer Critics Circle Awards, the New York Drama Critics' Circle Award for Best Play, and two Drama League Awards. Richard Griffiths was also awarded the Theatre World Award for his performance as Hector, a teacher whose students indulge his bad behavior because he lets them get away with murder in his class.
It's more complicated than that, but Griffiths' performance is deeply nuanced. It was shocking to see him in a role other than Uncle Vernon; likewise, seeing Frances de la Tour as a professor who wasn't Olympe Maxime felt strange.
The History Boys was my first exposure to Samuel Barnett, who now co-stars on Dirk Gently with Elijah Wood; it was my first exposure to James Corden, who's taken over The Late Late Show and shocked non-theatre geeks with his singing chops on Carpool Karaoke; it was my first exposure to Dominic Cooper, who was a perfect Howard Stark and an even better young, romantic lead in Mamma Mia!; and, last but not least, it was my first exposure to Jamie Parker, who played Harry Potter in the first run of Harry Potter and the Cursed Child.
The History Boys made me excited to watch projects with these actors, because I fell so deeply in love with them and their characters in this film. It made me want to consume more media like it, because it gave me such good feelings even though the ending always makes me feel twisted up and sick.
This movie also opened my eyes to the absolute wonder of explicitly LGBTQ media and it made me want more, more, more. Although I had watched shows like Will & Grace with my grandmother, the watered-down, comedic nature of the main characters' sexuality made it feel like little more than a joke for straight audiences. The History Boys took gay men seriously and didn't focus solely on tragedy, the way Philadelphia did. It was comedic, without making homosexuality the butt of the joke; it was sad, without making death the only end for not-straight characters. And it explored several experiences, all within a small main cast, while also diving into so many other important subjects.
For those who are curious, this is the passage my friend pulled from for her senior quote:
"The best moments in reading are when you come across something – a thought, a feeling, a way of looking at things – that you'd thought special, particular to you. And here it is, set down by someone else, a person you've never met, maybe even someone long dead. And it's as if a hand has come out, and taken yours."
It didn't prepare me for the level of Gay Content in the film… and honestly, I'm kind of glad for that. I probably would have been too afraid to watch it, had I known. And to be frank… that quote represents exactly how I felt watching The History Boys for the first time.