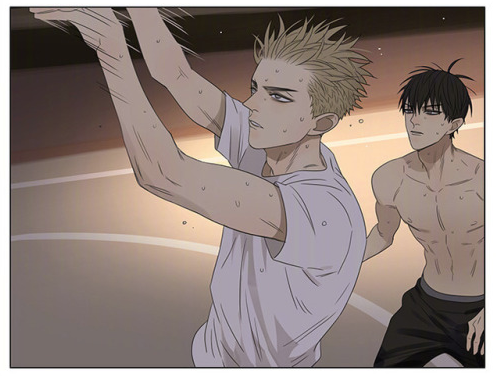 A lot has happened in this new arc of 19 Days. We've seen He Tian and Mo Guanshan's relationship getting slightly better, we've seen Jian Yi getting hurt (again), the brief return of She Li as well as Zhan Zhengi getting a new haircut. And now all four boys are together once again on the basketball court. So where will this new chapter, Day 205, lead us? Are we going to see what She Li is up to? Is it going to continue before or after the game? Will it be a chapter with all four of them in or will Xian focus on just one couple? Let's find out…
Plot
Zhan has finally appeared and Guanshan is ready for the game! They've paired up in teams; Guanshan and Tian in one, Zhang and Jian Yi in the other. He Tian tells Guanshan he has faith in him, which, of course is not taken lightly. He Tian manages to score the first point so Jian Yi and Zhang pick up the pace…
Opinion (Spoilers)
I'll be honest, I am surprised we didn't have a She Li only chapter, not that I'm complaining mind you, because this chapter is brilliant! It's happy and funny and their expressions in the last two panels had me crying with laughter! It's impressive how something as simple as a drawn expression have such an impact on the tone of the story.
I still do believe that we'll be getting a She Li only chapter soon, maybe the next one or the one after that. I don't believe Old Xian would've added him back if not to have a solo chapter. Out of everyone Jian Yi bumped in to it was 'coincidentally' She Li…hmm…interesting…
He Tian could not keep his hands of Guanshan through the entire chapter, poor boy. I also found myself falling in love with the art style all over again. For some reason I thought the boys were more beautifully drawn here. Did anyone else feel the same way?
I am very curious to know that if you have started reading 19 Days because of these posts. If so, did you enjoy it? Please leave a comment below and we can fangirl together!